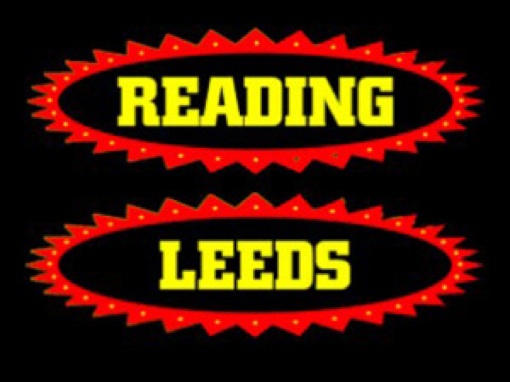 It's back. Easily one of the UK's biggest festivals and possibly in the world, the dual location monstrosity that is Reading And Leeds is BACK. Boasting a line up that celebrates and elaborates on the new, old, the heavy, the not so heavy, reunions, first shows and quite a few other craziness in between.
Now, we've heard that the weather might not be the best, so we're trying our very best to stop it. Ok, so that's a lie as we can't control the weather (YET…) and so we were (metaphorically) sat around our massive desk in our massive office on some super secret Already Heard island and we thought 'let's suggest 10 bands!' and we all knew at that moment that it was exactly what you wanted. Alright, so maybe you'd rather have nice weather, but you're getting a free beer and breakfast bap every morning, so be grateful!
As usual you can let us know about your free goodies or your thoughts on the line up over on  Facebook or Twitter. Don't be a stranger!
You can see the full line up for Reading here and Leeds here.
Foo Fighters
This may be a bold statement but I believe Foo Fighters are the best true rock band of the last 20 years. Sure their albums aren't always consistent but their live show is legendary. Their headline slot is coup for the organisers and it's more than obvious Dave Grohl and company will THE highlight of the weekend. With a bucketfull of classic numbers; 'Everlong,' 'Best of You,' 'Times Like These' and so on, I can assure you that you'll come away from Leeds and Reading thinking Foo Fighters are the best rock band of our generation. (SR)
Where & When: Sunday (Reading)/Friday (Leeds) on the Main Stage.
The Gaslight Anthem
After suprising everyone and even probably themselves with a number two spot in the UK album chart with 'Handwritten,' expectations are somewhat high for The Gaslight Anthem but with such an overwhelming response from fans and critics to their latest album, Leeds and Reading could be the making of the band. With a combination of honest, bold rock songs and Americana, their appearence on the Main Stage will leave you amazed and wanting more. (SR)
Where & When: Sunday (Reading)/Friday (Leeds) on the Main Stage.
O'Brother
Whilst the Festival Republic stage often leaves some festival-goes asking "who are they?" or saying "I've never heard of them." It has always played host to some of the best up and coming bands. In recent years the likes of You Me At Six, Bring Me The Hozion, and Twin Atlantic have played the Festival Republic stage and have go on to bigger things; You Me At Six return to the main stage this year. So for Atlanta's O'Brother their UK debut on the FR stage could make or break the band on these shores. However with their latest release ('Garden Window') saw the quintet build on their atmospheric sound and combine it with a enthralling, complex and layered approach that is bound to leave festival-goers stunned. (SR)
Where & When: Friday (Reading)/Saturday (Leeds) on the Festival Republic Stage.
Apologies, I Have None
Apologies are fast becoming one of the best UK punk bands. Having started their beginnings as a 2 piece and grown into the wonder that is a full 4 piece band, they have not only grown in members but progressed and created one of the best UK albums around, 'London.' They are playing early on the Lock Up Stage on the Friday of Leeds / Sunday of Reading and I 100% advise you watch this band. They create honest, heartfelt punk infused songs that will resonate with you all day. I honestly cannot think of a better band playing the lock up that day, or if you're me, the whole day of the festival. I cannot stress enough how wonderful this band are, please take the time to watch them. (RK)
Where & When: Sunday (Reading)/Friday (Leeds) on the Lock Up Stage.
Sleigh Bells
Now, Sleigh Bells are a weird one for us here at Already Heard to recommend, but I am a big big fan of this duo and advise you to step out of your alternative musical comfort zone and check them out. If you're not entirely convinced, one of them is an ex member of Poison The Well, there's your tedious musical link. The only way I can think to describe this band is heavy, loud, electronic punk pop. Please, don't let this put you off, they are an incredible outfit that more people should be aware of and want to witness. With 2 studio albums and the wonderful EP, everything they have created is wonderful. If you're bored of seeing the same punk outfits play, or the same NME brand indie, this is the perfect thing to go and broaden your horizons. I swear you won't be disappointed. (RK)
Where & When: Friday (Reading)/Saturday (Leeds) on the Festival Republic Stage.
Trash Talk
I'll always remember seeing Trash Talk for the first time at Leeds Festival in 2010 having heard rumours of their crazy stage presence and believe me, there aren't words to describe it. Trash Talk break all of the rules, taking over the stage (the whole tent if you're vocalist Lee Spielman) and they'll make the Lock Up stage 100% their own.  Expect absolute chaos from this Californian hardcore punk outfit and even if you haven't listened to these guys before, just do yourself a favour and watch their set. (HG)
Where & When: Sunday (Reading)/Friday (Leeds) on the Lock Up Stage.
Pure Love
If you weren't lucky enough to catch Pure Love on their recent UK tour then Leeds Festival is the perfect time to do so. Frank Carter, Jim Carroll and the gang might not have released much material yet but in a way the curiosity should be enough for you to check them out. Describing some of their songs as '90s Po-go' when I saw them last month is probably a good way to describe their sound: a fun, feel good band who will certainly brighten up your day. Clear all past thoughts of Frank Carter and head down to catch Pure Love, it definitely won't be what you're expecting. (HG)
Where & When: Saturday (Reading)/Sunday (Leeds) on the NME/Radio 1 Stage.
Mastodon
I'd be surprised if there's anyone who doesn't want to stand and watch 4 hairy dudes whenever they can, but whatever. Mastodon rule. It's a simple fact forged in the mines or Moria and told to Moses by the big man himself up in the sky. Mastodon play absolutely epic, unreal, sometimes atmospheric and sometimes absolutely monstrous progressive metal, leaving The Cribs to stumble onstage and contemplate whether they actually should carry on with their careers. (MB)
Where & When: Saturday (Reading)/Sunday (Leeds) on the NME/Radio 1 Stage.
Don Broco
They recently released 'Priorities' and we can now officially call it a Top 40 UK album. I've played it absolutely loads over the past week and can safely say it's catchier than the common cold given to you by 4 cheeky chaps who absolutely love a good time and the ladies. Go and check out the new songs and come away singing some of those lyrics. Like, you'll just be chatting to someone or in the midd-'WAAAAAAAAYYYYYYYYY WAY BACK IN THE DAY! BACK IN THE DAY!' Yeah, sorry about that. Top album though, honest. We gave it 4.5/5! Get on it. (MB)
Where & When: Saturday (Reading)/Sunday (Leeds) on the Festival Republic Stage.
Mongol Horde
Reading and Leeds couldn't have Frank Turner on for ANOTHER year running. Well, they could have, but he's doing so much better each year that soon he'll have to headline all 3 days. So, what would you do if you were in Frank's shoes? Well, start another hardcore band of course. Mongol Horde are far from Frank's current solo goodies where he opened some Olympic event or something and he'll be sure to unleash some pent up rage this weekend. Good luck to any middle aged Frank fans who stumble into that Lock Up tent… Oh, and these shows will be their second and third shows EVER. Not bad going really. (MB)
Where & When: Sunday (Reading)/Friday (Leeds) on the Lock Up Stage.
Reading links: Website|Facebook|Twitter
Leeds links: Website|Facebook|Twitter
Words by Michael Brown (MB), Sean Reid (SR), Rosie Kerr (RK) and Hannah Gillicker (HG).