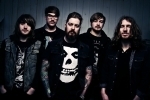 Feed the Rhino, Sonic Boom Six and Our Hollow Our Home are the latest names to be announced for this years Butserfest.
Butserfest takes place at Queen Elizabeth Park in Petersfield on Saturday September 13th.
Early Bird Tickets are on sale now at just £15 until 8pm tonight (Saturday May 31st) from butserfest.co.uk/tickets.