Once again its that time of year when rock fans far and wide descend on Donington Park for the annual Download Festival.
As always the three-day festival is filled to the brim with legendary rock and metal bands as well as a whole lot more. With five stages and a shit load of bands looking to steal the show, we've decided to take on the difficulty task of highlighting just 25 bands we think you should go and see this weekend.
Are you heading to Download? What bands are you excite d to see? Let us know on our Facebook page or on Twitter.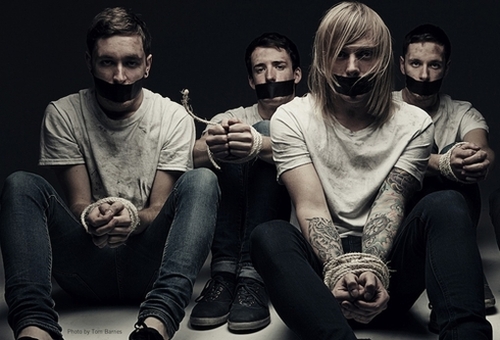 Architects
Brighton noise mob Architects are bringing their melodic metalcore sound to the main stage at Donnington this year. They've been incredibly busy, what with their 'One Hundred Days' film being released on 8th June but they're coming home before jetting over to America to embark on this year's Warped Tour.
With Sam Carter's almost effortless vocals and their intense, atmospheric sound, this lot will definitely be waking anyone up who's had a little too much to drink the night before. (JT)
Where & When: 1:50pm on the Main Stage on Friday 14th June.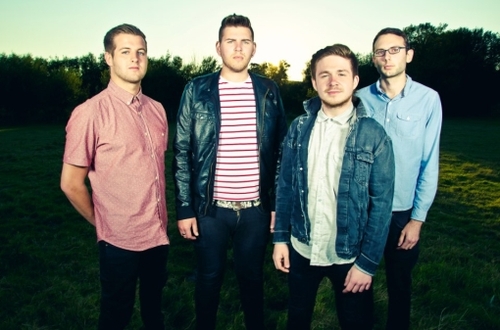 Verses
Another Brighton band? This is too good to be true! However, Verses tend to steer towards the more pop-rock side of things. They're a slick and smooth quartet, with big hearts and even bigger choruses. Catchy hooks and melodic verses will capture your attention when it comes to this lot.
Their mini-album 'Come to Life' is a great example of things to come for this bold, vibrant group. Check their set out – it'll definitely be worth it when they become a house-hold name. (JT)
Where & When: 4:45pm on the Red Bull Studio Stage on Friday 14th June.
Young Guns
Another British band, Young Guns haven't really graced their motherland with their presence this year. But all is forgiven, as they're coming home to also play on the Main Stage.
With the release of their album 'Bones' being over a year ago, there's a slight hope that they'll play something new as they're due to be recording their new album rather soon. And who wouldn't want to see this great quintet storm the Main Stage? Their blend of powerful vocals with ground-shaking drum work will be welcome greatly at Download. (JT)
Where & When: 12:10pm on the Main Stage on Saturday 15th June.
Escape The Fate
With more drama than Eastenders, most people tend to know this Las Vegas quintet for all the wrong reasons. But after the release of their fourth album 'Ungrateful' and a US tour with Papa Roach, Escape the Fate's name is on people's lips for the right reasons now.
Their rock-heavy choruses during songs such as title track 'Ungrateful' are teamed with the speed and aggression the Money brothers possess, churning out blazing and blistering anthems that'll get you head banging in no time. (JT)
Where & When: 1:15pm on the Zippo Encore Stage on Saturday 15th June.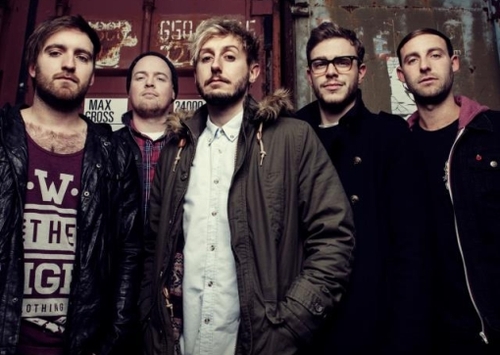 The First
Hailing from Cambridge, The First are soon-to-be shining stars in the post-hardcore world. They're a hard-hitting, melodic quintet with roaring riffs and anthemic choruses that'll get fists in the air within seconds of being heard.
Their debut album 'Swimming With Sharks' was a storming success, and having signed to the newly formed Destroy Everything label, this quintet are looking to take another big step up into the world. They may be on at an early time on Sunday, but they'll be raring to go and ready to rock your hangover away to signal the end of Download! (JT)
Where & When: 11:40am on the Red Bull Studio Stage on Sunday 16th June.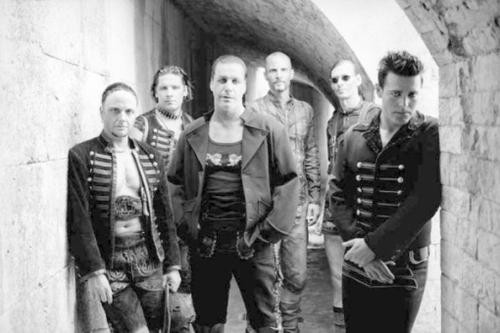 Rammstein
Few bands are as intensely dramatic as German ultra-lords of industrial metal Rammstein, thanks to muscular riffs, gloomy synth, ominous vocals and a mechanical atmosphere that make them such a unique sonic experience. Yet, as theatrical as they might sound on disc, the band's studio performances can only dream of equalling the powerhouse stage show these übermensch put on, especially on a huge festival main stage. Mics catching fire, band members whipping out flamethrowers, massive geysers of fireworks, epilepsy-unfit light choreographies, as well as the band's usual brand of borderline antics (used to attracting controversy, Download Festival-goers should expect a fair bit of sexually-charged moves being cracked out).
It's worth insisting that audiences should not be put-off by the frightening prospect of listening to a band they mostly can't understand. A very experienced outfit, the Teutons deliver the sort of live performances that is worth seeing once in a lifetime. Powerful, fiery, sometimes a little shocking, this is one hell of an unforgettable party you'd be ill-advised to miss. (JBL)
Where & When: 9:15pm on Main Stage on Sunday 16th June.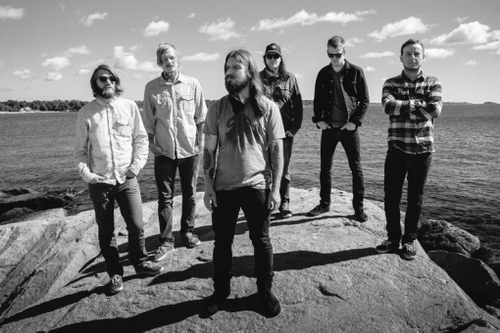 Kverlertak
Kverlertak encompass many features of the various heavier genres…they are what I like to call 'Norwegian-punk-rock-black-metal.' This covers a fair bit of ground. They are the kind of band that would put the same amount of force and vigour into a performance to an audience of ten people as they would to an audience of a thousand, and for this reason alone they deserve a dutiful audience of moshers at Download.
Camping in the Slayer meets AC/DC corner of metal, the band have achieved a cult super-following, and yet amazingly have released only one album in their six years, up until this March. With the release of the superb sophomore album 'Meir' this year, it's a great time to catch the band considering they don't seem to play our little island all that often. Expect riffs, old school black metal with punk vocals, Norwegian lyrics, and a fun and energetic live show.
Where & When: 8:05pm on the Pepsi Max Stage on Saturday 15th June.
The Gaslight Anthem
The Gaslight Anthem have racked up an impressive four albums in their 6+ years as a band, stapling them as household name and second album 'The 59 Sound' as a modern day punk rock classic. For those that aren't in the know however, Gaslight are basically Bruce Springsteen turned (more) punk, and therefore brilliant. Please, for me, go see The Gaslight Anthem and chant the words to 'High Lonesome' at the top of your voice, for the love of God; "At night I wake up with the sheets soaking wet, it's a pretty good song baby you know the rest." (KM)
Where & When: 5:40pm on the Main Stage on Sunday 16th June.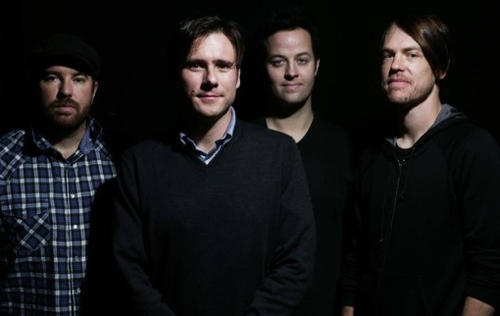 Jimmy Eat World
The Arizona four piece will be making their UK return at Download, and with the release of their new album 'Damage' just round the corner, expect a set jam-packed of emo rock classics alongside sincere numbers like recent single 'I Will Steal You Back.' As always JEW will leave you mesmerized and have you helplessly singing along with the mass crowd that is certain to show up. Unfortunately for long-time fans, the 45 minute set may not be enough as we guarantee you'll be yearning for more afterwards. (SR)
Where & When: 6:20pm on the Zippo Encore Stage on Saturday 15th June.

Slipknot
The almighty Slipknot return to Download and having previously been voted as giving the best performance in Download history by festival-goers, it's no doubt the Iowa band have to be seen. Four years on from that legendary performance, expect the masked men to once again bring their insane stage show; tons of pyro, Shawn "Clown" Crahan on ridiculously high drum risers and two hours of non-stop riffs and mass singalongs. (SR)
Where & When: 9:00pm on the Main Stage on Friday 14th June.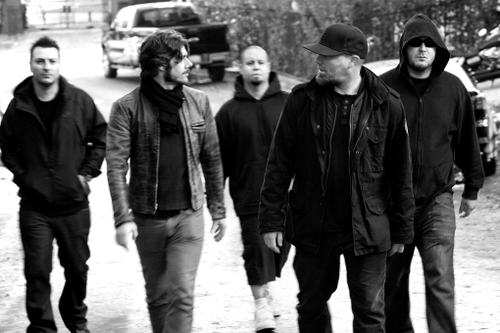 Limp Bizkit
Lets admit it not everyone is a fan of the Bizkit; often mocked by some but loved by many, Fred Durst and company come back to Download with the aim of beating their fantastic 2009 set. The Nu-Metal legends know how to put on a show and with songs like 'Break Stuff,' 'My Way' and, of course, 'Rollin'' the Florida group are bound to get the Download crowd jumping, moshing, singing and anything else you can think of. You will definitely come away with a smile on your face and covered in beer and sweat. In other words expect to have a great fucking time! (SR)
Where & When: 8:50pm on Zippo Encore Stage on Sunday 16th June.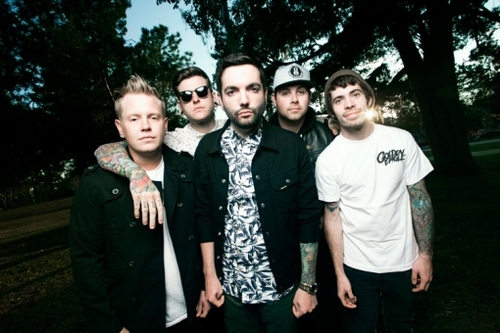 A Day To Remember
Ocala, Florida's A Day To Remember take time out from recording their new album 'Common Courtesy' to head back to Download for the third time. With a mashup of hardcore, pop punk and metalcore, ADTR offer a bit of anything to Download Festival fans so don't be surprised to see an abundance of circle pits, swinging arms and breakdowns. (SR)
Where & When: 7:25pm on Zippo Encore Stage on Sunday 16th June.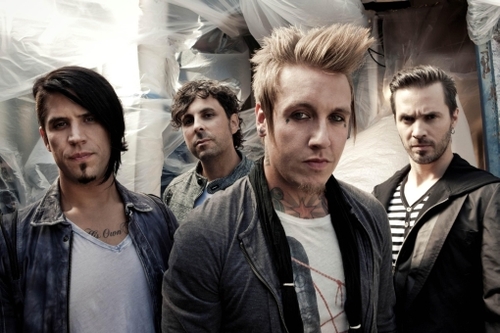 Papa Roach
Having shaken off the Nu-Metal tag, Papa Roach have evolved into a modern rock/metal with their latest album 'The Connection' receiving praise for the bands variation and subtle use of electronic elements. Nevertheless Papa Roach are a heavy rock band at heart, and have a wealth of hits in their back catalogue from 'Last Resprt' to 'Scars' to 'Getting Away With Murder.' Expect to hear all these and more as the four piece dominate the main stage on the Friday. (SR)
Where & When: 3:15pm on the Main Stage on Friday 14th June.
Volbeat
Danish metallers Volbeat are massive in Mainland Europe and have a cult-like following here in the UK, and if their latest record, 'Outlaw Gentlemen & Shady Ladies,' is anything to go by they're set to get even bigger. With heavy riffs, Michael Poulsen's unique voice and catchy choruses, Volbeat have all the makings of becoming a highlight of the weekend. Add to that a hint of rockabilly and you're sure to be headbanging and fist pumping from start to finish. (SR)
Where & When: 6:00pm on Zippo Encore Stage on Friday 14th June.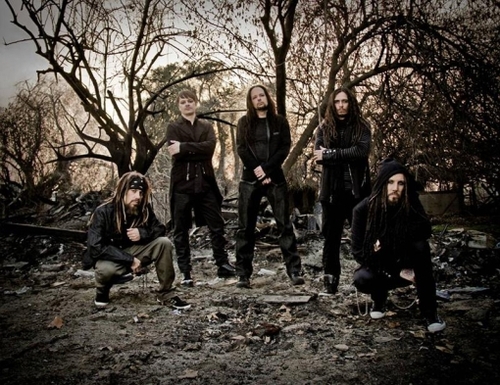 KoRn
After a year away, KoRn are once again gracing us with their presence at Download and its expected they will once again pack the crowds in. With ten albums in their discography and guitarist Brian "Head" Welch re-joining the band after eight years away, KoRn are a band made for the Download main stage. Expect Nu-Metal pioneers bring a set full off hits; 'Blind' to 'Freak On A Leash' to 'Got The Life.' (SR)
Where & When: 5:55pm on the Main Stage on Friday 14th June.
The Hives
Top hat and tails, that's what you can expect to see the Swedish band to be wearing onstage when they headline the Pepsi Max stage on Saturday night. Last year saw the band release their fifth studio album 'Lex Hives' which added yet more catchy memorable songs to their music arsenal. With their trademark high energy rock and roll set and no doubt some massive singalongs to songs like 'Main Offender,' 'Hate To Say I Told You So,' 'Die, Alright' and 'Tick, Tick, Boom' you can expect a high energy, impressive set from the Swedes. (AW)
Where & When: 9.10pm on the Pepsi Max Stage on Saturday 15th June.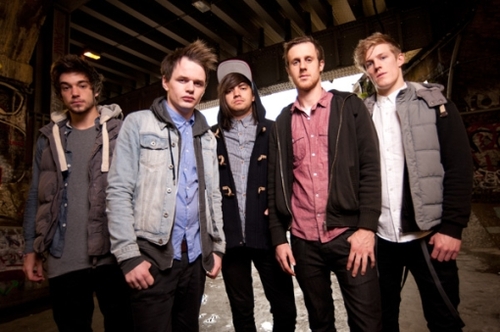 I Divide
Having just finished recording some new songs for their debut album at the Outhouse studios and headlining the OurZone Magazine tour, Download sees the lads return this time to open up the second stage on Saturday morning at a rather early 11.00am. But despite the early stage time the band will power through some of their big sounding melodic fused rock. Songs like 'The Arrival' and 'This Ships Going Down' sound massive on a live stage and no doubt the band will impress and also wake up many bleary eyed, hungover music fans. (AW)
Where & When: 11:00am on the Pepsi Max Stage on Saturday 15th June.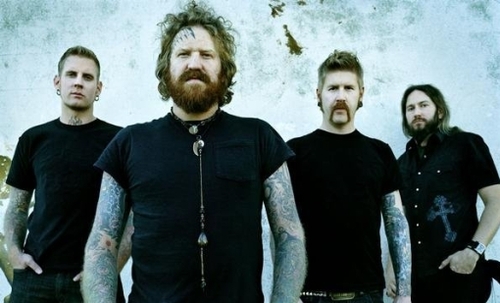 Mastodon
If there's one metal band you have to watch at Download this year it has to be the prog metal masters Mastodon. The band plays some of the grittiest sounding songs that have impressive intricate guitar work and solos mixed with fast paced drums and eclectic lyrics. Their latest album 'The Hunter' was critically acclaimed and gained near enough full 10/10 reviews from every magazine and website which in turn brought well deserved success. So if you want some intricate and at times chilled out progressive metal then grab a drink and experience the mighty Mastodon as you won't regret it. (AW)
Where & When: 2:30pm on the Main Stage on Saturday 15th June.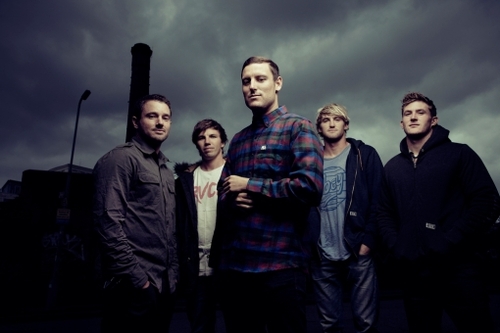 Parkway Drive
For a band that started just to purely entertain their friends Parkway Drive are a band that are all about having a good time. The band perfected their melodic yet heavy sound on their latest album release 'Atlas' which showcased all the bands best features. Parkway Drive live shows are something to watch, expect circle pits, walls of death and plenty of crowd surfing (sometimes with inflatable's) and plenty of chaos and bodies flying everywhere. Oh and one word you need to know for the bands set and expect to shout it at the top of your lungs is "CARRION!" (AW)
Where & When: 3:00pm on the Main Stage on Sunday 16th June.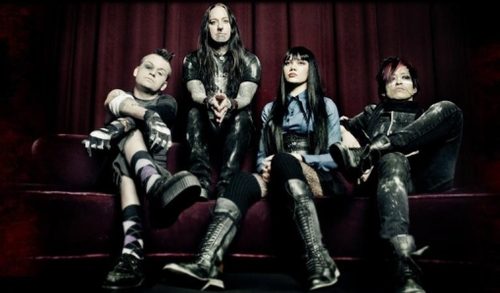 Coal Chamber
The return of one of the metal scenes weirdest yet heavy bands and they've chosen Download as their first UK return show. For those who don't know the band was started by Devildriver frontman Dez Fafara back in the early 90's, releasing three dark, heavy nu-metal albums the band was due for stardom. Breaking up and finally getting back together in 2012 the band are hitting the UK for the first time in eight years so expect to hear classic songs like 'Loco,' 'Fiend' and 'Milk Truck.' (AW)
Where & When: 12:50pm on the Main Stage on Sunday 16th June.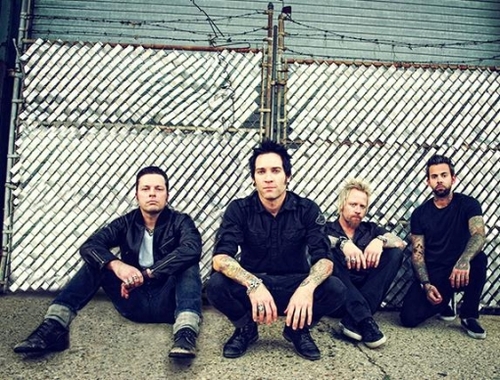 Lit
A staple of Orange County, California's punk rock scene for over two decades now, Lit are one of those bands that everyone in their 20's knew and love as a teenager. Their seminal 1999 album, 'A Place In The Sun' is rightly heralded as one of the best alternative rock albums of its era and lead single, 'My Own Worst Enemy' one of pop punk's greatest anthems. The band are probably best remembered for their appearance on the soundtrack of nearly every teenage comedy during American Pie's heyday, as well as some famous faces that used to pop up in their music videos from time to time – Blink-182 and Pamela Anderson, anyone? Despite enduring some notable lows since that time – including the death of their drummer, Allen Shellenberger following a brain tumour – Lit are still an incredibly popular live act, and their long-awaited return to these shores has been met with great excitement. (CS)
When & Where: 16:20pm on The Zippo Encore Stage on Saturday 5th June.
Heaven's Basement
Hard rock is so often predictable and over-Americanised these days. Trust me when I tell you that Heaven's Basement, as one of the most exciting bands to emerge from the UK in recent years, are the exception. Their debut album, 'Filthy Empire' delivers everything the modern rock fan wants and needs: raucous riffs, bouncy breakdowns and gigantic vocal hooks. Those in the know are already positing the band as future headliners of this great festival. As with all bands who have trodden that path, Heaven's Basement have taken a sound drenched in the past and fused it with the quintessential energy of the present, and are now rock 'n' roll's closest thing to a twenty-first century saviour. (CS)
When & Where: 11:50am on the Zippo Encore Stage on Saturday 5th June.
Lonely The Brave
Okay, so granted, I only listened to Lonely The Brave for the first time last month, and not much is known about the Cambridge five-piece beyond the release of 'Black Saucers' as a free download. But chances are, you're going to be hearing a lot more about them in the very near future. Download head honcho Andy Copping himself recently described them as the "best new band out there bar none" and a host of other industry tastemakers soon followed suit. And while it's all too easy to dismiss the 'buzz' band of the moment, it's hard to deny that Lonely The Brave are smashing it right now. The aforementioned 'Black Saucers' is as exciting a track as you'll hear this year: the sort of song that makes you sit up and reflect whether this band might be about to alter the course of rock and roll history. The only problem is then, that we want to hear more. Download should tell us all we need to know. (CS)
When & Where: 19:55pm on the Red Bull Studio Stage on Saturday 5th June.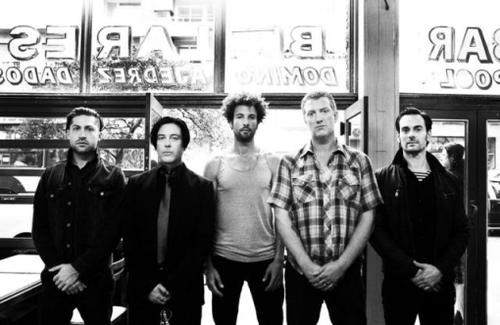 Queens of the Stone Age
Few returning bands have whipped up as much excitement as Queens of the Stone Age have this year. Possibly it was the strength of comeback single, 'My God Is The Sun,' possibly it was the return of one Dave Grohl behind the drum kit, possibly it was just pure status – QOTSA are bona-fide rock behemoths these days and the release of any new material is sure to make the internet go stir crazy. Always the bridesmaid, never quite the bride it seems for Josh Homme and co.; another supporting headline support for the band is testament to their popularity among both fans and fellow musicians alike. You wouldn't bet against them bagging a headline slot sometime in the future, however. (CS)
When & Where: 18:40pm on the Main Stage on Saturday 5th June.
Alice in Chains
One of the Seattle grunge scene's forefathers, one listen to 'The Devil Put Dinosaurs Here' is proof enough that Alice in Chains are still capable of greatness. Perhaps not to everyone's tastes, those that are relish their alternate brand of metal, whatever that may be. Their sound has been labelled many things but what is for sure is that their particular sludgy cacophony of droning guitars is totally unique. Current vocalist Wayne DuVall has expertly picked up the baton following Layne Staley's drug overdose a decade ago and the second coming of AiC remains as musically potent as the first. Download's metal community are sure to descend upon this year's Main Stage for their latest fix. (CS)
When & Where: 15:50pm on the Main Stage on Saturday 5th June.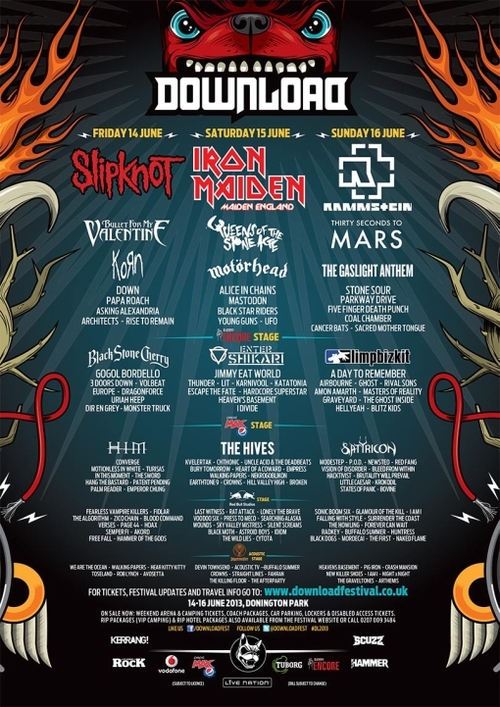 Download Festival 2013 links: Official Website|Facebook|Twitter
Our full coverage of Download Festival 2013 can be found here.
Words by Sean Reid (SR), Jess Tagliani (JT), James Berclaz-Lewis (JBL), Katie Malco (KM), Aaron Wilson (AW) and Christopher Smith (CS).