With the Belgian festival just days away, it's seems like "groez fever" has us in its grip.
There's something for everyone at this festival, Whether it's big hitters, like Rocket From The Crypt, Kid Dynamite, Killswitch Engage, and Bad Religion, or you want something a bit different, like the Aquabats, Masked Intruder or Turbonegro. 
To give you a taster of what's to come this weekend, we've picked 20 bands you could give your time to this weekend at Groezrock 2013.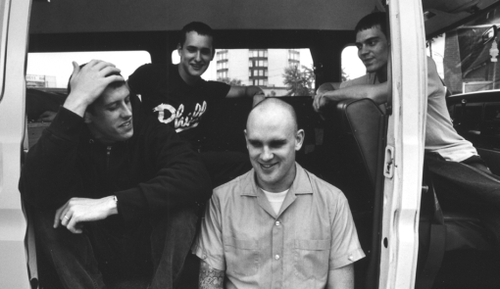 Kid Dynamite
Widely considered one of the most influential punk/hardcore bands, Kid Dynamite bring their honest brand of fast, loud, and highly crowd surf-able music to Europe for Groezrock at the end of this month. If you want that all your favourite bands listened to and were influenced by then I'd highly recommend you go watch them, and I can guarantee you won't be disappointed. For the crowd participation alone, their set will be one of the best of the weekend. If you want to be musically prepared, whack on 'Shorter, Faster, Louder' and get hyped! (RK)
When & Where: 27th April 22:00 on the Etnies Stage.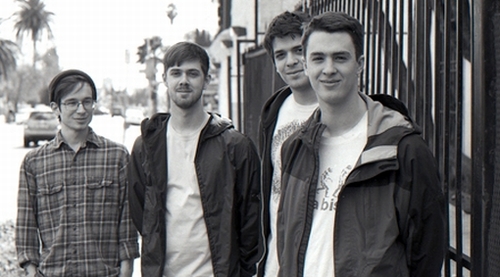 Title Fight
Title Fight are a band that have grown musically and progressed with each record they've released. 'Kingston' will always have a place in my heart but 'Floral Green' put them on the radar for many and their set at Groezrock will prove to be a one to watch. They're on the path of the grunge revival currently that so many others are, difference is that Title Fight do it well. I've seen them play several times before and their live show is really something special and again, they're another band where the crowd participation will outweigh any musical judgements you have about them. (RK)
When & Where: 27th April 20:45 on the Etnies Stage.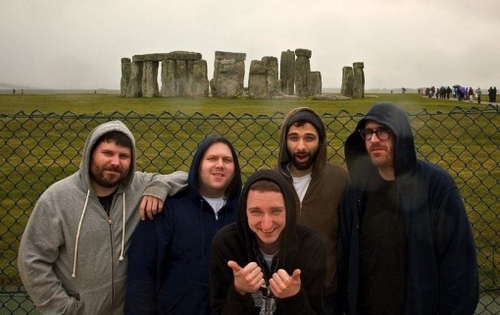 Iron Chic
If you're a fan of fun and melodic punk then there's absolutely no way you should be missing Iron Chic this weekend. 'Not Like This' is a record where every track could be a single. There's absolutely no filler and that's exactly why their live show is awesome. Every song is a sing-a-long, nothing is boring. Prepare for you, your friends, strangers, to all boast the opening line "I'm gonna smash my face, into a god-damn radio." (RK)
When & Where: 28th April 15:10 on the Etnies Stage.
The Front Bottoms
The Front Bottoms are truly one of a kind. Brian Sella brings an honest vocal to a simplistic yet effective musical background. It is the honesty and simplicity of this band that make them so desirable. 'Slow Dancing To Soft Rock' was my old houses' summer album and we listened to it almost every day whilst the sun shone through our windows and we reflected on the stupid drunk mistakes and fun we'd had the night before. Although not entirely relevant to the band itself, it's the fact that they can create such a sense of community and how we could sit there for hours, just listening to this record on repeat, and it relays into their live show. If the sun is shining and you have the time, go enjoy this band and feel like you're apart of something bigger. (RK)
When & Where: 28th April 10:15 on the Etnies Stage.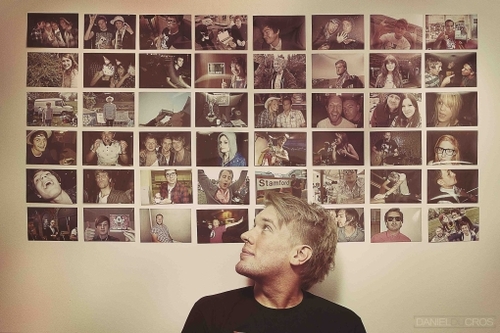 Rob Lynch
Rob Lynch is flying the UK flag at Groezrock this year and I couldn't think of someone more deserving of doing so. Rob plays acoustic pop rock and has been playing round the UK punk circuit for years, all over the UK, Europe too, and not to mention his most recent excursion to Fest in Gainesville, Florida where he too played. Things are on the up for Rob Lynch and this could really be his year so to miss his set now would be pretty bad form. I imagine our British comrades will be with him when he plays, supporting him every step of the way but if at least one more person who hadn't heard him before went to see him play, I know that they wouldn't be disappointed and they'd be putting the biggest smile on one of our favourite faces. (RK)
When & Where: 28th April 15:00 on the Acoustic stage.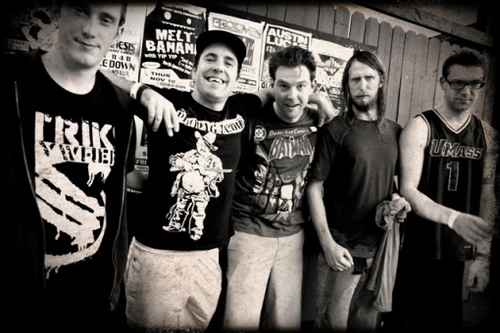 A Wilhelm Scream
With their long awaited untitled new full length due to drop sometime this year, the mathematical melodic hardcore punks will continue to tease with their high octane live performances that will send all minds spinning and rioting with glee. (AL)
When & Where: 27th April 15:00 on the Monster stage.
Comeback Kid
It's been ten years since this renowned Canadian hardcore mob's debut, and what better way to celebrate it with original singer Scott Wade leading the assault for a number of shows. Primarily playing songs from their first two full lengths, 'Turn It Around' and 'Wake the Dead', expect plenty of stage dives and body scrambles to mark such a celebration. (AL)
When & Where: 27th April 23:15 on the Etnies stage.
Streetlight Manifesto
The word ska can cause two reactions: either happiness or disgust. It's a 'take it or leave it genre, and very few ska bands can convert the naysayers. This is where Streetlight Manifesto comes in to prove you otherwise. You don't have to like ska punk to enjoy them, that's part of the charm of Streetlight. Having recently announced an indefinite hiatus, it is one's duty to attend the fun skanking and dancing mayhem of the Manifesto. (AL)
When & Where: 27th April 13:55 on the Monster stage.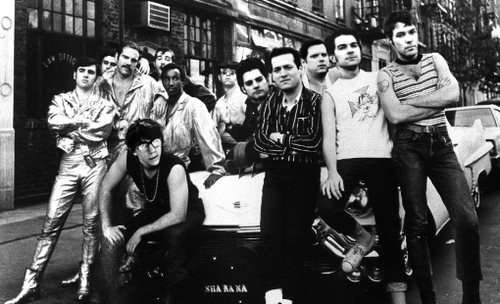 Rocket from the Crypt
Since announcing these brief reunion shows, legendary 90s rock 'n roll punk band Rocket from the Crypt will certainly be causing a commotion at this year's edition of Groezrock. Rammed with a huge rocking discography, the band will definitely be entertaining the old generation of fans and converting the newest generation without a sweat. (AL)
When & Where: 27th April 22:30 on the Monster stage.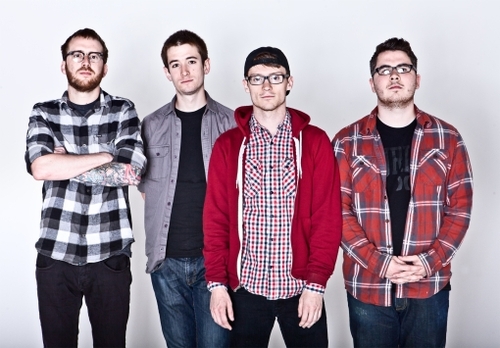 Polar Bear Club
At this point into their career, Polar Bear Club have continued to raise, refine and build upon their brand of anthemic melodic punk. It is without question that the majority of the crowd will be eating out of the band's hand and lapping up every sing along. Feel like you're missing out? Then I urge you to participate and join in the rapturous fun. (AL)
When & Where: 28th April 17:45 on the Etnies stage.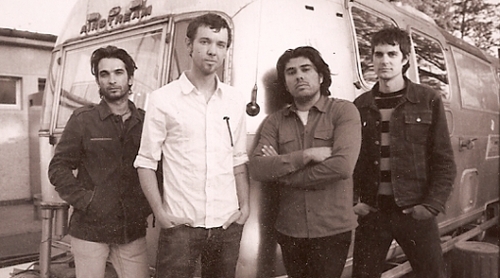 Sparta
As excited as we all were about the reformation of At The Drive-In, it is easy to forget that its members have all enjoyed success with other bands. Jim Ward and Tony Hajjar also form one half of Sparta, a guitar band who wield melodic post-hardcore at its best. 
Jim may not be the zany ball of energy that Cedric Bixler-Zavala is but he is an accomplished songwriter and arguably as good a singer. And with three great albums under their belt and (hopefully) a fourth on the way, the band have a wealth of treasured songs to draw on.
Whilst they are something of a cult act, Sparta inspire great passion among their adoring fans and a small legion are sure to descend upon Groezrock purely to see them. (CS)
When & Where: 28th April 17:30 on the Impericon Stage.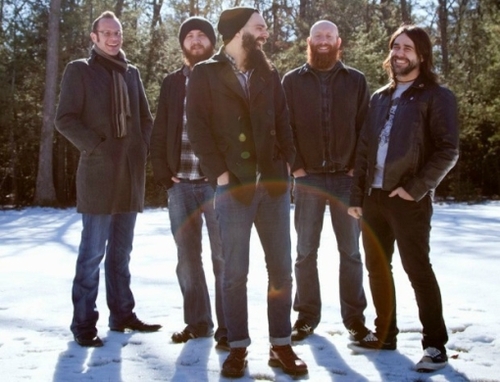 Killswitch Engage
The re-appointment of original front man, Jesse Leach behind the mic took many Killswitch Engage fans by surprise last year. Whatever's been said and done has clearly worked though, as new record 'Disarm the Descent' showcases the band at their re-energised, brutal best.
One of the heaviest bands on the line-up, Killswitch live shows can best be described as a pummelling assault on the senses. Yet these boys know how to work their way round a melody.
Still standing after fourteen years, Adam D and co bring a hell of a lot of experience with them. Coupled with their passionate fan base, the end product could be electrifying.(CS)
When & Where: 28th April 21:30 at the Impericon Stage.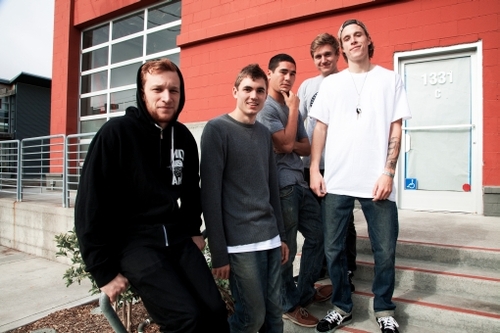 The Story So Far
A pop-punk resurgence might be nigh. A crop of young and confident bands are at the forefront of this hype, seemingly ready to take the world by storm – not least California's The Story So Far. 
Having finally come through university, making music is now priority number one for the band and they recently followed up their critically acclaimed debut album with another absolute belter of a full-length, 'What You Don't See'.
If you want to see why many in the know are so assured of pop-punk's future, TSSF are the band to see at Groezrock. (CS)
When & Where: Saturday, 17:05 at the Impericon Stage.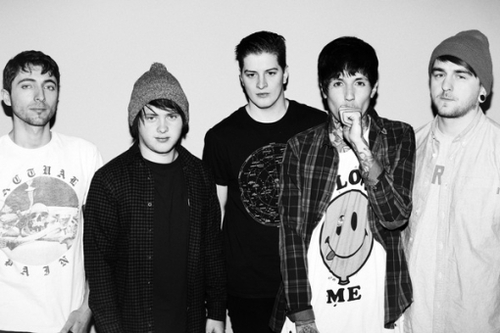 Bring Me The Horizon
Do Bring Me The Horizon represent the future of metal? Some critics' certainly think so. Their confidence may just be well placed, given the strength of recent release, 'Sempiternal'. Quite frankly, it's a game-changer for modern metalcore, and perhaps metal too.
The album sees a revitalised Oli Sykes adding a touch of melody to his traditional throaty growl and the record seems set to win over an army of new fans. The band are also one of Britain's most explosive live bands so don your patriotic cap and expect to have your socks blown off by this lot at Groezrock. (CS)
When & Where: 28th April 20:00 on the Impericon Stage.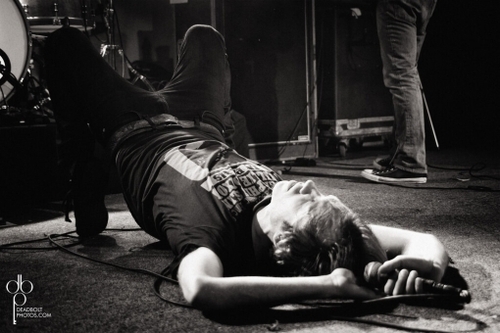 Geoff Rickly
Former Thursday warbler, Geoff Rickly is well known around these parts. The New Jersey native has visited this very festival no less than six times in the past.
This time the previous post-hardcore poster boy headlines Groezrock's acoustic stage on the festival's closing night so if you're feeling a little weary come the end of the weekend there is a somewhat more laid-back alternative to be found.
One of the most passionate and emotive lyricists the twenty-first century has given birth to, you might feel a little different about life come the end of his set. (CS)
When & Where: 28th April 21:00 on the Acoustic Stage.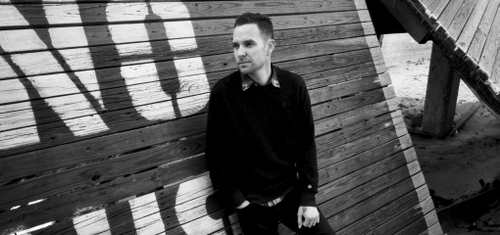 Vinnie Caruana
The Ex-Movielife singer's new band I Am The Avalanche have been keeping him busy with 'Avalanche United' topping plenty of 2011 album of the year lists, and with an almost continual touring schedule with them, its hard to believe he found time to record an album with Peace'd Out and a solo ep in 2012. Last year's 'The City Beside The Sea' was a collection of songs that didn't really fit with IATA, but occupy a fair amount of the same mental outlook, they defintely feel like they work well as live songs. Vinnie has great stage presence, making it feel like you're part of his circle of friends, hanging out and swapping stories in his local Brooklyn haunts. Expect some sad, sad songs and re-imaginings of older classics. (HR)
When & Where: 28th April 1930 on the Acoustic Stage.
Walter Schriefels
The Rival Schools front man (as well as Gorilla Biscuits and Quicksand) is a little older and more philosophical than he was when his more famed bands were popular, but he's no less capable of thinking up choruses that will have you arm in arm with the stranger to your left singing along with his 'open letter to the scene'. Expect songs about life, love and Arthur Lee. There'll be a lot of treats from his new album and sweet renditions of older band classics. I'll be holding out for an acoustic version of 'Head to Wall.' (HR)
When & Where: 27th April 19:30 at the Acoustic Stage.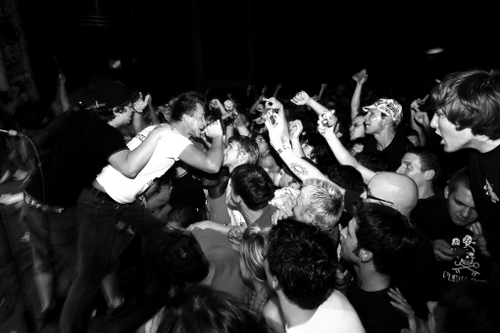 Grade
Canadian band Grade were in a way forerunners to a lot of the 'emo' bands that you love making a big splash. They split up in 2002, but during their five-year run toured with plenty of big hitters like Jimmy Eat World, Hot Water Music and Fugazi. Their 1999 album 'Under The Radar' is full of gems like 'Stolen Bikes Ride Faster,' (which still gives me goosebumps 10 years on) and 'Triumph and Tragedy,' – the latter's climactic line "my relationship with reality, it comes and goes" was borrowed by British band Apologies I Have None for their track 'Victoria Park' last year. They're rougher round the edges than the bands you loved, but if you want to hear how finch or others got to the sound that made them big, give grade some time. (HR)
When & Where: 27th April 19:15 at the Impericon Stage.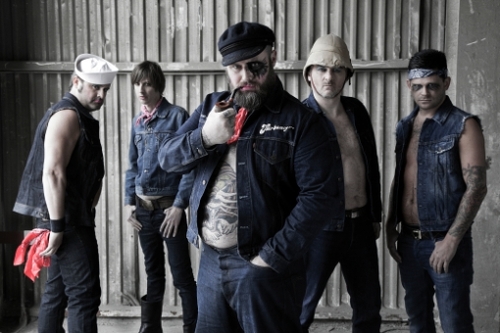 Turbonegro
Turbonegro are basically what you want from a punk rock n roll band: double denim, black humour and great guitar riffs. It's taken 1 long hiatus for their cult status to be realised, but their work since their return, albums 'Party Animals' and 'Sexual Harassment' have been solid with great tunes: I defy you to not sing along to 'All My Friends are Dead'. It's party music in its simplest form, with veins of black humour bulging at the seams and lyrics that are outlandish and ridiculous. Don't be put off by the costumes/makeup, you'll only miss out. This is the band your mother warned you about. (HR)
When & Where: 27th April 23:30 at the Impericon Stage.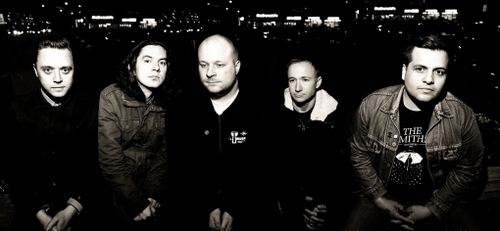 Narrows
With Members of Botch, Bullet Union and These Arms Are Snakes, Narrows are the kind of blistering heavy rock with tight drumming and guitar riffs that leave you gasping for air. Debut album 'New Distances' came out nearly 5 years ago and retains that visceral full on anger from start to finish even now. The visit to the Europe is a rare and exciting treat to get some of this in your face, as the distance between band members and visa issues often make for difficulties in touring. So grab the chance with both hands. (HR)
When & Where: 28th April 15:10 at the Impericon Stage.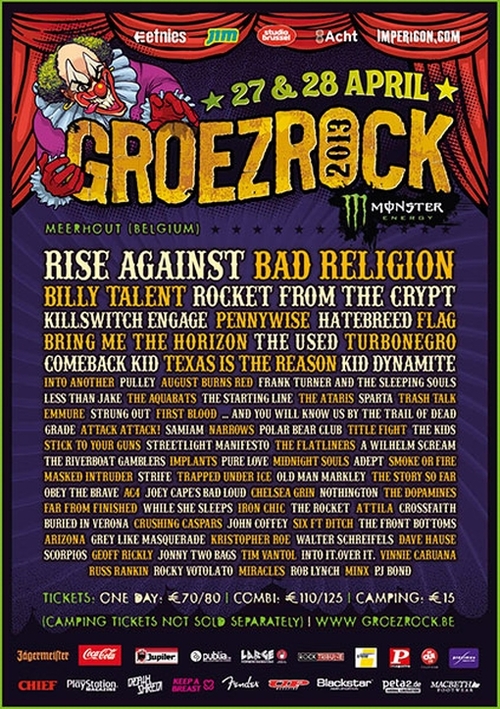 Groezrock 2013 will take place across two days on Saturday April 27th and Sunday April 28th
Groezrock links: Official Website|Facebook|Twitter
Words by Rosie Kerr (RK), Aaron Lohan (AL), Chris Smith (CS) and Heather Robertson (HR).