As the festival season rolls on, this weekend the Hit The Deck Festival returns for its fourth outing. The duel-city, multi-venue event will once again be split between Bristol and Nottingham, and once again it promises to be another memorable Easter weekend with a overwhelming line-up.
As always with over 40 bands playing across 6 stages, the Already Heard team has picked out 10 must-see bands to see at this weekend's festival.
Brand New
You have to admit the organisers behind Hit The Deck Festival have outdone themselves in terms of main stage headliners this year by bagging Brand New. Although there's still no sign of new material, it's certain that the Long Island, New York band will produce a career-spanning set that will leave festival-goers overwhelmed and more than satisfied. (SR)
Where & When: 20:30 at O2 Academy 1 (Bristol)/ 21:30 at Rock City – Main Hall (Nottingham)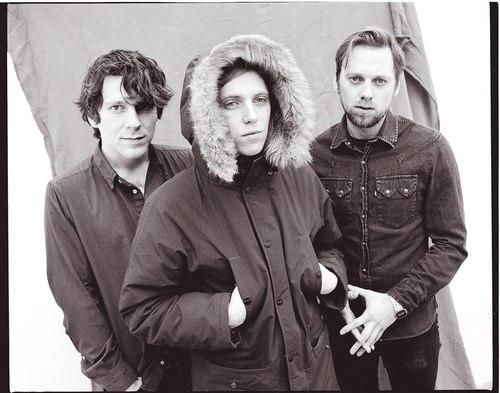 The Xcerts
With work on album number 3 completed, The Xcerts make their live return by appearing on at both dates of HTD. Having shared the stage in the past with the likes of Brand New and Taking Back Sunday, we're sure the trio won't be overwhelmed by the occasion as they look to deliver an abundance of alt-indie pop goodness. (SR)
Where & When: 13:15 at O2 Academy 1 (Bristol) / 13:00 at Rock City – Main Hall (Nottingham)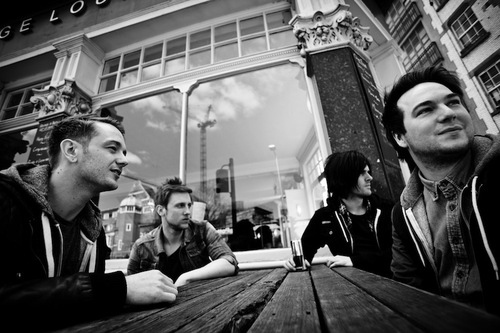 Lacey
Although this Nottingham hook-filled rock quartet are only playing their hometown, that shouldn't put you off from catching Lacey. With arena-sized choruses and insatiable melodies, Lacey will be kicking off the day on a high as they showcase their brand of dynamic alt-rock. (SR)
Where & When: 12:45 at The Forum (Nottingham)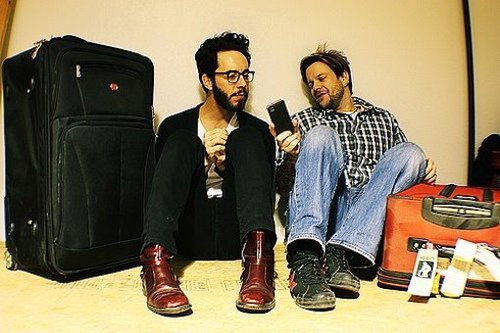 People On Vacation
Bowling For Soup Frontman Jarrett Reddick and Texan Singer-songwriter Ryan Hamilton combine to form double act People On Vacation, who between them, produce irrepressibly feel good, smile raising slices acoustic power-pop. POV are a perfect choice for anyone looking to temporarily escape the noise, pits and chaos raging elsewhere at Hit The Deck. Expect some genuinely hilarious off the cuff banter thrown in between the two for good measure as well. (DW)
Where & When: 15:30 at Thekla (Bristol) / 16:45 at The Forum (Nottingham)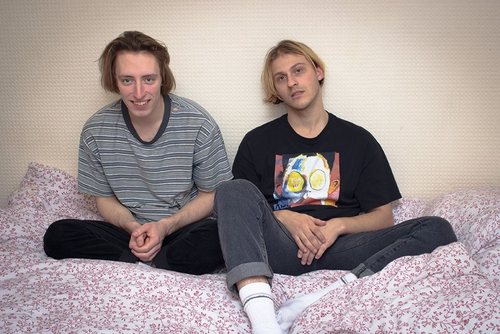 Nai Harvest
Longtime AH favourites Nai Harvest will be making their HTD debut, and with them they'll be bringing their mix of emo and indie rock.
Their latest release, 'Hold Open My Head' picks up where their brilliant 'Whatever' LP left off by taking a more melancholic and fuzzier route. With the bands stock growing release after release, HTD is the perfect starting point to catch Nai Harvest before they get bigger.
Where & When: 15:45 at The Fleece (Bristol) /15:30 at Rescue Rooms (Nottingham)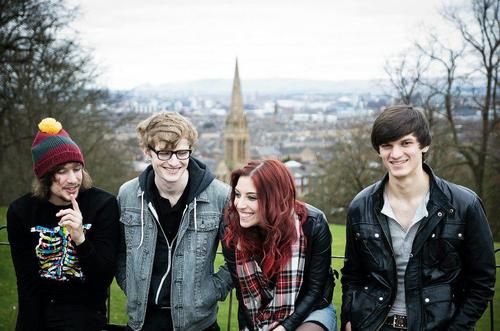 Vukovi
Trying to pick out the best up and coming bands to check out at festivals can be a pretty hit and miss business. If you're heading to Hit The Deck this weekend don't take that risk, instead make sure you get your eyes and ears in front of Vukovi's rather excellent brand of addictively frenetic lady-fronted alt-rock. The Scottish four-piece won't disappoint, although you will have to contend with spending the rest of HTD trying to get the band's stupidly catchy track 'Schwagger' out of your brain. (DW)
Where & When: 14:45 at Academy 2 (Bristol) / 15:30 at Rock City Basement (Nottingham)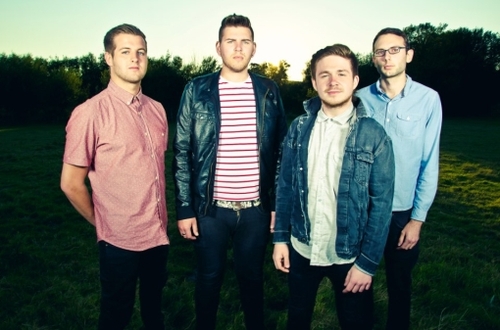 Verses
Anyone wise enough to check out Brighton's Verses this weekend should be treated to a preview of tracks from the band's highly anticipated forthcoming debut album 'Feel It Faster'. Jason Danzelman and co have finely tuned their straight-up anthemic british rock sound, and having toured extensively already this year, will be in top form come their Bristol and Nottingham appearances. Verses are a band definitely not to be missed. (DW)
Where & When: 15:45 at Academy 2 (Bristol) / 14:45 at The Forum (Nottingham)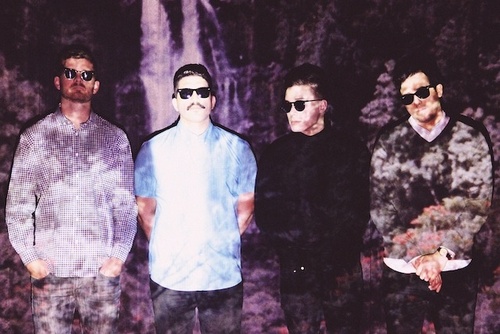 Seahaven
'Winter Forever' blew me away. At the time of it's release it soundtracked many nights driving across London late at night after having visited my girlfriend at the time. It became so essential and such an accompaniment to myself; I couldn't imagine listening to anything else. However, 'Reverie Lagoon: Music For Escapism Only' surprised me at first. It felt different and sure, it was. But once I got it, I really got it. It's replaced it's former in the late night drive stakes (no girlfriend this time) and really helps me to get lost in the album, which is incredibly fitting considering the name.
Seahaven are a band who are incredibly passionate with their songwriting and this comes across an unbelievable amount in their live performances. I'm going to be completely at one with the music and I'm sure it's going to be one of the best experiences of my year. They're certainly not the biggest band on the bill but being as underrated as their are it's going to be something even more special. Come and join me at the back and be a witness to something truly special. But, I ask, please don't disturb when I'm losing myself in the music. (MB)
Where & When: 16:45 at The Fleece (Bristol) / 16:30 at Rescue Rooms (Nottingham)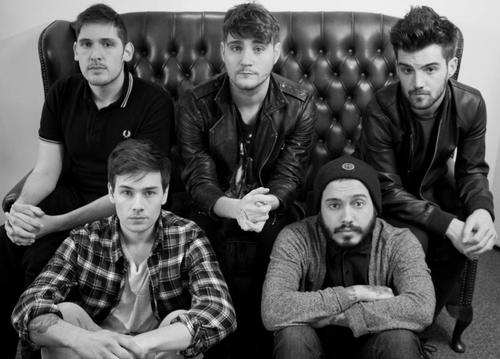 Kids In Glass Houses
Their reign of Welsh power-pop titans has finally come to an end. Announcing their split earlier this year, the band will finally bow out at the later half of the year and so there aren't many chances to finally catch the band in one of their strongest outlets; the festival. From the early, almost nostalgic stonkers of 'Give Me What I Want' and 'Easy Tiger' (which are some of the catchiest songs to come out of Wales since, well, forever) and the later dance floor/disco-esque stompers such as 'Drive' to fuel your late nights with your summer crush, it's all there. Give them a warm send off and don't forget to dance. (MB)
Where & When: 18:30 at Thekla (Bristol) / 20:00 at The Forum (Nottingham)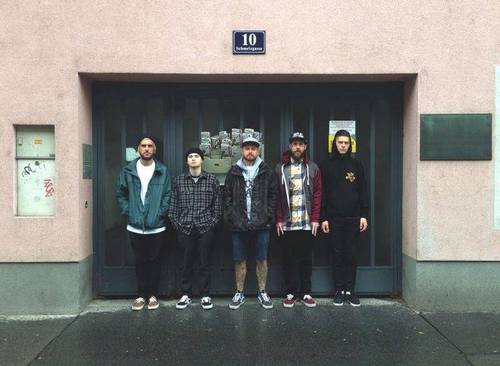 More Than Life
With their second LP, 'What's Left Of Me' out this week, UK melodic hardcore band More Than Life will be celebrating its release by appearing at Hit The Deck. With a collection of songs that are raw, heartfelt and filled energy, 'What's Left Of Me' showcases the bands growth as songwriters which leans to a more alt-rock direction.
Nevertheless the bands hardcore roots are still in tact and with such a rousing set of songs, More Than Life have the potential to make a name for themselves this weekend. (SR)
Where & When: 20:30 at The Exchange (Bristol) / 20:00 at Stealth (Nottingham)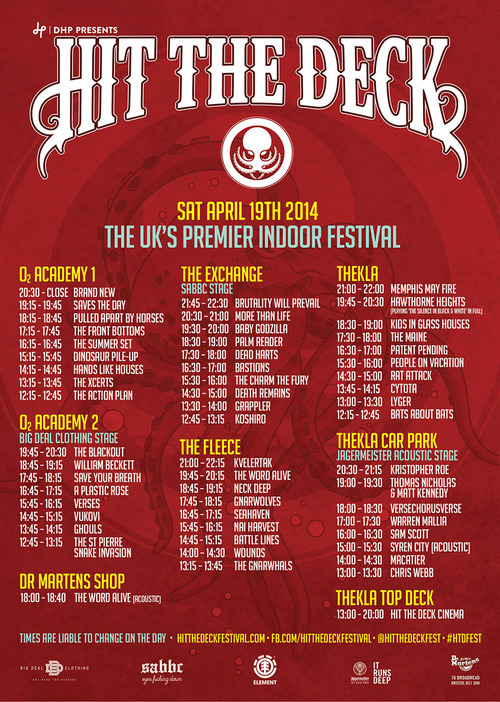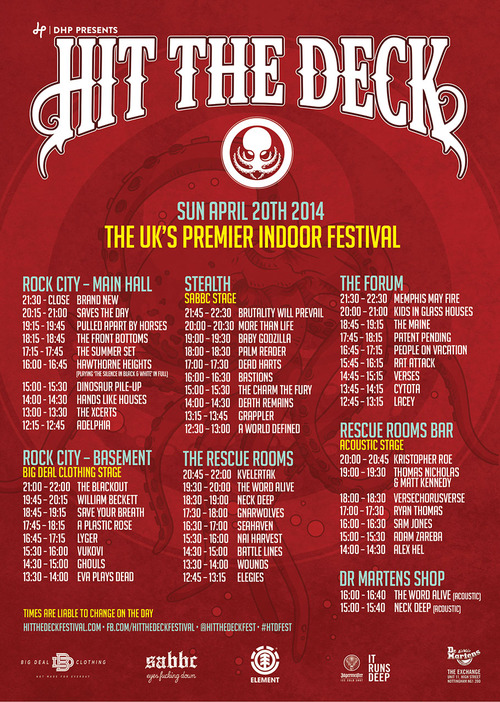 Hit The Deck Festival links: Website|Facebook|Twitter
Words by Sean Reid (SR), Dane Wright (DW) and Mikey Brown (MB)