On our Southern coast is the town of Southampton, which has boasted quite a reputable music scene for many years now. But, this weekend, some of the UK's top acts ranging between rock, metal, hardcore and more will take over Southampton Uni and deliver you a fantastic one day event in the form of Takedown Festival.
Will you be there? We will, but just incase you're still unsure as to who to see some of our writers have collated this lil' list for you. Read, this, check the bands out and have a blast on Saturday!
And incase you haven't done so yet, let us know any of your thoughts on Facebook and Twitter.
View the full list of stage times here.
Attention Thieves
Despite only being three years old, Reading quartet Attention Thieves have gained an immense amount of exposure. They've recently finished tours with Enter Shikari and Canterbury; this lead to them gaining loads of new fans, which is something they deserve. Their music is biting yet catchy, leading to massive sing-alongs. With the release of their latest single 'Can't See the Light', things are looking very rosy for this quartet indeed. (JT)
When & Where: 17:45 on the Southampton Music Mag Stage.
Hey Vanity
Made up of former members of Fei Comodo, this Essex quartet shot into the spotlight after touring with Don Broco earlier in the year. With huge slabs of punchy rock attitude laced with bone-crunching riffs and bouncy choruses, Hey Vanity have been reeling fans in with the release of debut EP 'Breathe, Bleed, Grow' and will be a great band to see in order to kick start the day. (JT)
When & Where: 14:25 on the Smalltown & Friends Stage.
A Tale Of Two Cities
Hailing from Bristol, five-piece act A Tale Of Two Cities were one of the last bands to be added to the bill but by no means does this mean that they're one of the least-worthy bands. In fact, they're probably going to be one of the best bands to storm this festival. Their adrenaline-fuelled tracks are a perfect blend of hungry power and roaring riffs that will simply drag you into a chaotic whirlwind of pure, flawless energy. If there's one band that you must see, it's these guys. (JT)
When & Where: 13:45 on the Smalltown & Friends Stage.
Hacktivist
The go-to choice for supporting slots at the moment, in the first half of 2013 Hacktivist have already been billed with the likes of Enter Shikari, Limp Bizkit and Crossfaith. If you haven't managed to catch them on their recent UK tour, now is the perfect chance to find out what all the fuss is about.  Blending hardcore and grime with electronica elements and Meshuggah-style riffs, Hacktivist's unique sound is a refreshing offering in the oversaturated UK hardcore scene.  With an energetic live show that's bound to get raucous; this set is a sure-fire way to get you off your feet. (JS)
When & Where: 18.35pm on the Monster Energy Stage.
TRC
A truly polarising band who manage to garner as much criticism as they do acclaim; by now you probably know if you're a fan of TRC's aggressively ego-centric hardcore. Despite the controversy, TRC are undeniably one of the strongest bands on the UK hardcore scene today, with dynamic live shows and the kind of banging tunes designed get the party started. There's no point in holding a pint while you watch these guys as it's sure to come flying out your hand as soon as they burst into action. Fresh off their European tour and with a new album and yet more tour dates in the pipeline, you can expect to hear mix of fan favourites and brand new songs. (JS)
When & Where: 16.10pm on the Monster Energy Stage.
Sonic Boom Six
Defiantly pogo-ing in a world where the mosh reigns supreme, Sonic Boom Six are always a breath of fresh air. Frequently touring and managing to combine both politics and partying without seeming trite or heavy-handed, the Manchester six-piece always execute a solid, enjoyable set. Since 2002, the band have effortlessly blended genres and styles, making them impossible to pigeonhole and adaptable to any festival crowd. With new single 'Keep On Believing' out on Xtra-Mile Records, and last year's self-titled release both adding to their cannon of solid tunes,  you can rely Sonic Boom Six to deliver as they headline the Big Deal Clothing Stage. (JS)
When &Where: 21.15pm on the Big Deal Clothing Stage.
Marmozets
Just ahead of their tour with Senses Fail, Marmozets will be bringing their bratty, energetic and melodic-mathcore excellence to Takedown. So what do you need to know about Marmozets ahead of the festival? Well. They are signed to Gallows' own Venn Records, and have so far delivered hit after hit of their breed of mind-bending, hook laden alt. hardcore in the form of two E.P's – they don't even have a full length and already they are the most fresh and exciting band on the scene, as well as a bunch of unbelievable musicians. And what's more, they are a group of two sets of siblings…. who are ALL 18 AND UNDER. Go and see a bunch of kids from Bradford blow everyone else out of the water. (KM)
When & Where: 16:10 on the Rocksound Stage.
Burn The Fleet
Shit guys – according to Twitter, Burn The Fleet's set at Takedown will be their last. This is very sad news. So you better go and see them before they are gone forever! Burn The Fleet are a bunch of unpretentious all round great guys from Southampton, and they have a live show to match. Expect catchy as hell Thrice-like anthems, sing-along-and-hug-the-nearest-person-moments, big guitars, crashing drums, soaring vocals, beautiful delicate moments and above all – top notch banter. Let's make sure their last show on their home ground sees them off with a bang. (KM)
When & Where: 19:15 on the Southampton Music Stage.
Hang The Bastard
If you're a fan of a full on doom assault, dense Slayer-inspired riffs cut with a modern metalcore knife, and you basically want to hear songs about pure HATE for 30 minutes….then I advise you to go and see Hang The Bastard. The band have seen some changes of late, with a new line up and a "greatest hits" of 2009 – 2012 style record released on Holy Roar Records to mark this turnaround, serving to draw a line under the old Hang The Bastard. On the Southampton Music Mag Stage straight after the brilliant melodic rock of Burn The Fleet, Hang The Bastard will be sure to bring a slice of chaos to proceedings, and if new track 'Sweet Mother' is anything to go by then this will be a set worth watching. (KM)
When & Where: 20:00 on the Southampton Music Stage.
Closure In Moscow
I'm never sure how to describe Closure In Moscow to friends. I simply throw on 'Kissing Cousins' and make them listen whilst irritatingly narrating through it with 'this bit's good!' and 'oh man, this next bit here, check… woahhhh!' With only an EP and album 'First Temple' released so far (which are both solid) we can expect a fair few new songs from their upcoming release 'Pink Lemonade.' Closure In Moscow are incredibly melodic, just as infectious and worth your time and ears. (MB)
When & Where: 18:15 on the Small Town & Friends Stage.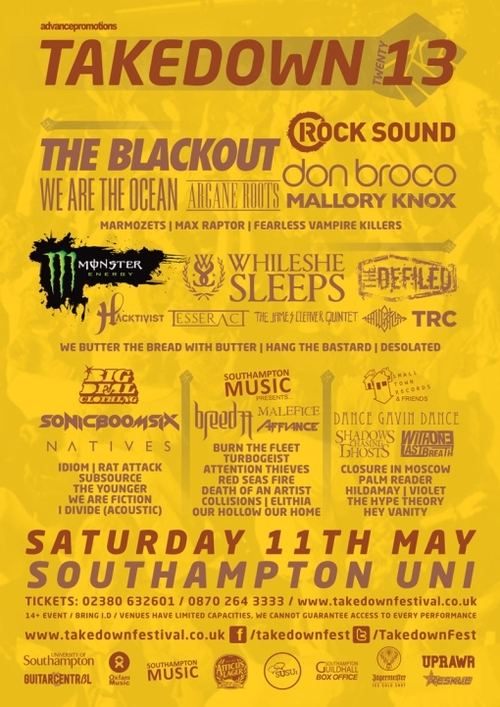 Takedown Festival links: Official Site|Facebook|Twitter
Words by Jess Tagliani (JT), Jay Sullivan (JS), Katie Ann Malcomson (KM) and Mikey Brown (MB).