It has been quite some time since the Already Heard team picked out their must hear releases for the coming month, but with February still early days, we're taking the opportunity to pick out five of the best new releases from February 2014!
What do you think to our picks? What albums are you looking for to hearing this month? Let us know on Facebook, Twitter or in the comments below.
Diamond Youth – Shake
A spoonful of nostalgia never hurt anyone. This is exactly the case for the new EP from Diamond Youth. The alt punk quartet, featuring members of Trapped Under Ice and Down to Nothing, have written another gem of an EP. It's catchy, no nonsense but thrills, yet with a darker edge this time around.
The Queens of the Stone Age influence is ever strong, but the band has taken this and has moulded it into their vision. The brooding, pop sensibilities are consistent, whilst the expression is varied. 'Can't Shake the Feeling' is a helter skelter beast with a short simple chorus, which has a firm grasp. 'Don't Feel Real' meanwhile slows this pace down, into a 50s sweetened and calmingly tense band. Ever present in the rocky atmosphere are the eerie croons by vocalist/guitarist Justin Gilman, whose voice spreads like butter. I would reveal more, but then I would be a right sour git for giving spoilers. Yes, if there was one release you should check out this month, then it's 'Shake' by Diamond Youth is out now on Topshelf Records. (AL)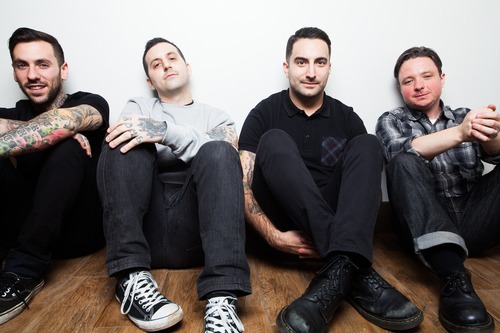 Bayside – Cult
Bayside are one of those bands that have never quite achieved the recognition they deserve. Both 'Sirens and Condolences' and 'Bayside' are canonical releases in the emo/post-hardcore genre, and while many similar bands have burnt out or radically altered their sound, Bayside have stayed true, silently plugging away at what they do best. Proud to be the outsiders, 'Cult''s name and album cover are a nod to their fairly underground fan following, featuring every single one of their previous album covers incorporated into the artwork.
Having heard the album we can confirm it's a winner, combining the effortless wordplay and creative riffs that Bayside are known for. There's still the biting venom of early releases in songs like 'Pigsty' and 'Hate Me' but 'Transitive Property' shows a new side to Anthony Raneri's song writing as he pleads with his wife to weather the tough times in their relationship. Listeners will find a misanthrope's anthem in 'Stuttering' – one of their strongest tracks in years.
'Cult' is a sure-fire hit for existing Bayside fans and one which will hopefully win them some of the acknowledgement the band should have earned long ago. (JS)
'Cult' by Bayside is released February 10th on Hopeless Records.
Modern Baseball – You're Gonna Miss It All
Modern Baseball are set to drop their second album, 'You're Gonna Miss It All' on February 11th. If it's half as good as their first effort then it's the album of the year. The Philadelphia four-piece have had an absolutely mammoth year since being picked up by Run For Cover on the back of that phenomenal album and with the RFC machine in full swing in anticipation of 'You're Gonna Miss It All' then it's fair to say Modern Baseball's 2014 will be huge.
In May they'll be in the UK with Real Friends and You Blew It! The band's dedicated following will have played the record to death by this point; the sing-alongs (and there will be oh so many sing-alongs) will be entirely memorized. The friends of that following will know all of those sing-alongs because this record will be both obscenely catchy and eternally played. If the rest of the album is as good as the tracks that have dropped so far – and I'm more than confident it will be – this won't just be one of February's best albums, it will likely be a lot of people's favourite record come February 12th. (TK)
'You're Gonna Miss It All' by Modern Baseball is released February 10th on Run for Cover Records.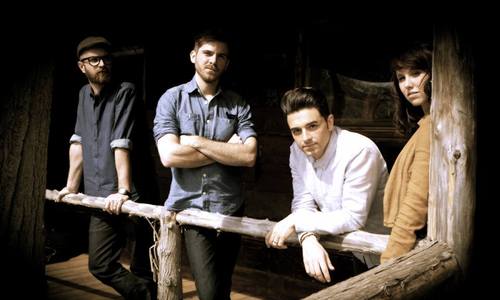 Twin Forks – Twin Forks
Back in the mid 00's Chris Carrabba enjoyed near god like status with many fans in his position of poster boy of the Emo scene boom. With his painfully lovelorn yet artful lyrical style, and an arsenal of simple yet effective acoustic melodies, Carrabba and his band Dashboard Confessional won hearts and fans around the globe. Now after a couple of years out of the spotlight Carrabba is back fronting his new outfit Twin Forks. Sporting a more folk influenced sound and a far sunnier disposition, the release of the band's self-titled debut album is now imminent.
If the band's debut EP is anything to judge by Carrabba has lost none of his keen eye for a sweet yet simple melody, even if they are a little more homespun in their delivery. Lyrically things look set to be as effortlessly poetic as ever, and with Suzie Zeldin's sugar sweet vocals adding to the harmonies this could also prove to be one of this month's most pleasing on the ear releases. Look out Emo kids, Chris Carrabba may be about to make you smile. (DW)
'Twin Forks' by Twin Forks on 25th February on Dine Alone Records.
The Treatment – Running With the Dogs
Ever since first hearing The Treatment during their set at 2011's High Voltage Festival, the quintet have been on and off my radar. After hearing snippets of the band's new record 'Running With the Dogs', however, it's safe to say that they're on there to stay now. Another bastion of a growing classic rock nostalgia drive, The Treatment bring a similar attitude and sound to the table that Airbourne have done in previous years, but with the Australians not making as big of a splash with 'Black Dog Barking' as their first two records enjoyed, the five-piece from Cambridge have a huge opportunity to step in and seize the crown. Expect the album to produce more than a couple of Planet Rock mainstays, and expect February to belong to The Treatment. (Antony L)
'Running With the Dogs' by The Treatment is out now on Spinefarm Records.
Words by Aaron Lohan (AL), Jay Sullivan (JS), Tom Knott (TK), Dane Wright (DW) and Antony Lusmore (Antony L).