As always the first Wednesday of every month sees the Already Heard team to highlight five must hear releases for the coming month.
October sees numerous releases with the likes of Panic! At The Disco, AFI, Kevin Devine, Mayday Parade and New Found Glory. However for this edition of "Fives" we putting the focus on five other albums that are released this month; Arcade Fire, A Loss For Words, Hindsights, Stallone and Heartsounds.
What do you think to our picks? What albums are you looking for to hearing this month? Let us know on Facebook, Twitter or in the comments below.
Arcade Fire – Reflektor
If you had told me back in 2004 when the bands debut ('Funeral') was released that Arcade Fire would be headlining festivals and playing arena shows 9 years later, I would probably think you was crazy. Nevertheless after three albums the Canadian indie rock band have done just that, and as a result their fourth LP, 'Reflektor' is one of the most anticipated albums of the year.
Following a neat viral campaign and an incredible interactive music video, 'Relektor' sees Arcade Fire working with LCD Soundsystem's James Murphy and if the title track is anything to gyo by, will see the band heading in a more "disco", upbeat direction but keeps that sombre undertone that has been consistent throughout their career.
Nonetheless I'm sure Arcade Fire will produce another masterpiece that will inevitably appear on countless end of year lists. (SR)
'Reflektor' by Arcade Fire is released on October 28th.
A Loss For Words – Before It Caves
The Massachusetts pop punkers return with 'Before It Caves' on October 10th and promises a return to form for A Loss For Words after 2011's somewhat disappointing 'No Sanctuary'. With tracks as bold and catchy as 'Distance' and 'Conquest of Mistakes', 'Before It Caves' could see A Loss For Words making a late entry for pop punk album of 2013. Also with members from The Wonder Years, Polar Bear Club and PVRIS making guest appearances on the record, it certainly seems 'Before It Caves' is a must-hear record this month. (SR)
'Before It Caves' by A Loss For Words is released on October 8th via Velocity/Rise Records.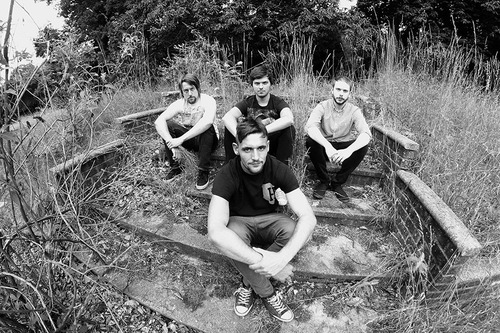 Stallone – Mire
In a stagnant music scene lacking creativity such as hardcore and metal, there is always a minority who strive for something more. New Brit mob Stallone display a terrifying ferocity in aggression, whilst showing off technical innovative efficiency; it's a smooth but effective contrast. Their debut mini album 'Mire' is certainly going to swivel head anti-clockwise in curiosity. 'In the Mire' is a taste of this, and it's flavour is chaotically brilliant. Once again Tangled Talk and Enjoyment Records have captured and unleashed a monster in the making. (AL)
'Mire' by Stallone is released on 7th October on Tangled Talk Records and Enjoyment Records.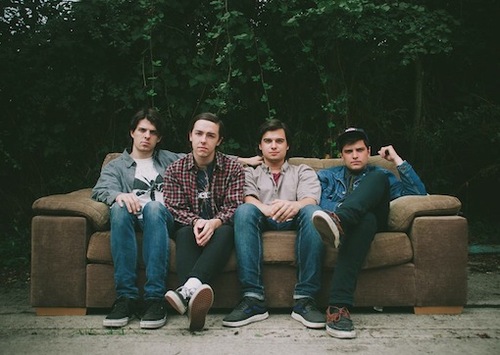 Hindsights – The Thoughts That Weigh Me Down
Slough quartet Hindsights' new 12" EP is an essential record for your listening pleasure in October. The band are sure to dazzle and amaze with their brand of melancholic 90's emo punk. Judging from the current tracks that have been streamed including 'Heavy Head', 'Daydreams' and 'Grey' (featuring Gnarwolves' Thom Weeks), this record will well you up in sound and emotion. Fuzzy, dreamy, heart on sleeve and huge are the key words that come to mind when listening to this record. If they don't, then you are a liar! (AL)
'The Thoughts That Weigh Me Down' by Hindsights is released on 7th October on Beach Community.
Heartsounds – Internal Eyes
In my opinion San Francisco's Heartsounds are one of the most underrated punk rock bands to emerge over the last few years. 2009 debut 'Until We Surrender' thrived off the male-female vocal work of Ben Murray and Laura Nichol, and its 2011 follow-up ('Drifter') built upon on the fierce, energetic riffs of its precessor with a slight metal/skate punk edge.
Now away from Epitaph Records, 'Internal Eyes' promises to be another meaty slice of riff-filled punk rock and if the title track and 'The World Up There' are anything to go by, it will delight longtime fans and hopefully wake up those who have been missing out so far. (SR)
'Internal Eyes' by Heartsounds is released on 15th October through Flix Records/Cargo Records UK (UK/EU) and Creator-Destructor Records (US).
Words by Sean Reid (@SeanReid86) and Aaron Lohan (@ooran_loohan)