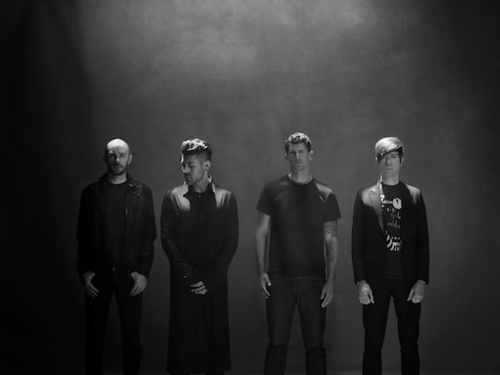 For this edition of "Fives" we delve into AFI's back catalogue. Having formed in 1991, the California band have worked their way from basement shows to being a major label Billboard chart success with their influence evergrowing within the punk rock community. Nevertheless the bands discography varies from punk rock to post-hardcore to alternative rock to horror punk.
Now as the release of the bands ninth full-length ('Burials') approaches, Already Heard's Heather Roberton, Aaron Lohan and Jay Sullivan pick out five classic cuts from AFI's deep history.
What are your favourite AFI songs? Let us know on our Facebook or Twitter pages.
This Secret Ninja
This classic from AFI's 1996 album 'Very Proud of Ya' is a brilliantly paced track which shows you where the Bay area band came from musically: fast-punk rock with a razor sharp pop edge to their anger. The bass line runs around like a demented puppy while Havok directs his ire at fanaticism of bands and the idea that a band owes its audience anything. The point is that the singer is seen as this focal point for a band, and people believe they know something about their lives and that as fans we should be a part of their lives, but this is something he's uncomfortable with. It also mentions how fleeting popularity actually can be, something that still feels relevant. It's the kindof song I still imagine as a perfect circle pit song, the pacing is great, and the beat is almost begging you to dance to it. i love that they turn what could be a real moaner of a song into a positive, and make a great track out of it. as Havok says in the chorus, he's going to be his own man, and not pander to fans; "pay the price to see the show but you don't own me", and that's definitely a tenet they still seem to stand by. (HR)
File 13
From the band's second full length 'Very Proud of Ya', 'File 13' shows AFI at their rawest and punkest form. This is a classic anthem for the outcasted, down in the dumps individual. An ample bass line, angsty snappy vocals from Havok himself and a catchy chorus; what's not to love? (AL)
God Called in Sick Today
It was difficult for me to pick a song from 'Black Sails in the Sunset' as it's simply a flawless album from start to finish and AFI's magnum opus. Thus I chose the closing track 'God Called in Sick Today', a poetically charged post hardcore song of sorrow. Havok's usual switch from harmonious melody to raw yells are at their finest here as they bow out with gothic punk ensemble in the background. (AL)
Bleed Black
'Sing the Sorrow' was the first AFI album I ever owned and despite no longer being 13, the entire album has stood the test of time. Purists may moan that this is where things went wrong for AFI, but they're missing out, as this album boasts back-to-back goth punk classics with melodramatic lyrics and killer riffs. 'Bleed Black' is the standout track, it's polished without being too poppy and has a dramatic feel that reminds me of The Damned. Undoubtedly some of the lyrics are pretty cheesy, but I think that's part of it's awkward charm. The guitar work around 2:33, complimented with Davey's building vocals is still one of my favourite parts of any song ever and while it doesn't have spoken Spanish parts or mournful rain sound effects like other tracks on 'Sing the Sorrow', it stands out for all the right reasons instead. (JS)
The Nephilim
That opening riff! That drum beat! The way the intro builds slowly before giving away to a fast-paced punk track. The one of the first AFI songs I ever heard, to this day it's impossible for me to listen to this without shouting the lines, "I remain, in shadows growing wings." It's short and sweet and manages to blend the best parts of AFI's early punk stuff with their later, more melodramatic tracks. This whole album reminds me of Punk-O-Rama compilations with a slight Misfits-inspired edge. 'The Art of Drowning' also boasts some really great album artwork that more recent AFI albums have lacked. A classic. (JS)
'Burials' by AFI is released on 22nd October through Republic.
AFI links: Website|Facebook|Twitter
Words by Heather Robertson (HR), Aaron Lohan (AL) and Jay Sullivan (JS).