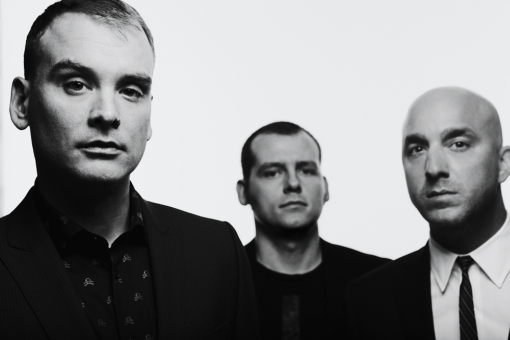 Next week Illinois punk rock band Alkaline Trio release their eighth album 'My Shame Is True.' With such a dense back catalogue, Already Heard's Sean Reid and Tom White faced a touch challenge for the latest edition of "Fives" as the pair picked out the five best Alkaline Trio songs.
Having formed in the Chicago punk scene in 1996, Alkaline Trio have gone to have a respectable career; toured on both sides of the Atlantic relentlessly, recorded eight albums, several EP's, and formed a handful of side-projects. By thriving of the basis that is the partnership between guitarist/vocalist Matt Skiba and bassist/vocalist Dan Andriano, Alkaline Trio are one of the most influential punk bands of recent times.
Head on over to our Facebook page to tell us what you think to our choices and what your favourite Alkaline Trio songs are!
'Armageddon'
'Armageddon' is a real Alkaline Trio anthem; it sits beside 'Mercy Me' and 'Radio' as one of their strongest pieces of song writing ever. The chorus is instantly familiar with the iconic line "before we say goodbye, give us something to believe in." It is a song which undoubtedly gives you that something to believe in and this is why it makes my personal favourites. (TW)
'Cooking Wine'
'Cooking Wine' is classic Alkaline Trio; it is angst-ridden, maniacal and brutally honest. It is a song that reaches out and begs you to embrace it, and there is no way you can deny the throaty cry of Matt Skiba. It opens with the desperate "sorry I'm late, I was out spoiling my liver" and paints a picture of heartbreak and alcoholism. It may be needy, but it gives you something to cling to and this is one of the reasons that Alkaline Trio is one of my favourite bands. The redemptive qualities in their heart- wrenching lyrics have often pulled me through tough times and 'Cooking Wine' is a prime example of this. (TW)
'Warbrain'
'Warbrain' is short and sweet; it pours its melancholic charm down your throat and doesn't stop until you're breathing your final breath. It is a song that reminds you of the power of Alkaline Trio, that reminds you that "those trusty chords will pull me through." What makes this even more of a no-brainer is that Dan Andriano has vocalised it is one of his favourite songs to play live and that it defines the band. (TW)
'Radio'
Whilst not their most "punk" number, 'Radio' showcases the bands twisted, gloom yet brilliant wordplay as Matt Skiba says good riddance to a former love; "I've got a big fat fuckin' bone to pick with you my darling In case you haven't heard I'm sick and tired of trying. I wish you would take my radio to bathe with you." With a mixture of bitter sentiment and a punk-fueled middle finger, 'Radio' is a Trio classic. (SR)
'Cringe'
'Cringe' is the opening track from the bands debut album, 'Goddamnit' a raw, energetic record that layed the foundations for future releases. Filled with emotion, 'Cringe' is a subtly catchy number that thrives of Skiba's pain and passion with the full package being a blistering punk sentimental number that shows exactly what Alkaline Trio are about. (SR)
Head on over to our Facebook page to tell us what you think to our choices and what your favourite Alkaline Trio songs are!
'My Shame Is True' by Alkaline Trio is released on Monday 1st April through Epitaph Records.
Alkaline Trio links: Official Website|Facebook|Twitter
Words by Sean Reid (SR) and Tom White (TW)