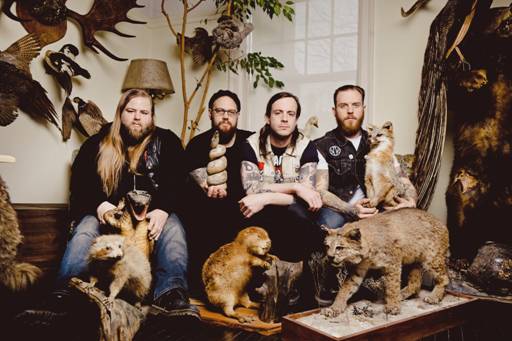 Music videos are fun. Cancer Bats are fun. There's no other reason for this weeks edition of "Fives" other than we simply wanted to!
Cancer Bats have been destroying every venue possibly over on our shores for many years now. The Canadian hardcore punks have only gone and gotten heavier and more pissed off with each release and their latest release, 4th album 'Dead Set On Living' is no different. In our little country they've racked up a heap of your favourite small venues, they've stormed the bigger stages on support slots with the likes of Enter Shikari and Bring Me The Horizon and knocked the senses out of those who caught them on stages at Reading And Leeds, Sonisphere and Download.
And if that wasn't enough, there was that one time when they played six different venues in London on the same day in support of 'Dead Set On Living.' That's 6 sweaty gigs, in one day, in our beloved country's capital. Oh, and when connected on a map the venues created a pentagram, of course.
Ok, so we do have a reason; Cancer Bats are awesome. Enjoy what we deem as their five best videos.
Head on over to our Facebook page to tell us what you think to our choices and what your favourite Cancer Bats videos are!
'French Immersion' (from 'Birthing The Giant')
As far as music videos go it's pretty standard. Band playing, lead singer somewhere else singing along to the lyrics etc etc. It's so simple but I think that's the reason why I like it so much; you can really get to grips with that riff and head bang without missing too much on screen. Also, singer Liam Cormier riding on a bike is pretty rad. Oh, and singing 'Save Your Scissors' by City And Colour at the beginning is a nice bromance with their fellow Canadian brother Dallas Green of Alexisonfire really seals the deal for me. More bromance to come…
'Pneumonia Hawk' (from 'Birthing The Giant')
Could this video be any more cliché? I've never been to Canada, and this might not have actually been filmed in Canada, but I certainly do have this lumberjack stereotype lodged into my brain somewhere probably from Looney Tunes or something. 'Pneumonia Hawk' is the final track from the band's debut and features guest vocals from George Petit of the now defunct Alexisonfire. Watch Liam and George shout it off in the middle of a forest whilst the rest headbang to the chaos. Oh, and another City And Colour sing along at the end to 'Comin' Home'! Those cheeky chaps.
'Sabotage' (from 'Bears, Mayors, Scraps & Bones')
From watching the video you'll now know that is in fact a Beastie Boys cover. Story of the video; find the Beastie Boys. It's a "party mosh" cover and it's at this point in their music video career that Cancer Bats let their hilarity ensue forevermore. I hope all of these people are actors otherwise I feel real sorry for the guys who were kidnapped. Maybe karma will get the boys back one day…?
'Scared To Death' (from Bears, Mayors, Scraps & Bones')
Of course karma got them back (and it was a nice little lead in to this paragraph. Journalism smarts there guys!) and into the forest they go. Spooky midnight woods and hooligans with baseball bats hiding their identities. It's a simple but effective narrative based around the content of the lyrics and there's some brilliant shots where a band member moves and the camera moves with him. Simple, but very, very effective.
In case you hadn't yet realised how fun Cancer Bats are they only went and gave you a video of them being in the hood or whatever. I guess it's a hood but I'm not really clued up on this kind of thing. There's some motorbike ridin', beer drinkin' and hair windmilling with bricks in hand. It's a bit of a piss take, of course, but it's good fun. Expect Cancer Bats to be reppin' through your local neighbourhood soon.
'Dead Set On Living' by Cancer Bats is out now on Hassle Records/Distort.
Cancer Bats links: Website|Facebook|Twitter
Words by Mikey Brown.