Throughout 2012, we've been lucky enough to dozens of shows and festivals. Some good, some forgetful and some have been sheer brilliant. For this edition of "FIVES", we're focusing on five of the best live sets that the Already Heard team has seen over the past 12 months.
What was your favourite live sets of 2012? Let us know on Facebook or Twitter.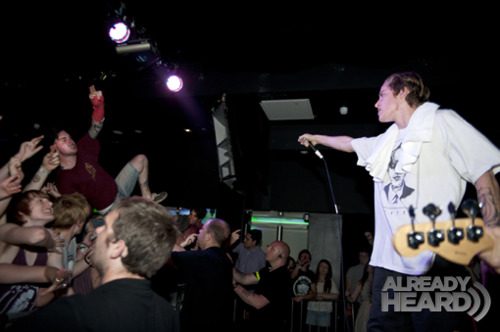 The Story So Far – Slam Dunk North, Hertfordshire University, Hatfield (Sunday 27th May)
We knew The Story So Far's set was going to be special but we never thought it'd be that special! Playing to a packed out room, The Walnut Creek band's set was a frenzied, energetic show that backed up any hype they had, and justified the bands high place on the Macbeth stage bill. With bodies flying all over the place, The Story So Far made themselves known and left a lasting impression that left you wanting more. (SR)
The Gaslight Anthem – The Koko, London (Monday 11th June)
There's something to be said about one off shows. Tours are all well and good but it's often clear that a band is going to through the motions, playing the same songs as the night before whilst thinking of home. This evening was no different with The Gaslight Anthem playing what can only be described as a balanced, career spanning set before the release of Handwritten dictates the set lists for another 18 months.
It wasn't only the setlist that made this single show so special though. The combination of The Gaslight Anthem – a band who combine a nostalgia for 1950's america with modern rock – and The Koko's gorgeous art deco finish is golden. Very rarely does a venue and a band compliment each other so well. It was also clear that the band was enjoying the show as much as the crowd, smiling throughout and throwing themselves into the performance. I don't think anyone left the venue without a smile on their faces that night. (RH)
Apologies, I Have None – Manchfester 2 – (Saturday 17th March)
Apologies, I Have None are one of the strongest most relevant current UK acts. Breaking into this year with the release of 'London', they were an obvious choice for this years Manchfester back in March. Sharing the bill with the likes of; Above Them, Great Cynics, Calvinball and Throwing Stuff, it was this set by Apologies that stood out as the strongest and most appreciated by all who saw. Playing greats from their latest record, tracks like 'Sat in Vicky Park' get the biggest crowd reception. 250 people, singing along to every word. It's times like this that you really appreciate being a part of something so extraordinary. A collection of people from all kinds of places and backgrounds, creating one big, heavy drinking family. This is why this stands as my favourite live set of 2012. (RK)
Young Guns – The Borderline, London (Friday 10th February)
When Young Guns announced their Bare Bones Club Tour (B.B.C.T.) in late 2011, venues sold out within minutes. Everyone seemed determined to see the group in their element, which was playing sweaty shows in tiny venues.
The Borderline show was incredibly intimate. There were no barriers, no security guards – it was a real throwback to the early days for Young Guns. But instead of only a handful of people, it was a packed room that ventured out into the snow to see them. They played a blazing set, compromising of songs from their 'Mirrors' EP, 'All Our Kings Are Dead' and of course, 'Bones'. And it was perfect. Everyone was singing back at the group, including the new songs which were just shy of a week old.
That tour and album combined really pushed Young Guns out there – 'Bones' ended up in the Top Twenty that week, and they've gone on to play some incredible festivals, and by touring in the States, they've really opened a whole load of new doors for themselves, which is something that they really deserved. (JT)
Tellison – Fear Of Fiction Festival, Bristol (Saturday 10th November)
Playing to a packed venue, with people spilling out the door, Tellison were on top form. Feeding off the energy from the crowd, they were clearly enjoying themselves just as much as the crowd were. Blasting out hit after hit, the highlight was 'Freud Links The Teeth & The Heart', when the crowd descended into a giant, mass hug and everyone fell in love with one another. Breaking into 'Collarbone,' the crowd kept their energy up and sang their way through the rest of a very sweaty set.
For the encore, the band was coerced into playing 'Gallery' by an enthusiastic audience, and although the band was apprehensive about playing it unplanned, it wasn't an issue; the entire crowd sung back every note perfectly. Strangers hugging strangers and shouting lyrics into the heavens made this a definite highlight of my musical year. (KP)
What was your favourite live sets of 2012? Let us know on Facebook or Twitter.
Words by Sean Reid (SR), Richard Heaven (RH), Rosie Kerr (RK), Jess Tagliani (JT) and Karlie Pea (KP).