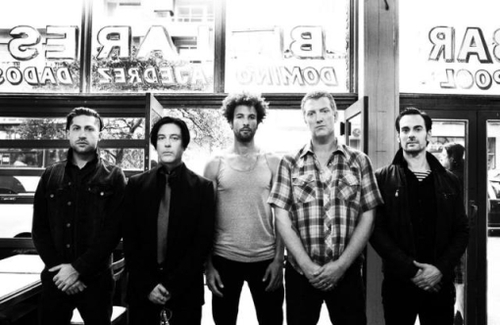 With Queens of the Stone Age in the middle of a UK arena tour, we've decided to highlight five of the bands best tracks for this edition of "Fives".
Since forming in 1996, the Palm Desert, California band has had a multitude of members and "contributors" over six full-lengths with lead vocalist Josh Homme being the constant member since their foundation.
Over the years QOTSA has received critical acclaim across the board with their popularity constantly rising to the point now where the band are playing arenas here in the UK. It's safe to say Homme and company are well on their way to becoming rock legends. Here's five reasons why.
What are your favourite Queens of the Stone Age songs? Let us know on our Facebook or Twitter pages.
Go With The Flow
When this song crashes in, you're already hurtling at 100 mph and it doesn't let up from there. The charms of this song are so simple, yet so wonderfully done – a straightforward drum line from 'Songs For The Deaf' guest drummer Dave Grohl, featured guitarist Brendan McNichol's gossamer guitar licks suspended above the chaos, and of course, the Ginger Elvis at his crooning best. If the song fails to capture your imagination, its, erm, "memorable" video surely won't fail to. I'm sure I've seen someone say "the greatest rock 'n roll songs are the most effortless", and this may be one of the coolest of them all. Oh, and you haven't lived until you've seen me take this on at "Singstar Rocks!" (OC)
3's and 7's
It seems odd that a record as strong as 'Era Vulgaris' could ever end up amongst a band's lesser albums, but when stood next to the likes of 'Songs for the Deaf' and 'Rated R', this is the way it turns out for QOTSA's 2007 smasher. As with every Queens record, however, it comes laden with enormous tracks, and '3's and 7's' sits at the top of the pile. It's a raucous foot-stamper sitting between two comparatively subdued tracks in the form of 'Make It Wit Chu' and 'Suture Up Your Future', and delivers the boost that the album's second half needs. It's superb in its studio form, always amazing live and provides one of the catchiest riffs that the band have to offer, turning out to be pretty fun to play on Rock Band too. While 'No One Knows' and 'Go With The Flow' helped heap attention on Queens of the Stone Age, it's tracks like '3's and 7's' that have carried them to international dominance. There's not much you can ask for from a rock track, really. (AL)
Better Living Through Chemistry
'Rated R' was my first Queens of the Stone Age album, and I still remember listening to this in my bedroom for the first time. What I love about it is the way it feels like them jamming away on a track of fuzzy riffs, so natural and laid back, in live versions it can get teased out for ages. It swells and sweeps in and out, the breakdown and solo goes on forever meandering then back into that simple riff as if it never happened, like a trip or a dream. The soundscape of vibes and oohing and aahing voices sloshes like waves on a shoreline, which is then cut up by electric guitar solo slashing through the calm still sounds as cool as it did when I first heard it. (HR)
Skin on Skin
The Queens have devoted many a song to the carnal act of baby making, but there is no song that really wrings out the towel with quite with the joyous abandon of 'Skin on Skin'. The guitar fuzz heavy track drips with sweat, and no doubt various other bodily fluids, and the tone is hot and heavy. Homme is on disgustingly good form, his moans of frustration are palpable as he makes statements that would make a mills and boon audiobook blush. The sleazy character he's playing is the kindof perfect balance of smitten lover and dirty pervert – when he sings "I hate to see you leave, but I love to watch you go" manages to make a tired come on sound half sweet. Subtle it ain't, but it's quick and to the point(less). (HR)
In The Fade
You know how they always said that Ringo Starr was the second best drummer in The Beatles? As cracking a set of pipes that Josh Homme possesses, the best singer in QOTSA is Mark Lanegan, and there's no better example to demonstrate this than 'In The Fade'. His whiskey-soaked, resigned sigh adds solemnity and gravitas to the blissed-out vibes still retained from the Kyuss era. Lanegan's appearances on QOTSA material have become few and far between, so treasure songs like this – it may be squirrelled away towards the end of 'Rated R', but this is far from filler. (OC)
Queens of the Stone Age links: Website|Facebook|Twitter
Remaining UK tour dates:
November
20 Manchester, MEN Arena
21 Birmingham, NIA
22 London, Wembley Arena
23 London, Wembley Arena
Words by Ollie Connors (OC), Heather Robertson (HR) and Antony Lusmore (AL).