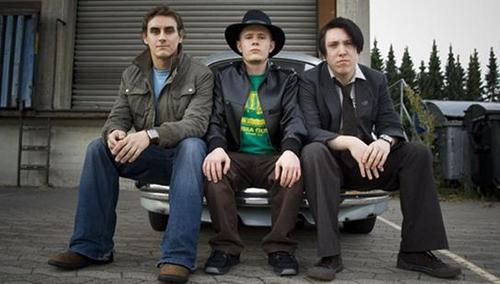 Back in the early part of this century, when we were starting to see the back of nu-metal and emo was starting to rear its head, something exciting was going on here in Blighty. The BritRock scene was at the forefront of the underground, and at its crux were bands like Biffy Clyro, Hell Is For Heroes, Million Dead, Hundred Reasons and Reuben. Reuben released just three albums (and a compilation), but they are remembered fondly amongst those who ever caught their scintillating live show. A unique mix of melodic hooks and bludgeoning heaviness, they are much-missed.
It was received with delight when frontman Jamie Lenman announced his solo double-album 'Muscle Memory', out very soon. We decided to look back at a fine career and pick just 5 of our favourite Reuben songs, although there are so many more worthy of inclusion.
What are your favourite Reuben songs? Let us know on our Facebook or Twitter pages.
Lights Out
'Very Fast, Very Dangerous', Reuben's second record, is a severely underrated record, looked over in favour of their debut, but it's an album chock full of fantastic songs. Amongst them is 'Lights Out', which isn't a particularly celebrated track, but contains one of Jamie Lenman's greatest lyrical and vocal performances. It's a song about a futile relationship, one where the composite parts have become sick of the sight of each other, but go through the moves nonetheless out of fear of being lonely. Lenman voices his frustrations and malaise over a driving riff, and quintessential airtight drumming by Guy Davis powers this adrenaline rush of a breakup song along. Rarely have the ruminations on a failed romance made you want to bang your head as hard as this one does. (OC)
Suffocation of the Soul
Reuben's last album 'In Nothing We Trust' was an ambitious record of epic proportions. What better example than seven minute wonder 'Suffocation of the Soul'. Thematically it speaks upon a crumbling hope descending into anguish. This compliments well with the scaling nature of the music. Musically, it climbs a mountain of contemporary prog rock genius. A thick bassline leads into a seamless journey of heavy moods and crescendos before finishing at a climatic finish of screams and integrity. (AL)
No One Wins the War
The opener to debut class 'Racecar Is Racecar Backwards' hooks you into the band's qualities instantly. The post hardcore shifts of screams, melody, grace and crushing rock guitars are a bounty for the ears. It is also a fine insight into Lenman's tongue in cheek prowess in his words. That oxymoron of positive strive and wariness/self doubt is something so humanely relatable that it shows how brilliant Reuben are as an outfit. (AL)
Agony/Agatha
If anything, you could always count on Lenman & Co to be clever. Even when a song was a little on the simple side, the band would find a way to bring something fun to the table. 'Agony/Agatha' is perhaps the best example of this particular characteristic. It's a simplistic rocking-out song about writing simplistic rocking-out songs. META-SONGWRITING. A humble ode to the infectious quality of good old rock'n'roll, 'Agony/Agatha' is also a plain and simple HUGE track. The unusual (for the trio) use of keys, one of the dirtiest bass lines in their repertoire, a crushing finale… it had everything Reuben and a little extra. (JBL)
Return Of The Jedi
For a fanbase as rabid and cult-esque as Reuben's, to be chosen as their messageboard's favourite song from the entire discography is very high praise indeed, and the honour of being WordsFromReuben.com's favourite song fell to 'Return Of The Jedi'. A veritable epic by their standards (at this point in their career anyway – In Nothing We Trust was a rather lengthy album) at over seven minutes, this pithy attack on the sorry state of the music industry is a firm fan favourite beyond any other, and if this polemic doesn't show you why you should be supporting bands financially, nothing will. Ironically, just 3 years after this song came out, Reuben had packed it in, and Jamie got a "real job in the office", so maybe the message of this song resonated far more sinisterly than expected… (OL)
Reuben links: Website|Facebook
'Muscle Memory' by Jamie Lenman is released on 11th November through Xtra Mile Records.
Jamie Lenman links: Website|Facebook|Twitter
Words by Ollie Connors (OC), Aaron Lohan (AL) and James Berclaz-Lewis (JBL).