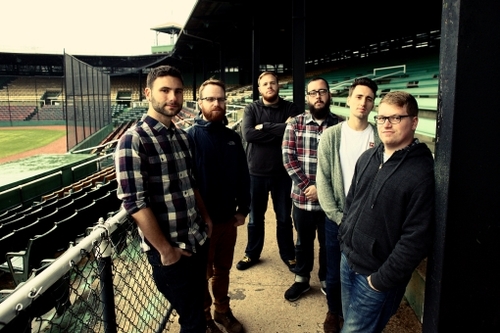 This week Lansdale, Pennsylvania's The Wonder Years released their fourth album – 'The Greatest Generation,' a record that sees the pop punk quintet reach their creative peak in a number of ways.
Throughout their eight years together, Dan "Soupy" Campbell and company have produced a wealth of material; four albums and several EP's and compilation appearances to be precise. With so many stand out anthems of apprehension and pulling through the bad times, this edition of "Fives" proved to be a tricky one for Already Heard's Sean Reid and Tom Knott.
Take a look at what Sean and Tom picked out as they delve into The Wonder Years' discography.
What are your favourite songs from The Wonder Years? Do you agree or disagree with our choices? Let us know on Facebook and Twitter.
Passing Through A Screen Door
The first single from the bands new album, 'Passing Through A Screen Door' captures all that is great about The Wonder Years; a bold, catchy chorus, introspective lyrics and tons of energy. As "Soupy" gives one of his most heart-wrenching lyrical performances as he questions "Jesus Christ, did I fuck up?" I can't help but feel a personal connection; the second-guessing, the anxiety and wondering where did I go wrong is something I've experienced in recent times. It's about being pushed to your limits and challenging your character as a person.
'Passing Through A Screen Door' is The Wonder Years at their most open, whilst musically it demonstrates their growth and progression from "whatever-core" you want to label their early material, to a structured, melodic and passionate band who are confident and who show realism in their songwriting. (SR)
My Last Semester
Opening with the sentimental line of "I'm not sad anymore, I'm just tired of this place," 'My Last Semester' is an anthem for those who don't follow trends and the unpopular kids who don't fit in.
Musically 'My Last Semester' is sincere blast of pop punk that thrives off Dan "Soupy" Campbell's emotional release of frustration, as well as the realisation that he is at home with those who understand him and being on the road with his band.
Campbell's grievances with his hometown are easily relatable for anyone in there late teen's or in their twenties. Overall in 'My Last Semester,' The Wonder Years have produced a positive and honest message showing you can be yourself and don't have to give in to try and be popular. (SR)
You're Not Salinger, Get Over It.
The Wonder Years first album (2007's 'Get Stoked on It!') is fantastic. Its good fun, up tempo pop punk but, with the exception of closing track 'When Keeping It Real Goes Wrong' and a couple of others, it wasn't quite the emotional powerhouse the band have produced since. That all came later, but it came fast and some might argue that it came with one four track EP released in 2008.
That EP was 'Won't Be Pathetic Forever' and it's closing track, 'You're Not Salinger, Get Over It' is one of the band's absolute standouts. Have you ever been sat on Tumblr for more than five minutes and seen a couple of hundred 'Chin up and we'll drown a little slower' gifs? Well, that's this song. It's an absolute smasher of keyboard-driven Pop Punk. "My friends and I, we're all fucked on the inside. But we don't let it ruin our lives!" still, three albums later, sums up a lot of what is so brilliant about The Wonder Years' message. When the song drops away in that eternally-gif'd refrain, however, the band reach new territory for the first time. It's the closing track of a faultless EP that let everyone know just how great this band was going to become. (TK)
New Years With Carl Weathers.
"Man, we don't go down that easy!"
Another track, another sound bite of pure determination. This one is just energy, neat lyricism, and out and out sing along perfection from beginning to end. As with many of The Wonder Years' tracks, 'New Years With Carl Weathers' feels as much like being told a story, as it does like listening to a song. Between the pounding drums, excellent guitar builds and frankly awesome backing vocals there's a punch to the gut that reminds you that you're not alone not matter how off kilter you feel. Hands on hearts or high in the air, 'New Years,' along with the rest of the now seminal 'The Upsides' is a song for sweaty back room sing alongs that reminds you just how rad life can be. (TK)
Coffee Eyes
This one starts off sweet, a clean guitar and light drums and then it just breaks. The Wonder Years seem to have nailed the art of kicking in on a song and this is one of their best. Between that sweet intro and the three minute pop punk masterpiece that follows comes a split second in which all the energy and passion in the vicinity is summoned and explodes through the speakers. It's another magnificently constructed track. Licks that cut through between verses, balls to the wall verses, interchanging vocals that utterly nail it and then there is, as always, lyrics that will take over your soul to such an extent that they need, demand, to be shouted out loud. Frankly, I could have picked any song from any record and argued my case for its importance in the band's catalogue – that's how good they are. But this one always does something to get me moving, no matter how little I might have felt like it before. (TK)
What are your favourite songs from The Wonder Years? Do you agree or disagree with our choices? Let us know on Facebook and Twitter.
'The Generation Generation' by The Wonder Years is available now on Hopeless Records.
The Wonder Years links: Official Website|Facebook|Twitter
Words by Sean Reid (SR) and Tom Knott (TK)