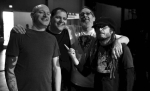 Flag (original members Keith Morris, Chuck Dukowski and Bill Stevenson, with Stephen Egerton performing the music of Black Flag) are the latest band to be announced for Groezrock 2013.
The news follows yesterdays news which saw Billy Talent, Pulley, Trash Talk and Narrows added to the Belgium festival.
Groezrock 2013 will take place across two days on Saturday April 27th and Sunday April 28th. Visit groezrock.be for more information.
Click read more to view the full lineup for Groezrock 2013.