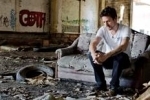 This is one of the more unusual stories we've posted on Already Heard. According to the NME, UK folk punk singer-songwriter Frank Turner wants to collaborate with World Wrestling Entertainment superstar Daniel Bryan.
In a recent interview, Bryan said he would like to work with Turner:
"I love Frank Turner, an English guy. I would like to do something with him. There's something about his music. I suppose there's a lot in common with independent musicians and wrestlers. How much he's on the road, all that kind of stuff."
Frank Turner has seen the interview and in a tweet at Daniel Bryan stated he is interested in collaborating.