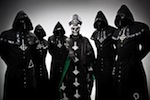 Sweden's Ghost B.C. have announced they will release a new EP 'If You Have Ghost' on Loma Vista Recordings on November 19th.
1. If You Have Ghosts (originally recorded By Roky Erickson)
2. I Am A Marionette (originally recorded By ABBA)
3. Crucified (originally recorded by Army Of Lovers)
4. Waiting For The Night (originally recorded By Depeche Mode)
5. Secular Haze (Recorded live at Music Hall of Williamsburg, Brooklyn)
The five-track EP was recorded and produced by Dave Grohl, and includes cover versions of songs by Roky Erickson, ABBA, Army Of Lovers & Depeche Mode, plus a live version of the Ghost B.C. offering, 'Secular Haze', recorded from a live ritual in Brooklyn.
Ghost B.C. will be touring with Alice In Chains.
November
9 Alexandra Palace, London
10 Leeds, 02 Academy
11 Manchester, Academy
13 Birmingham, 02 Academy
14 Glasgow, O2 Academy
16 Newport, Centre