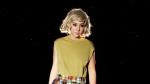 Giant Drag have announced details of a farewell UK tour taking place in September.
Front woman Annie Hardy made the following comment on the tour:
"I want to engage people once again and make the rest of the world care as well. Basically the last couple years of my life were pure hell and I spent it (and my "success" period of GD) a slave to prescription drugs, only to go to rehab last October to get clean. Charlotte Froom and Tennesse Thomas from The Like will be helping me to reform GD for a select few shows to promote the record and say goodbye to the band properly so I can concentrate on my new project Annie Hardy and the Psychos as well as my pet project PnP who will also be finishing up recording EPs with Joe Cardamone of The Icarus Line."
September
Thu 12th Brudenell, Leeds
Fri 13th Deaf Institute, Manchester
Sat 14th Kazimier, Liverpool
Sun 15th Broadcast, Glasgow
Mon 16th The Cluny, Newcastle
Tue 17th Borderline, London
Wed 18th The Fleece, Bristol
Thu 19th Green Door Store, Brighton
Giant Drag's latest record 'Waking Up Is Hard To Do' is available now on Bandcamp.