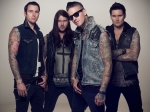 Glamour of the Kill have revealed the track listing their second album, 'Savages'. The album is set to be released on 23rd September through SPV.
1. Break
2. Second Chance
3. The Only One
4. Live For The Weekend
5. A Freak Like Me
6. Heartbreaker
7. Rescue Me
8. Leave It All Behind
9. A Beautiful Day To Die
10. Tears Of The Sun
11. Welcome To Hell
In addition, the bands new lyric video for 'Break' can be viewed after the jump.