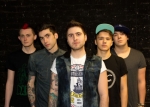 Bedfordshire five-piece Gold Skies Ahead have announced their new EP, 'Bremerton' will be released on the 15th July.
The EP is produced by Mike Herrera of MxPx in Seattle, USA and mixed/mastered by former SikTh vocalist Justin Hill (Young Guns, Rise to Remain, Yashin.)
1. It's Always Rainy In Seattle
2. All This Way
3. Ghosts
4. Crying
5. This Time I Mean It
April
29 The Garage, London
May
10 Regents, Barnsley
18 Fern and Fallow, Cannock
July
12 Esquires, Bedford (EP launch party)
August
04 Khaos Festival, Rotherham (Headlining the 'PROPS' stage – 2nd stage)
The band will also be announcing a July UK tour shortly.