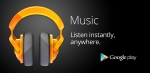 Google's music streaming service, 'Google Play Music All Access' has been launched in the UK.
The service is available at a flat rate of £9.99 a month, or £7.99 a month for users who sign up before September 15th. The features included is unlimited on-demand access to a catalogue of millions of tracks, apps for smartphones and tablets as well as a website, recommendations for new music from Google's editorial team, and a personalised radio feature.
Further information can be found at play.google.com/about/music.