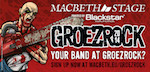 Macbeth Footwear and Blackstar Amps have revealed a shortlist of 30 bands for their their Groezrock 2014 competition.
Amongst the list are UK bands such as Straight Lines, Boy Jumps Ship, I Divide, Out For Tomorrow, and Fathoms.
Voting for the contest begins on February 10th with the 10 most voted bands winning the opportunity to play the Macbeth stage at Groezrock 2014.
The full list of bands are:
Boy Jumps Ship (United Kingdom)
Brain's All Gone (Poland)
Call It Off (The Netherlands)
Crown Cardinals (France)
Edward In Venice (Italy)
Fathoms (United Kingdom)
Golden Tanks (United Kingdom)
I Divide United Kingdom)
Kids Insane (Israel)
King of Pigs HC (United Kingdom)
Moments (Belgium)
Monday Kills (Sweden)
My Extraordinary (United Kingdom)
Out For Tomorrow (United Kingdom)
Pray For Locust (Sweden)
Promethee (Switzerland)
Radion Havanna (Germany)
River Jumpers (United Kingdom)
Saint[the]Sinner (United Kingdom)
Seventribe (Sweden)
Shell Beach (Hungary)
Straight Lines (United Kingdom)
The Bottom Line (United Kingdom)
The Ignored (Belgium)
The Ladykillers (United Kingdom)
The Lowest Standard (The Netherlands)
The Tramps (Belgium)
Two Glass Eyes (United Kingdom)
Wasted Bullet (The Netherlands)
Watch Out Stampede (Germany)
Further details can be found here.