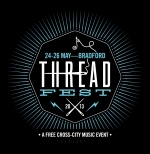 Threadfest 2013 is set to take place this May Bank Holiday weekend (24 – 26 May) and will take place across various venues in Bradford.
The line-up includes the likes of Hawk Eyes, Blacklisters, Rivals, NGOD and many more.
Full details on all events across the weekend can be found at bradfordthreadfest.com.
Click read more to view the full line-up.
Hawk Eyes
Shopping
The Hobbes Fanclub
mini-mekons
Yo El Rey
Koala
Monster Killed by Laser
Ruby Tombs
Kogumaza
Dean McPhee
Blacklisters
The Horse Loom
Jer Reid and Stevie Jones
Mick Flower and Neil Campbell
Rivals
Mother Earth
Oriental Arts
No Hands
NGOD
Cut Yourself in Half
M@BU
Birchall/Cheetham Duo
Serious Sam Barrett
DIY or Die
Blood Sport
Bare Plume
Voltage Studios
Idiot Box
What The Folk?
Cafe Despard
Cameron Deas Rockers and Rollers
Illusory Centre Alchemy/Schmalchemy
and more.