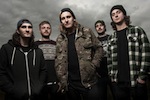 In honour of 'Kurt Cobain Day', Hildamay have released a cover of Nirvana's 'Rape Me'.
Hildamay Tim Lawrence made the following comment about the cover:
"We sat down and jammed out some Nirvana songs. We could have gone for something more 'out there', or something more popular, but we liked the message of this song and we felt that it is a true reflection of Cobain's incredibly powerful, yet simple songwriting,"
Click read more to stream Hildamay's cover of 'Rape Me'.