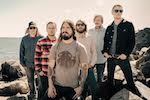 The final set of bands for this years Hit The Deck Festival has been announced with Kvelertak,
Baby Godzilla, Pulled Apart By Horses and The Xcerts being amongst the names added.
Other names announced include The Charm The Fury, Death Remains, Lacey, Dinosaur Pile-Up, Lyger and The Gnarwhales.
The full list of bands announced can be viewed by clicking read more.
Hit The Deck Festival takes place in Bristol and Nottingham on April 19th and 20th respectively.