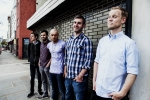 London pop-punk/hardcore band Home Advantage have decided to split up.
The quintet released their debut EP, 'Cadet' last year through Disconnect Disconnect Records and the band were included on our 'Already Heard Recommends: Volume 1' compilation.
A statement from the band can be viewed by clicking read more.
"We're sad to announce that from today that Home Advantage are no longer a band. There's no need for us to delve into the reasons why, all that matters is we say a huge, huge thank you to everybody that supported us during our time – everyone who came to a show, bought a CD or t-shirt, played us on the radio or a podcast… or even just said nice things about us. We were blessed with the opportunity to share a stage with some of our all-time idols and inspirations, play venues and towns we never dreamed of playing, release a record we are incredibly proud of and make some absolutely amazing friends on the way. There is a huge list of people we'd love to thank, but want to give an extra special mention to the following:
John Allen at Disconnect Disconnect Records for believing in us and doing everything he could to promote Cadet, and ensure it got such a great reception. Tom Aylott, Chris Marshman and everyone at Punktastic for the continued support, Adrian Storry, Jon Tolley and all the great promoters who took a chance on us, Frankie Torpey, David and Paul Housden for all their hard work with Cadet.
Rivalries, As It Is, Boston Manor, Alaska! Alaska!, Pipedream, Royal Fisticuffs, Real Adventures, Britishteeth, Our Time Down Here but most importantly, our brothers in Nathan Detroit, Grayscale and Forrest.
Unfortunately we will no longer be playing The Fighting Cocks in Kingston with Man Overboard, ROAM or Boy Jumps Ship. We are truly sorry to disappoint anyone who was looking forward to seeing us. We will compensate you with a beverage of your choice.
Thank you again, so long and good night x
p.s. cheers to Jason Derulo for the YouTube shoutout."