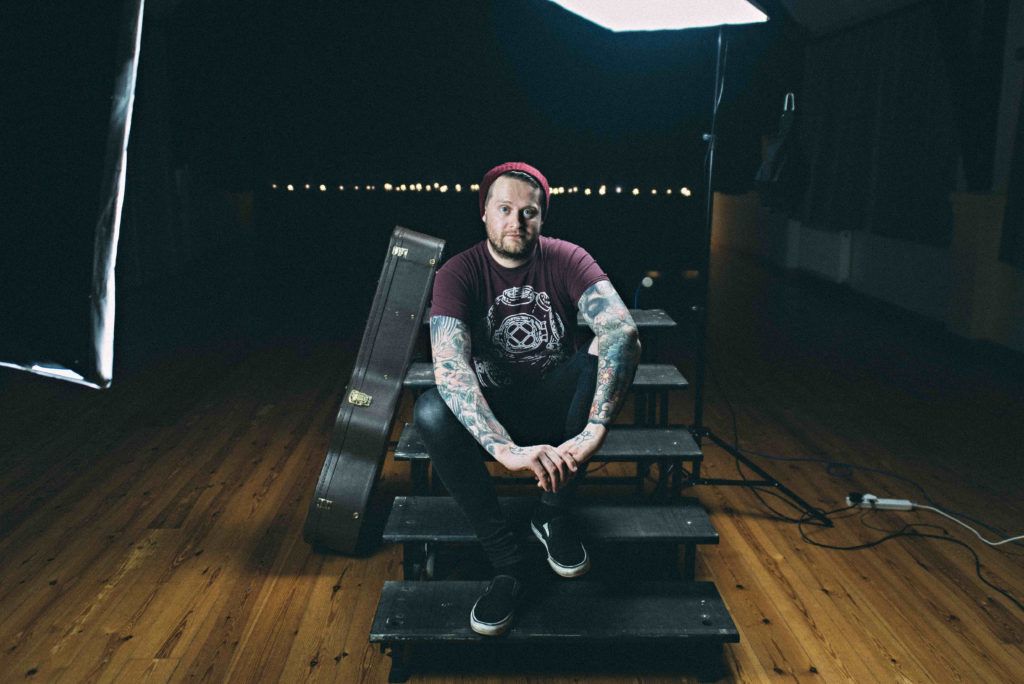 For some artists, releasing your debut album is a lifelong goal and an achievement that they hold on to. For others, like Brightr's Laurie Cottingham, they're eager to work on whatever is next. Although the Newport "gloom emo-pop" singer-songwriter was emotionally drained from the creation of 'Year One', he knew for his own good that writing new material was vital.
While the songs came together quickly, Cottingham would find himself second-guessing himself, wondering if the tone of 'Two Sides' was too different from its predecessor. He's labelled it as "second record syndrome", a term often that is thrown around. It would lead to Cottingham experiencing lyrical trepidation, yet he would use it to his advantage as he wrote a series of thoroughly honest songs.
Ahead of its release this Friday, Cottingham has given us an account on how 'Two Sides' came to be.
---
The writing process for 'Two Sides' began almost as soon as I'd finished recording 'Year One' (my debut album). I remember feeling exhausted; my brain was so tired of playing and obsessing over the same 13 songs, I just wanted to create something completely different to that record. Even though I was wildly proud of what I had just recorded and effectively finished, I was also so keen to move on to the next chapter for my own sanity and to continue the adventure of Brightr.
'New Years' was the first song I wrote that made it on to 'Two Sides'. I remember feeling this awesome level of child-like excitement when I wrote the guitar parts for that song. I felt this tangible buzziness that it sounded a lot like a Mike Kinsella / Owen-esque creation, though listening to it now it's really not, but at the time I was instantly in love with the guitar melodies I had created.
The turning point for 'New Years' came when I began writing lyrics. I was in a much happier place in my life when this song started to find form, and as such, I was trying to write "happy" lyrics for it but it wasn't meant to be. Try as I might like to write something positive, it just didn't feel genuine. I felt like I was forcing it, I had hit a wall, so I stopped trying and just settled for the pretty little riffs as an instrumental, piece effectively shelving 'New Years' until it felt right to write for it again.
This feeling of uncertainty and second-guessing was something that followed the record throughout its creation. If I'm wholly honest, during much of the writing process, I felt as though I was being followed by a shadowy figure, that sucked away at my "head in the clouds" excitement with new songs and replaced the positive abandon with a sense of dread and anxiety I've never felt before when writing. However, in the end, it was this anxiety and dread that would encourage me to go deeper and more brutally honest than I've ever been before. This record lyrically symbolises a huge emotional purge for me, the truest, saddest and most brutal offloading of feelings, memories and worries that I have ever allowed myself to make.
Where 'Year One' was a pop record, full of hooks and big songs to balance the melancholic rollercoaster of the lyrics beneath, 'Two Sides' is an open and honest conversation with the listener, where I admit that I've not been feeling okay, that I've been suffocating with sadness and choking on my own memories, but that feeling like that and realising that is perfectly okay too. It's a record about self-doubt, self-loathing, fear and panic, but ultimately coming through all of that and finding your feet beyond the bleak chapter.
'Two Sides' is definitely the saddest and most honest collection of songs I've ever written, but it's exciting to feel something so raw and then make this beautiful thing out of it. That's what Brightr will always be for me, a place to make the sadder things beautiful and find hope in the bleakest of situations.
---
'Two Sides' EP by Brightr is released on 5th April on No Reason Records / Penultimate Records / Lockjaw Records.