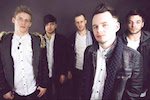 I Divide have released details of highly anticipated debut album. 'Last One Standing' will be released on 14 April via Destroy Everything.
1) Follow Me
2) Tell Me Something
3) I'm Not Leaving
4) Monster in Me
5) Living in a Hurricane
6) Cold at the Bottom
7) 27 Down
8) Run Away
9) Say It Isn't So
10) Let Go
11) Look at Me Now
I Divide will also be playing a run of shows with Yashin in the Spring.
March (with Yashin)
14 Hobos Bridgend
15 Takedown Festival Southampton University
28 Asylum Birmingham
April
01 Borderline London
02 Stereo Glasgow
The video for 'Follow Me' can be viewed after the jump below.