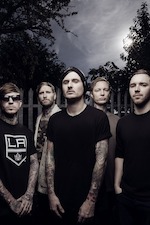 Australian metalcore outfit, I Killed The Prom Queen is back and have officially signed to Epitaph Records worldwide. The bands third album will be released in 2014.
The band made the following statement:
"We are absolutely ecstatic to join the Epitaph Records family. Having worked with the label previously with Bring Me The Horizon, I knew exactly what Epitaph was capable of and that it would be the perfect home for I Killed The Prom Queen. Epitaph is already the home to so many of our heroes such as Converge, Refused, Pennywise and Every Time I Die, and has helped launch our good friends Parkway Drive, The Ghost Inside, Day Of Contempt, Letlive. and more. To say that we are a part of this family is truly an honour.
We are dying to get this album out and into the hands of old and new I Killed The Prom Queen fans everywhere. To me this record feels as though I Killed The Prom Queen never took a break and is a natural progression of the band. You will hear hints of our side projects and new influences, but make no mistake, this is an I Killed The Prom Queen record through and through. Its fast, melodic, heavy, catchy and we have added a couple of new elements which really bring it up there with the level of music being created these days."