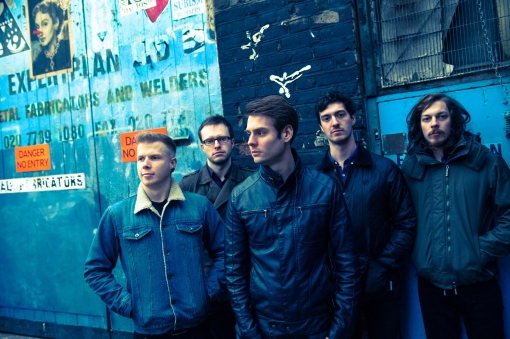 Hemel Hempstead rockers Scholars release their long awaited debut album, 'Always Lead, Never Follow' today via Banquet Records.
Since their formation, the five piece have supported the likes of Twin Atlantic, Pure Love, Hell Is For Heroes and Hundred Reasons. Now after six years together, the bands debut takes their post-hardcore influences (At The Drive-In and Refused) mix it a hint of skate punk and ends up delivering an energetic, sharp and riff-heavy record that borders on the math-rock spectrum. In other words, expect to hear a lot more about Scholars in the coming months.
Bassist Chirs Ayleet recently took some time out to answer our "If I…" questionnaire. Chris tells us why he'd like to play in the early years of Warped Tour, which Tears for Fears song he wish he'd written, as well as some vital van-related advice for aspiring bands and more.
If your band would like to be featured as part of "If I…" full details can be found here.
If I could re-record one song it would be…
Chris: Yatta by The Green Leaves. YouTube it!
If I could re-live one tour/show it would be…
Chris: One of ours? I prefer to think that the best is yet to come….otherwise, I'd have loved to have experienced the Warped Tours of 10-15 years ago when you basically had every single amazing punk and ska band of the time on the bill. It's probably because it was the first musical scene I got into but I remember it being incredible.
If I had the chance to play one venue it would be…
Chris: Probably the Astoria (RIP) in London. I went to my first gigs there.
If I could play with one band it would be…
Chris: 'Hope Is Important'-era Idlewild. The perfect fusion of adrenaline and melody.
If I could play with any person living or dead it would be…
Chris: I'd like spend time in the studio with The Notwist creating minimal electro-indie. I could get pretty into that.
If I could bring back any band that have split up, it would be…
Chris: Do bands actually split up anymore? Most seem to get back together eventually. I'm annoyed that I didn't get to see Basement, and like any right thinking person I wish I'd seen The Smiths in their prime.
If I wasn't playing music, I would be…
Chris: …finding it extremely difficult to keep myself occupied!
If I could play a different genre it would be…
Chris: …my first love; blisteringly fast skate punk. With me on drums.
If I could have written any song it would be…
Chris: 'Everybody Wants To Rule The World' by Tears For Fears. It's one of those songs which is clever and interesting both musically and lyrically, and manages to mean something to a huge number of people.
If I could have written any album it would be…
Chris: 'Happy Hollow' by Cursive. Pretty much a work of genius from start to finish.
If I could headline any festival, it would be…
Chris: For me, festivals live or die depending on the line-up…when you take the bands out of the equation it is basically camping with poorer facilities. 2000 Trees has had some pretty ace line-ups.
If I could organise my own festival, the bands playing would be…
Chris: Far too many to mention! Let's say The Dismemberment Plan, Desaparecidos, Phoenix and Moderat for starters – they are all awesome live bands.
If I could play any other instrument, it would be…
Chris: Guitar, properly. And be able to sing.
If I could give one piece of advice to a new band, it would be…
Chris: Work on your songs and live show before anything else. Under no circumstances buy a van.
'Always Lead, Never Follow' by Scholars is available now on Banquet Records.
Scholars links: Official Website|Facebook|Twitter|Bandcamp