As the Summer and festival seasons come to a close, September brings about greying skies and drizzly afternoons, making it the perfect time to stay inside and enjoy the copious amounts of albums coming out soon! As we do every month, the team here at Already Heard have selected some of our favourites to preview, so you know the score before they drop.
This month we've got some heavy hitters from veterans of the scene like Good Charlotte and Thrice, as well as some promising developments from some of the new wave, such as Boston Manor and Fatherson.
So settle in, grab a blanket and your Autumnal flavoured latte of choice, and enjoy our 12 releases you need to check out for September!
---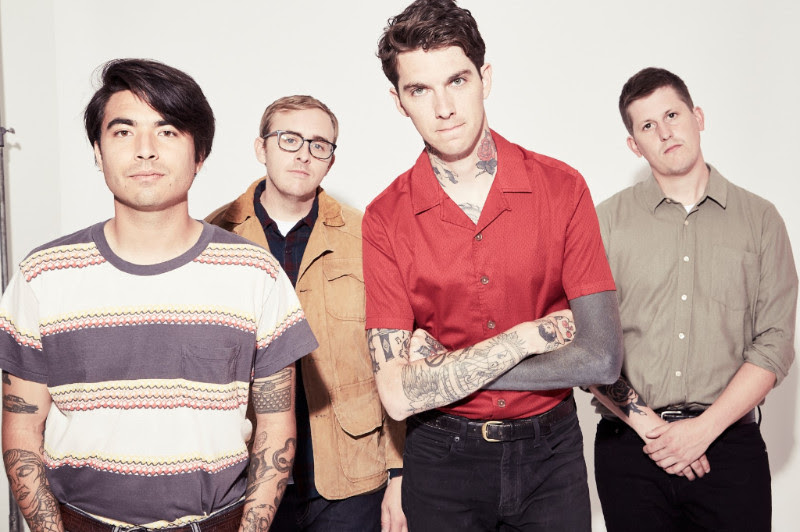 Joyce Manor – Million Dollars to Kill Me
'Million Dollars to Kill Me' sees Joyce Manor fully embrace their retro influences and pop roots on what promises to be an interesting fifth album.
Moving away from pop-punk and more towards indie, 'Think I'm Still In Love With You' has a retro 2000s sound, with fuzzy guitars, some carefully placed minor chords, as well as a melodic pop hook. It's a fun little tune which even has some 60s throwbacks to it by the final call and answer chorus. The title track starts off with a Smashing Pumpkins-style intro before breaking out into a pretty guitar lick running underneath the vocals. It also features some sweet harmonies and a snappy rhythm section.
Both these songs are a good indicator of what to expect on the album – melodic and well constructed pop rock songs with catchy choruses and fuzz-laden guitars, as well as lyrics that tell stories of every day life and lost love. (BS)
'Million Dollars to Kill Me' by Joyce Manor is released 21st September on Epitaph Records.
Joyce Manor links: Website | Facebook | Twitter | Bandcamp
---
Thrice – Palms
Although considerably polarising, Thrice's "comeback" record, 'To Be Everywhere Is to Be Nowhere', in 2016 showed signs of a band reinvigorated and willing to push themselves. The combination of thought-provoking lyrics, and textured instrumentation was weaved into Thrice's brand of bold post-hardcore with impressive results.

This month sees the California quartet return with 'Palms'. Described as their "most sonically expansive" work to date, we're under the impression that Thrice will serve up another intriguing set of songs. One thing we do know is that chief songwriter Dustin Kensrue is his usual introspective self. For example, 'The Grey' sees him explore the idea that everything isn't so black and white in front of a stirring musical backdrop with stiff, twisting riffs. Whereas 'Only Us' contains a brooding synth taken right out of 'Stranger Things', complimenting the intense lyricism as Kensrue contemplations the flexible divides of "us" and "them".
Both are merely appetisers for what we think is sure to be a worthy addition to Thrice's discography. (SR)
'Palms' by Thrice is released on 14th September on Epitaph Records.
Thrice links: Website | Facebook | Twitter | Instagram
---
The Story So Far – Proper Dose
After over three years of being harassed about a new album, California's The Story So Far are set to deliver their fourth effort, 'Proper Dose', this month. The album sees the band once again work with long time collaborator Sam Pura (Hundredth, Basement), who has guided them through what appears to be a slight reinvention.
The slick pop-punk of their first two albums seems like a distant memory, and their last release stands as more of a transitional work in the light of 'Proper Dose'. While the first single 'Out of It' retains a similar sound, 'Let It Go' and 'Upside Down' take a much more alt-rock approach, with hints of the psychedelic. 'Take Me As You Please' is an acoustic ballad, a rare occurrence for the band who arguably have only recorded two such songs in the past, but it could be the strongest of all the singles so far.
Each track is different, and the actual direction seems unclear at this stage, but it is hard to deny that this is The Story So Far's best work to date. (BM)
'Proper Dose' by The Story So Far is released on 21st September on Pure Noise Records.
The Story So Far links: Website | Facebook | Twitter
---
156/Silence – Undercover Scumbag
Hailing from Pennsylvania – and oh, boy, do they hail – 156/Silence make angry, angry music. Formed back in 2015, they're about to make a huge impression with debut album 'Undercover Scumbag'.
Released last year, their EP 'Karma' was a concussion grenade of heavy metalcore, a sound that replaces much of the metalcore chug with pauses and feedback, coupled with throat-shredding vocals. In a similar sonic vein to Code Orange and Converge, 156/Silence are lyrically open too.

The lead single 'Undercover Scumbag' doesn't just share the album's great name, it's a violent slice of music deployed in a way that keeps things interesting for nearly four desperate minutes. Yes, it's the sound of being beaten to death, but its pulled off with style, promising much for the album's eight tracks. If that's your thing, these guys really know what they're doing. (IK)
'Undercover Scumbag' by 156/Silence is released on 14th September on InnerStrength Records.
156/Silence links: Facebook | Twitter
---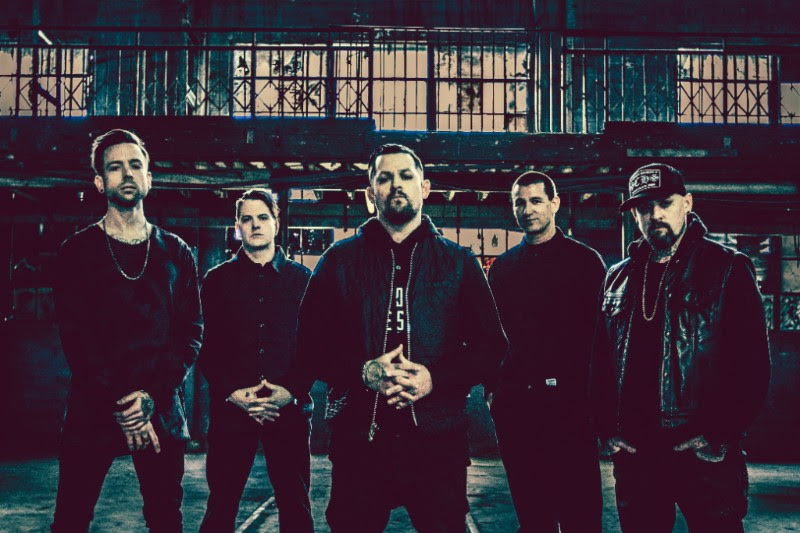 Good Charlotte – Generation Rx
Good Charlotte have faced plenty of mocking over the years for not being as punk as they "should" be, whatever that means. Marrying Hollywood celebrities and leaving their early-noughties pop-punk behind for a far more mainstream, All Time Low brand of arena rock, left them wide open to music snobs' criticism.
'Generation Rx', their seventh album, looks set to prove there is a darkness behind the glamour. They've not lost touch with their roots – the difficult upbringing they sang about more than a decade ago – and have already set out to remind everyone of that with singles 'Shadowboxer' and 'Actual Pain'.
Sure, it's radio friendly, but it's music with a message that anyone and everyone can get on board with. Surely that's the only thing that matters. (KB)
'Generation Rx' by Good Charlotte is released 14th September on BMG.
Good Charlotte links: Website | Facebook | Twitter
---
We Were Promised Jetpacks – The More I Sleep, The Less I Dream
2014's 'Unravelling' was both a hit-and-miss release for Edinburgh four-piece We Were Promised Jetpacks. It's mellower melodic flow demonstrated the band's mature progression as songwriters, but also lacked the intensity that made 'These Four Walls' and 'In the Pit of the Stomach' the most exciting records to come from Scotland's indie scene.
With four years to work on fourth record 'The More I Sleep, The Less I Dream', WWPJ have found a way to reinvigorate the pulse of their first two albums without resorting to the simplicity of 'Quiet Little Voices' again. Dripping with tension, lead single 'Hanging In' is a velvet-textured composition which builds and builds into an explosion of shimmering lead guitar as frontman Adam Thompson begs his loved ones not to push him under the bus as he dwells in personal anguish.
Alongside the raucous 'Repeating Patterns', 'The More I Sleep, The Less I Dream' is set to be a welcome return from We Were Promised Jetpacks. Returning to the frantic lead guitar driven indie rock of their first two albums mixed with a cinematic production, this is WWPJ at their boldest and most dynamic. It's the step-up we've longed for. (AD)
'The More I Sleep, The Less I Dream' by We Were Promised Jetpacks is released 14th September on Big Scary Monsters.
We Were Promised Jetpacks links: Website| Facebook| Twitter
---
Counterparts – Private Room EP
Hardcore outfit Counterparts are set to drop an EP of B-sides entitled 'Private Room' this month. Containing three songs off the last two records which they felt deserved to "see the light of day". The title itself is a nod to the band's love of private room karaoke, and ahead of the release, they've put out single 'Monument'. Fast and heavy with some breakneck snare work, it's short and to the point at only one minute fifty seconds, but grabs you right by the throat and doesn't let go, the screamed vocals aggressive and passionate as they drive us through the breaks and dark, off-kilter guitars. Whereas 'Selfishly I Sink' is two minutes of relentless pounding drums and screaming with a dramatic break at the halfway point.
It's another great start for a band who always seem to put out fairly consistently awesome material – considering these are B-sides, they're as good as a lot of bands' A-sides. Sounds like it's going to be an exciting collection of tracks and hopefully a new full-length won't be too far behind either – these guys seem to want to put out albums every year, and we're not complaining. (BS)
'Private Room' EP by Counterparts is released on 7th September on Pure Noise Records.
Counterparts links: Facebook | Website | Instagram | Twitter
---

Boston Manor –  Welcome to the Neighbourhood
Quickly becoming on the UK's greatest musical exports, Boston Manor have been making waves internationally since their first record, 'Be Nothing.', came out in 2016. Much of their success (aside from their inspirational dedication to their craft) likely comes from their attempts to distance themselves from the slew of uninspired pop-punk bands around at the moment.
'Welcome to the Neighbourhood' sees Boston Manor take an even bigger leap away, and into something much darker and more refined. With lyrical themes surrounding drug addiction and loss of control, singles 'Halo' and 'Bad Machine' make for some great examples of natural progression for a band that have been travelling at full speed.
Of all the releases that Pure Noise have coming out this year, 'Welcome to the Neighbourhood' might just be the most exciting. (BM)
'Welcome to the Neighbourhood' by Boston Manor is released on 7th September on Pure Noise Records.
Boston Manor links: Website | Facebook | Twitter
---

Anna's Anchor – Everybody's Welcome
If you've been following Already Heard in recent years, then you'll be familiar with Limerick singer-songwriter Marty Ryan aka Anna's Anchor. Having transitioned from acoustic soloist to full-band indie/emo on 2016's 'Nautical Miles', Ryan's songwriting continues to grow on its follow up, 'Everybody's Welcome'.
With its somewhat tongue-in-cheek title, Marty's second full-length is a personal and honest account of facing up to the pressures and conformity society brings. "It's about that false belief that I was kind of clutching onto led to the darkest part of my life," Marty said in the lead up to its release.

Without a doubt, 'Everybody's Welcome' documents Ryan's struggles with detailed honesty. Take 'White Washed Corridor' for example. Complimented by an addictive, harmonious hook, it sees him explore the effects of his mother's alcoholism. It's just one of many sensitive topics explored with 'Precautionary' questioning our irresponsibility of looking after the environment.
Anna's Anchor is a hidden gem that deserves to be cherished. (SR)
'Everybody's Welcome' by Anna's Anchor is released on 14th September on Failure By Design Records.
Anna's Anchor links: Website | Facebook | Twitter | Bandcamp
---
Hypophora – Douse
Up and coming alt-rock four piece Hypophora are due to release their debut 'Douse' on September 21st. 'Spires' is the only official pre-release, although 2017's single 'Headlines' also makes an appearance on the album's tracklist.
Considering they're relatively new to the scene, Hypophora have really aimed high with this one, and seem to have hit the mark. 'Spires' is a complex journey which takes the listener through varying stages and styles. Dreamy, echo-soaked guitars open up the track before the rich, warm vocals of lead singer Katie McConnell kick in. It's a song that starts quiet and slow, but breaks out into a faster, heavier chorus, dropping in and out again continually throughout. With excellent production quality and some top notch mixing, it's a well written and constructed track backed up by musicians who know their chops.
It offers some high hopes for the rest of the album; if every song is along these lines then Hypophora are for sure a band to watch out for the in the future. (BS)
'Douse' by Hypophora is released 21st September on Easy Action/Zen Ten Records.
Hypophora links: Facebook | Twitter | Bandcamp
---
Fatherson – Sum of All Your Parts
It is a wonder Fatherson aren't about a hundred times more popular than they are. The nostalgia driven 'I Am an Island' and 'Open Book' were crammed full of anthems built for venues far grander than the ones the band played in, and if recent release 'Making Waves' is anything to go by, we're in for more of the same.
Lead singer Ross Leighton has one of the most distinctive, powerful voices in the alternative music community and it's this that means Fatherson have no choice but to stand out from the crowd. Combine that with the boisterous drums and marching guitars of 'Charm School' and you've got a band to sit alongside the likes of Twin Atlantic and The Xcerts.
They certainly deserve more attention – maybe album number three is the chance to grab it. (KB)
'Sum of All Your Parts' by Fatherson is released 14th September on Easy Life Records.
Fatherson links: Website | Facebook | Twitter
---
The Dirty Nil – Master Volume
The Dirty Nil's 'Higher Power' gained a firm place in the heart of Already Heard's staff upon its 2016 release. Packed head to toe with bangers, it was a speed-laden cocktail of punk, hardcore and flame-grilled Southern rock that left listeners grinning ear-to-ear (which, speaking from personal experience, will gain you some odd looks when you listen to it in a public place).
After a year of touring with the likes of Alexisonfire, Against Me! And The Menzingers, the Hamilton, Ontario three-piece come bouncing back for second full-length 'Master Volume'. Boasting a crudely drawn skeleton face on its cover, singles 'Bathed In Light', 'Pain of Infinity' and 'I Don't Want That Phone Call' feel battered around the edges, promising a rawer, more fragile set of songs. Luke Bentham's confrontational snarl of "darling lose the fuckin' attitude" and "I never liked you and I hate your friends" on 'Pain…' gives us a glimpse into the unsettled mood taking place across this record.
Fans of PUP's springy update on classic proto-punk will get a kick out of 'Master Volume', while established Dirty Nil fans should gear themselves up for an angrier set of rock and roll songs. But we have no doubt you'll leave this album with a smile on your face. (AD)
'Master Volume' by The Dirty Nil is released on 14th September on Dine Alone Records.
The Dirty Nil links: Facebook | Twitter | Bandcamp
---
Words by Andy Davidson (AD), Becton Simpson (BS), Ben Mills (BM), Ian Kenworthy (IK), Kathryn Black (KB), and Sêan Reid (SR)