After a relatively quiet February, the album releases come thick and fast in March. Luckily for you, we here at Already Heard have got the lowdown on all the records you need to be listening to this month, including Welsh debutants Holding Absence, metalcore giants While She Sleeps, and emo veterans American Football. We did warn you it was a big month!
Without further ado, here are eight must-hear March 2019 releases!
---

Follow us on Spotify for more playlists.
---
American Football – American Football (LP3)
If there's one band that needs no introduction, it's American Football. Their 1999 self-titled album is legendary in the scene, mainly because the band came and went following its release. Having reformed a few years ago, their second self-titled LP left some fans a little disappointed, with the tracks sounding like they were straight from vocalist Mike Kinsella's other project, Owen.
The band is returning yet again in 2019 with their third self-titled album, and it's a return to form for the Illinois natives. The twinkly guitars and heartfelt lyrics are back, as well as the softly spoken Kinsella the fans have come to worship.
First single 'Silhouettes' is lengthy, atmospheric track that is the most American Football song since 'Never Meant'. 'Uncomfortably Numb' features Paramore's Hayley Williams, who gives a different performance than usual, but compliments Kinsella perfectly.
Anticipation for this album is at fever pitch, and, so far, it's delivering. (BM)
'American Football' by American Football is released 22nd March on Polyvinyl and Big Scary Monsters.
American Football links: Website | Facebook | Twitter | Bandcamp
---

Holding Absence – Holding Absence
Throughout the course of 2018, Holding Absence put in the work to cement themselves as one of the UK's most promising bands with a host of shows and festival appearances to their name. For those who have adored their stream of singles and 'This Is As One', their split EP with Loathe, the wait for a full-length has been a long time coming. Nevertheless, our patience is due to be rewarded this month with the release of Holding Absence's eponymous debut full-length.
Over a year in the making, 'Holding Absence' has had its fair share of ups and downs, mainly due to line-up changes, yet, as recent singles 'Perish', 'You Are Everything' and 'Like a Shadow' show, the Welsh quintet are firmly united.
The trio of singles continue a trend of delivering emotionally-driven, cinematic songs that pull at the heartstrings, yet are equally anthemic. With the good and bad side of 'love' being explored throughout the album, Lucas Woodland's words are constantly delivered with pure conviction.
"Holding Absence is always going to be about feeling as much as you can,"  Woodland recently stated. "I can't write songs for everybody so I just want to write music that makes people feel in whatever way they can." If the three aforementioned singles are anything to go by, then we're sure to feel something very special. (SR)
'Holding Absence' by Holding Absence is released on 8th March on SharpTone Records.
Holding Absence links: Website | Facebook | Twitter | Instagram
---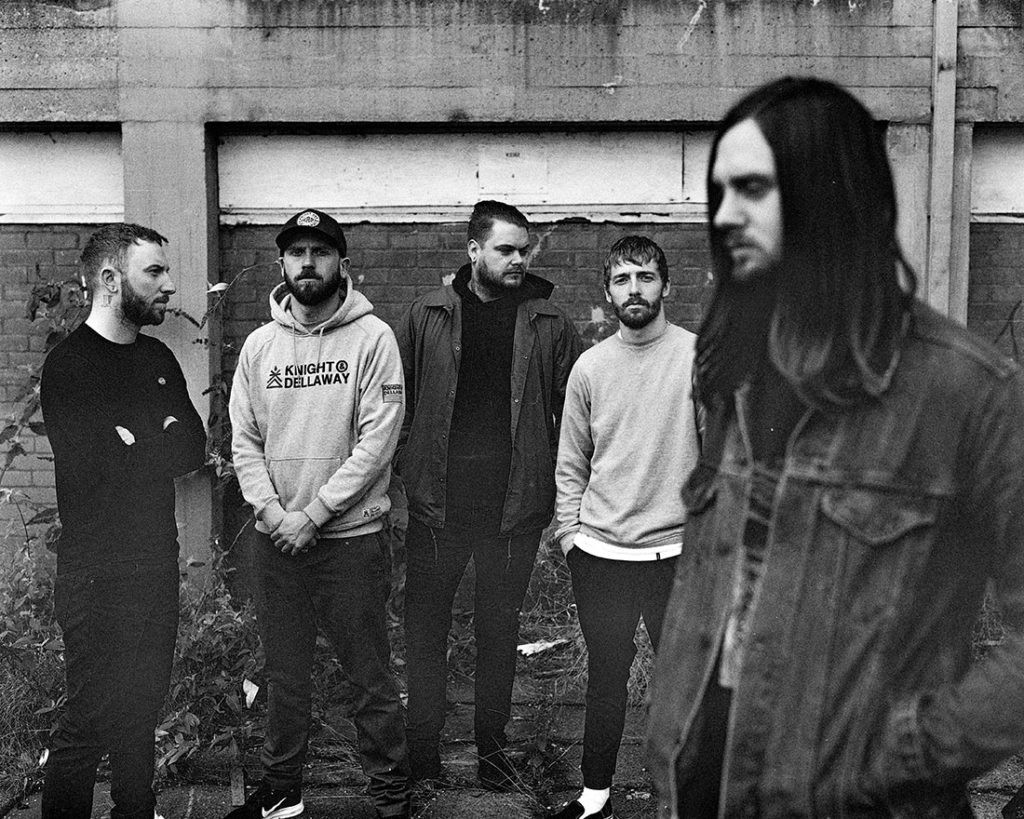 While She Sleeps – SO WHAT?
At this stage in their 13-year career, While She Sleeps have established themselves as the unspoken people's champion of the UK metal landscape. It's largely down to their unique musician/fan bond, with songs made to incite large scale rioting at venues while also being chanted back at them by thousands.
Naturally, this dynamic has fueled some of their most iconic tracks to date ('Our Courage, Our Cancer', 'Four Walls', 'Silence Speaks') and it's definitely the impetus of their fourth full-length 'SO WHAT?'. From the gang-vocal laden cries of 'I'm not antisocial, I'm anti-bullshit' at the beginning of the record, to the nu-metal inspired bounce if 'I've Seen It All' to the soaring choruses found in 'Haunt Me' and 'Set You Free', every moment is a result of songwriting intended to unite crowds of all ages in any crowded space.
One of the most consistent bands of the past few years, a set massive anthems is nothing new for While She Sleeps, but 'SO WHAT?' sees them continue to refine their craft to be more than just a great metalcore band, and become one of the most vital group songwriters in heavy music. (AD)
'SO WHAT?' by While She Sleeps is released on 1st March via Sleeps Brothers.
While She Sleeps links: Website | Facebook | Twitter
---

The Maine – You Are OK
Not restrained by a singular genre, iconic Arizonans The Maine have been gifting fans with melodic masterpieces for over a decade. They are far from the overzealous teens that landed supporting slots with Good Charlotte back in 2008. Now with a nostalgic back-catalogue of hits like 'Taxi' and 'Don't Come Down', they intend to breach risky territories with new album 'You Are Ok'. The first single, 'Numb Without You' was shared recently, and marked yet another stylistic heel for a band still maturing.
Driven by exquisite orchestral flourishes, and perfectly synchronised vocal harmonies, the track seems far more polished than the pop-rock mayhem of their debut. Frontman, John O'Callaghan has stated that within the album "the risk lies in its urgency, it's relentlessness and it's manic mood swings", although he gone on to state there is "a familiarity that I think will be heard once you spin it".
The enigma surrounding 'You Are Ok' is evident, however the wait is not long with its release on the horizon in a matter of weeks. (CW)
'You Are Ok' by The Maine is released on 29th March on 8123.
The Maine links: Website | Facebook | Twitter | Instagram
---

Free Throw – What's Past Is Prologue
The emotionally charged Free Throw release their third album this month. A follow-up to 2017's 'Bear Your Mind', 'What's Past Is Prologue' looks to build on their already stacked discography of emo ballads about heartbreak, drinking, and hanging out with friends.
Singer and guitarist Cory Castro bears his soul even more across the new tracks than perhaps ever before. Lead single 'The Corner's Dilema' is a song about social anxiety and the overwhelming sense of awkwardness when confronted with groups of strangers. It's a cathartic release with a chorus that's destined for large crowds.
One of modern emo's most promising bands, don't let Free Throw bypass your radar as 2019 looks like it's going to be a great year for them. (BM)
'What's Past Is Prologue' by Free Throw is released on 29th March on Triple Crown Records.
Free Throw links: Website | Facebook | Twitter | Bandcamp | Instagram
---

Brutus – Nest
Brutus' 'Burst' was a record full of contradictions. Its production was polished and shimmering, but the musicianship was pummelling, fierce and aggressive, yet the result was often the beautifully cathartic wall of colourful sound elevating the emotionally fraught vocals of lead singer/drummer Stefanie Mannaerts. Even the lyrics, while often repetitive and ambiguous managed to convey stories of loss, frustration and disarray among disorienting fusions of black metal and lushly textured post-rock. It's little wonder that we at Already Heard included it in our top albums of 2017 list.
Topping the splendour of 'Burst' isn't going to be an easy task but the Leuven, Belgium three-piece aren't the kind of group that are ready to settle things down. Second album 'Nest' is described by the band as a reflection of the past two years of their lives, which have taken them outside of their nest in Belgium and across Europe and the UK, gaining greater exposure and becoming more recognised – they've toured with the likes of Thrice, Chelsea Wolfe and Russian Circles after all – and while this album will a celebration of these small victories, it also identifies the reality of relationships with the members of the nest growing distant and strained.
This is an album which aims to bridge that gap between the highs of being in a successful touring band and the lows of alienating yourself from the people you thought would be friends for life, and as one can imagine, Brutus will make it as cathartic and oblique as it will be grandiose and empowering. (AD)
'Nest' by Brutus is released on 29th March via Hassle Records.
Brutus links: Facebook | Twitter | Bandcamp
---

Pkew Pkew Pkew – Optimal Lifestyles
Ever since their emergence, Toronto's Pkew Pkew Pkew have proved they can consistently deliver boozy anthems. While their self-titled album thrived on party-loving life of four twenty-somethings, 'Optimal Lifestyles' looks set to see them in a more introspective mood.
Nevertheless, as 'I Don't Matter At All', '65' Nickles',  and 'Passed Out' have shown in the weeks leading up to its imminent release, the Canadian's brand of raw, beer-soaked punk is firmly intact. Together they hint at a streamlined lyrical narrative as frontman Mike Warne draws from the experiences of him and his friends of life in Toronto.
Struggling to make life in a band work, Warne and company use their frustrations against a money-hungry society to come together to deliver a thriving set of songs filled with the sentiment of "things might get fucked up, but there's still value in trying."
With their wit and optimism, Pkew Pkew Pkew and 'Optimal Lifestyles' have all the makings of being a home run of gruff punk anthems. (SR)
'Optimal Lifestyles' by Pkew Pkew Pkew is released on 1st March on Big Scary Monsters.
Pkew Pkew Pkew links: Website | Facebook | Twitter | Bandcamp | Instagram
---

Whitechapel – The Valley
Deathcore aficionados Whitechapel have been unleashing musical tyranny upon the scene since their defining album 'The Somatic Defilement' was released in 2007. Since then, the Tennessean sextet have been pioneering their genre, with a minefield of pulverising riffs under their belt. Ever evolving, the successor albums 'This Is Exile', 'Our Endless War' and 'Mark of The Blade' have been ravenously devoured by fans, with the hope that upcoming release 'The Valley' will maintain their devotions.
Having been produced by Mark Lewis (Cannibal Corpse, The Black Dahlia Murder) 'The Valley' is set to be an unflinchingly personal offering, delving deep into the childhood of frontman Phil Bozeman as he confronts the demons of his youth.
https://youtu.be/4zH8Nf67LAE
Soul-crushing first single 'Brimstone' was released back in November, subjugating listeners to the merciless growls of 'Kill, Torture, Terrorize', followed by the cleaner vocals of 'When a Demon Defiles a Witch' released fresh this month. If these taster tracks are a testimony to the musical dexterity of 'The Valley', then fans are in for a turbulent ride. (CW)
'The Valley' by Whitechapel will be released on 29th March on Metal Blade Records.
Whitechapel links: Website | Facebook | Twitter | Instagram
---
Words by Ben Mills (BM), Andy Davidson (AD), Chloe Waterhouse (CW), and Sêan Reid (SR)
If you have enjoyed reading this article and would like to help us produce more content and promote more great new music, please consider donating to our Patreon page.