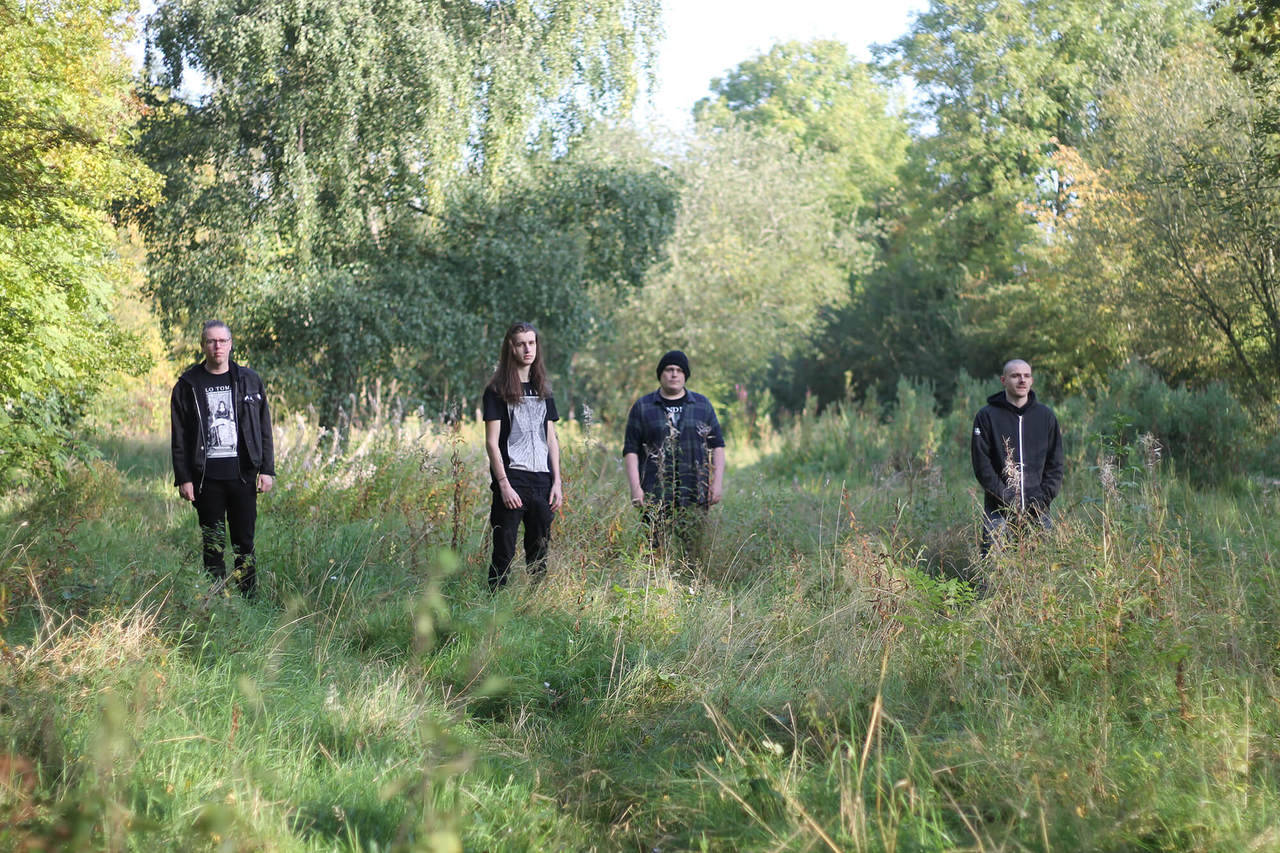 "If we were more easily defined, you would see us in a certain pool of bands"
From Iron Maiden to Depeche Mode, these wouldn't be the immediate influences that would scream out to you for one of the most exciting heavy bands in the UK right now. But that is exactly the type of music which started guitarist and vocalist Dan Nightingale on his musical journey growing up as a youngster in Rugby. Fast forward to the present day and Nightingale's roaring vocals and shredding guitars are more akin to those you would put on to scare off the neighbour you don't like. As part of the crushing Midlands four-piece Conjurer, Nightingale and Co has carved out their own unique mix of black metal, sludge and doom, which they affectionately have branded as "post-sludge".
But one listen to the band's new record 'Mire', it is clear to see where the genre boundaries blur and Conjurer takes over. However, for the quartet to come out with an absolute sledgehammer of a record was not something which just happened overnight, as Nightingale explains to Already Heard.
"It has been three years in the making," he said. "Some of the songs that are on the record are more than three-years-old. That amount of time allowed for all different types of influences to come in and shape the sound we want, with those three years we were able to shelve ideas and gave us the opportunity to craft things better.
"It gave us way more time to hone in on the things that we have already written and bring new pieces to the table. With the songs we already had written, we thought what is the complete opposite to the older songs, and not to say we didn't like the older material, there was just so much more in there for us to play with. The album is a big mixing pot of what Conjurer is."
https://youtu.be/vgYK2DsL_4o
Led by Nightingale and fellow guitarist/vocalist Brady Deeprose, Conjurer are a band who are rapidly attracting a buzz amongst the metal community. But Nightingale insists that with more people now being made aware of the band, any preconceptions of them has been thrown out the window, which is something he believes has made Conjurer the band it is. He added: "If we were more easily defined, you would see us in a certain pool of bands, but because we play with so many different types of bands it means we are pulling for a range of different influences.
"There is this sense in the UK scene at the moment of 'do what you want'. It is the best place going forward because you are going to see more people implement different styles into their music and there are bands like us, OHHMS, Employed to Serve and Svalbard who are breaking down genre barriers. Because we had this avenue of doing what we want, it means that we were able to do different things and have a different approach to the music we are producing."
It is this attitude of doing what you want that has seen Conjurer make an impact on the UK scene, playing a range of mix bills which has opened them up to a wider fan base. Their music combines Opeth at their heaviest and most dynamic, early hints of Mastodon, the venomous of Gojira and more to create a distraught tsunami of songs. So it is no surprise that bands like Gojira and the Black Dahlia Murder were influences on the band in the early days.
"Brady posted something on Facebook saying I want to start a band that sounds like Black Dahlia and Gojira, so I messaged him saying that sounds great," Nightingale recalls fondly. "We just got chatting and we would go round his and just start playing through songs, but it wasn't until we saw Yob and Pallbearer at the Underworld where we really began to figure out that this is what we wanted to do."
It was from this that the "post-sludge" name was made up as Conjurer didn't really fit anywhere. However, the four-piece now take pride of not being pigeonholed as it means they are more open to playing mix bills and with a range of different bands. Nightingale continues: "We just kinda went where we felt comfortable, but just don't call us pop music."
A full audio version of this interview can be found on Tim Birkbeck's Jusy An Insight podcast.
'The Mire' by Conjurer is released on 9th March Holy Roar Records.
Conjurer links: Facebook|Twitter|Instagram
Words by Tim Birkbeck (@tim_birkbeck).