Australia's latest export, Tonight Alive have only been together since 2008 but have toured their homeland numerous times and recently impressed US fans on Warped Tour. In the UK for only a second time and on their début headline tour, the band are here to play their positive pop punk songs and pick up some new fans along the way.
Already Heard spoke to vocalist Jenna McDougall, guitarist Whakaio Taahi and bassist Cam Adler about their first headline UK tour, favourite memories of this year, their latest album 'What Are You So Scared Of', Mark Hoppus' guest appearance, and more.
Already Heard: First off how are you guys doing? Are you enjoying being back in the UK?
Jenna: Amazing, we're having a really good time in the UK. It's our second time here and we've played two shows here so far and they've been just like home shows for us so it's been a good run.
AH: So how have the two dates you've played so far been?
Jenna: There's so much energy in the rooms and they were quite full. I just think they exceeded all of our expectations really.
AH: The first time you were in the UK you supported Never Shout Never and Young Guns so how does it feel to come over for the second time and have your own headline tour?
Whakaio: It's amazing and so humbling, when our management put it towards us that we were going to headline I was like "WHAT, we've only been here once I don't think it's going to work." We didn't really think there was going to be a huge amount of people, but the reactions have been so positive for us and we're so stoked for all the people that have come out singing our songs, so it's just an amazing feeling.
AH: Now that you're headlining on this tour, how does your set differ to you playing as a support band?
Whakaio: We play alot of different songs that we normally wouldn't play. When we're supporting, we go in with the mentality that we've got half an hour to impress this crowd and get fans, so we're just going to bang out these songs. I think (with) headlining it's just more of a show and if someone's waited two years to see us, they've waited for these old songs so we put a couple of older songs in there. So it's more of a show and a more Tonight Alive night.
AH: Do you find you get alot of requests for different or older songs when you're doing a headline show?
Whakaio: Yeah for sure.
Jenna: Yeah definitely, it's hard because when we are supporting bands, kids ask for alot of songs that we can't really play like maybe a ballad or something that's three years old. It's kind of impractical because you need to appeal to the people in the crowd that have never heard of your band before. Whereas here people are here to see us and we get to choose what feels good for us and also what our fans want to hear.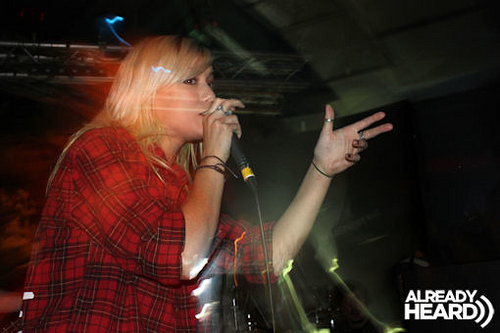 AH: You guys have been touring non-stop and we're near the end of the year. What has been your favourite memory of this year so far?
Jenna: We played Warped tour in the summer and that was incredible and something we always wanted to do. It was kind of a situation where you get out what you put in so I think we worked really hard and we were rewarded in return.
Whakaio: We played Japan and we played 'Listening' as our first song. There's obviously that part in the chorus where everything stops and either Jenna sings or the crowd sings and we just had no idea how it'd go. And the first show we played the crowd was just singing it back and its like "holy shit", we all just looked around at each other like idiots and I'm like this is awesome.
Jenna: They're my favourite moments when we look around at each other and were like did that really happen, they're the best moments on stage.
AH: Obviously your album 'What Are You So Scared Of' has been released in Australia and the US already so how does it feel to finally have it out in the UK?
Whakaio: It's taken us so long to finally get it out here. It's been a year since we released it in Australia, so it has been a long time coming and feels like such an achievement for us. I'm the oldest and I'm twenty two and Jenna's twenty and we have an album out in the UK, America, Japan and Australia, so it's such an achievement for us and we're so proud of it. We're so happy that it's finally out in the UK and its gotten such a positive reaction, we didn't really expect it to have that.
AH: If you could describe the album to someone how would you describe it?
Jenna: I'd say it's diverse, every song is quite different and you can group them into certain styles and vibes but I think going through each track, they speak about something different. The music says something different it makes you feel a different way. It covers alot of ground lyrically and musically which I think we're all proud of.
Whakaio: We didn't go into the process with like a mindset about what the CD is going to be about. We came out with the whole mindset of the 'What Are You So Scared Of' theme about facing your fears and doing what you want, even though it is scary or your feeling down and depressed about something. I feel amazing to go on stage every night and to give the kids this positive message, because there's so many bands at the moment that are out there that are doing it for the wrong reasons and the wrong message. I'm proud of us for having the right message and having a positive album that kids can listen to and go home and feel good about themselves, this album does that.
AH: How was the recording of the album because you recorded it in the US, how was that experience?
Jenna: It was a big learning curve for us, we were thrust into it not unwillingly or anything but we were put in the situation where it was like "we're about to work our asses off". Mark Trombino was a great producer for us and he got the best musicians out of each one of us, and we came away from it as stronger songwriters and better at recording. There were no short cuts taken we did the takes a thousand times just to make sure they were perfect.
Whakaio: That album wrapped us up for the whole two years of us being thrust into this touring life, Jenna left school and we quit our jobs and we literally threw everything into this band. The album was a summary of our lives in the band, so it was definitely physically difficult and definitely abit emotional as well, to finally get all that done and when it was done it was just an "ahhhhhh" kind of thing. It was definitely a massive learning curve for us.
AH: Do you find it easier going into the studio positively?
Jenna: Yeah definitely, I think even with the negative songs that are about feeling shit and the music kind of reflects that, I'm still excited about it as a song because it's something that we're proud of and it came together. It represents how we were feeling or what we were trying to convey, so even the songs that are about dull, we're proud of them so it feels good to get that out of your system. Nothing about the writing process ever feels negative except when you get stressed out because you need more songs or you need to work on things.
AH: Mark Hoppus makes a guest vocal appearance on the song 'Thank You & Goodnight.' How did that come about and how was it?
Whakaio: We were tossing up between who we wanted to be on the album. We wanted someone on there and Jenna had ideas about who she wanted and then we didn't want her ideas, so we were kind of not fighting but we were discussing.
Jenna: We had conflicting ideas.
Whakaio: Trombino was in the room at the time and when we were tracking drums he came up to us and said what do you think about Mark Hoppus being on the record. Me and Jenna were like "is that a joke? are you serious?" He e-mailed him and Mark was really into it and he did it and it was just amazing.
Jenna: I think Blink was/has been important to each one of us throughout our growing up, so to have him a part of our album and our first album was a huge compliment.
AH: Was that the first time you met him as well?, did you freak out?
Jenna: Oh yeah, yeah.
Whakaio: Definitely, inside yeah.
Jenna: We tried to play it cool but we weren't that coo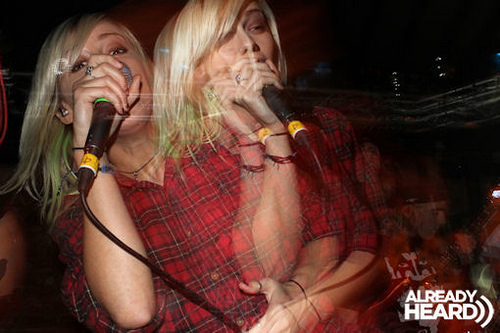 AH: Did you have to go through the album and work out what song he could sing on or was it an easy decision?
Whakaio: Mark Trombino had this really clear idea of what he wanted Mark on, because it wasn't even a song Jenna wanted him to guest vocal for.
Jenna: The one that we were aiming for was 'In The First Place' and I wrote it with male vocals in mind and I knew what I wanted out of that song, and I didn't get it but it turned out well anyway. Mark really, really pushed for 'Thank You And Goodnight' to go on the album because it was from a previous EP and he pushed and pushed and he was like "I'm not doing the album if this song doesn't go on it". It was one of his favourites and all of his ideas pretty much worked out in our favour.
AH: What would be your favourite song on the album that you either enjoy playing live or have a connection with?
Cam: 'Listening' as it's our best song live and it's fun to play with great lyrics.
Jenna: Yeah I agree.
AH: I've heard you've recorded 'What Are You So Scared Of' as an acoustic album as well how was that process and how can people get hold of it?
Jenna: Honestly that was the most rushed process.
Whakaio: I had my wisdom teeth out the day before so I had a bandage on my head and I had ice packs on my face and my face was big and I got all the songs done in one day. That is like the one thing I'm not ashamed of. I didn't really want alot of people to hear it because we just wanted a bit of extra content for the Australian release. It was supposed to be a secret thing like a secret track on all of them and then it just ended up being everywhere and we sold it as a CD on Warped Tour and I was just like "oh no it's getting out".
Jenna: I did all the vocals in two days, we did the whole album acoustically and we also recorded three b-sides in the same session, so I did fourteen songs in two days. It was really rushed but it was alot of fun and I'm glad we did it because, it was actually some time after we recorded the album so a few things had changed and a few things had developed. I felt like I sang better on those tracks than I did on the album, so it was fun but we didn't think it was actually going to become anything. The way you can get it is all those songs are secret tracks on the Australian release of the album, so can be ordered online.
AH: ou recently did an acoustic set at Banquet Records would you ever think about doing some more acoustic gigs or mixing some acoustic versions into your set?
Jenna: Yeah I love playing acoustic. It's alot of fun especially when the kids get into it. It was actually our first instore (show) ever but we love acoustic performances and we've actually done a whole show that was just acoustic for an hour and a half. I'd love to do more of that.
Whakaio: We'd like to do that as a headline show but we just didn't think it would be very practical on this kind of run.
Jenna: Especially as this is out first time headlining here.
AH: When can fans expect some new music from you guys? Have you been writing new material?
Jenna: Yeah we've been writing the new record for over a year, maybe a year and a half in fact, so that'll be recorded at the end of this year and early next year and then hopefully we'll be releasing that mid-next year. That's the plan at this point, we're very much looking forward to it because 'What Are You So Scared Of' was actually recorded nearly two years ago. Whakaio: The plans in the music industry don't ever really run on time, so that's what we're definitely aiming towards.
AH: Would you record the album in the US again or would you like to be closer to home in Australia?
Jenna: Considering how much we're away from home and how draining it is of all our expenses and our energy to travel so much, I think we're going to stay local and do it at home which we're really excited about. I don't think it's 100% necessary to go international to record an album. It really is just about the resources and the producing that you use and where that's going to be located, I think what we need is at home in Australia.
AH: Will you stick with the same sound or maybe go heavier or softer?
Jenna: We're looking at heavier really. I think that's our stronger point honestly, as all my favourite songs that we've ever written are the darker ones and the most successful live are the heavier ones. It's just what feels good to us really.
AH: Would you go in with that mindset or just see what comes naturally
Jenna: It's just what comes naturally to us.
Whakaio: We have a really clear idea of what we want but were always really open to other people's opinions, so if our producer is like "I don't think it's going to work" we're never like "no." We're always really open and always willing to learn.
Jenna: We don't really force that kind of thing.
AH: So last question and it's an easy one what is next for Tonight Alive? Do you have anything planned for the rest of the year?
Jenna: We do actually we've got a full schedule really from the end of this tour in London we fly to LA and start a tour with Pierce The Veil and then we'll be recording.
Whakaio: That tour goes on for a month and a half and then we'll be recording at the end of the year. Then I think we'll head back here early next year, so I think that's going to get announced pretty soon.
AH: Would you like to say anything to your fans?
Jenna: We love you guys so much, your the most supportive people in the whole world and you've really looked after us and taken us under your wing over here in the UK. We appreciate it so much and were enjoying this tour so far and were looking forward to coming back next year.
'What Are You So Scared Of?' by Tonight Alive is available now on Search and Destroy Records (UK) and Fearless Records (US).
Tonight Alive links: Official Website|Facebook|Twitter|Tumblr
Words by Aaron Wilson. Photos by Carrie-Anne Pollard.