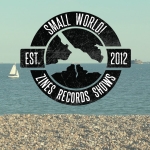 Newly formed digital distribution group Small World! has officially launched.
Based on the Isle of Wight, Small World! is a collective consisting of promoters and label owners from the Island, Portsmouth and Southampton and will be releasing free music from local bands and hosting local shows.
Small World! are currently giving away various releases including music from Godard, Acres, Young Attenborough, Cycle Schmeichel, Hentai Babies and more.
Visit SmallWorld.LimitedRun.com for details.
Small World! are also hosting two shows before the end of the year.
November
28 Coburgs, Ryde
Prolong The Agony, The Fall Of Arcadia, Hybrid Myth & Stray Bullets Kill
December
14 Indys, Shanklin
El Morgan, MaybeTuesday, Onion Popes & James Hunt