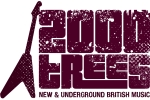 Six new acts have been announced to this years 2000 Trees Festival. The new additions include Itch, Blitz Kids and Hawk Eyes.
Joining them will be The Virginmarys, Winter Villains and Verse Chorus Verse.
2000 Trees Festival takes place at Upcote Farm, Gloucestershire from July 10th to 12th.
Click read more to view the full line-up so far.