With just over a month until it kicks off, the 2000trees Festival has announced even more acts.
Today's announcement sees Jamie Lenman as the Saturday night headliner on the Forest Stage.
Other names joining the bill are Jim Lockey and the Solemn Sun who will be playing The Cave on Thursday evening, with additions of Sugar Horse (Thurs, Neu), Profiler (Thurs, Cave), Beauty School (Fri, Axiom) and Public Body (Fri, Neu),
What is the full 2000trees Festival 2023 line-up so far?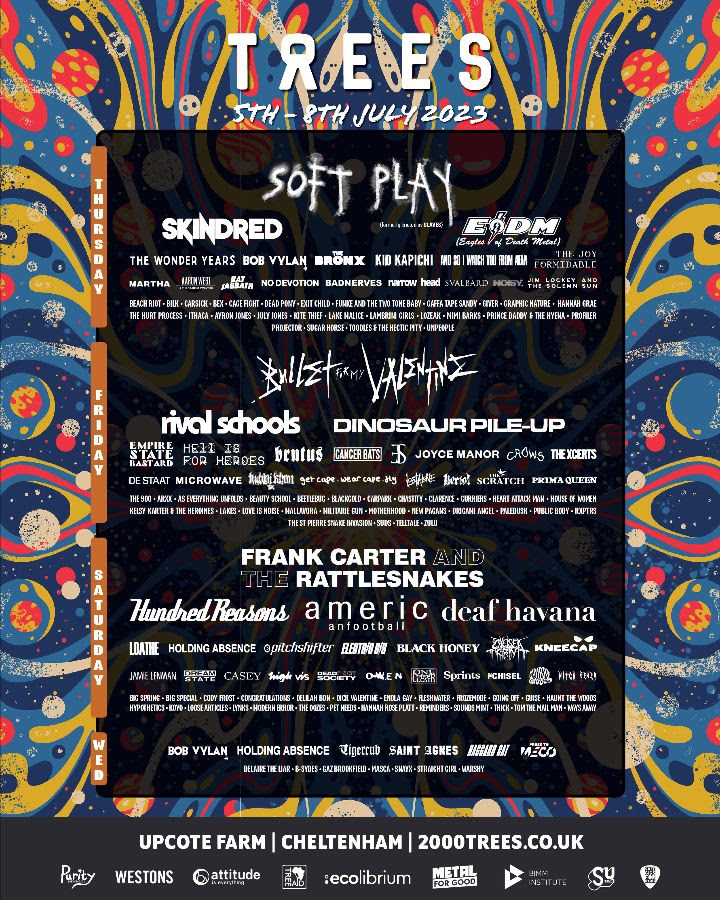 WEDNESDAY 5TH JULY
Bob Vylan
Holding Absence
Tigercub
Saint Agnes
Haggard Cat
Press to MECO
Delaire The Liar
SNAYX
Gaz Brookfield
WARSHY
B-Sydes
THURSDAY 6TH JULY
SOFT PLAY
Skindred
Eagles of Death Metal
The Wonder Years
Bob Vylan
The Bronx
Kid Kapichi
And So I Watch You From Afar
The Joy Formidable
Martha
Aaron West and The Roaring Twenties
Bat Sabbath
Svalbard
No Devotion
Bad Nerves
Narrow Head
The Hurt Process
Beach Riot
Bilk
CARSICK
Big Special
BEX
Cage Fight
Dead Pony
Exit Child
Funke and The Two Tone Baby
Gaffa Tape Sandy
Giver
Hannah Grae
Graphic Nature
Ithaca
Ayron Jones
July Jones
Kite Thief
Lake Malice
Lambrini Girls
Lozeak
Mimi Barks
NOISY
Prince Daddy & the Hyena
Toodles & the Hectic Pity
Unpeople
Sugar Horse
Profiler
Jim Lockey and the Solemn Sun
FRIDAY 7TH JULY
Bullet For My Valentine
Rival Schools
Dinosaur Pile-Up
Empire State Bastard
Hell Is For Heroes
Brutus
Cancer Bats
Employed to Serve
Joyce Manor
Crows
The Xcerts
De Staat
Microwave
Kublai Khan TX
Get Cape. Wear Cape. Fly
LostAlone
Heriot
The Scratch
Prima Queen
Zulu
Militarie Gun
The 900
ARXX
As Everything Unfolds
Beetlebug
BLACKGOLD
Carpark
Chastity
Clarence
Gurriers
Heart Attack Man
House Of Women
Kelsy Karter & The Heroines
Lakes
Love Is Noise
Mallavora
Motherhood
New Pagans
Origami Angel
Paledusk
RXPTRS
The St Pierre Snake Invasion
SUDS
Telltale
Beauty School
Public Body
SATURDAY 8th JULY
Frank Carter & the Rattlesnakes
Hundred Reasons
Deaf Havana
American Football
Loathe
Jamie Lenman
Holding Absence
Pitchshifter
Electric Six
Black Honey
Chelsea Grin
Kneecap
Dream State
Casey
High Vis
Dead Poet Society
Owen
One Step Closer
Sprints
The Chisel
Chubby & the Gang
Witch Fever
Big Spring
Cody Frost
Congratulations
Delilah Bon
Dick Valentine
Enola Gay
Fleshwater
Frozemode
Going Off
GUISE
Haunt the Woods
Hypothetics
Koyo
Loose Articles
Lynks
Modern Error
The Oozes
Pet Needs
Hannah Rose Platt
PROJECTOR
Reminders
Sounds Mint
THICK
Tom The Mail Man
Ways Away
When and where is 2000trees Festival 2023?
The 2023 2000trees Festival takes place from Wednesday 5th July and Saturday 8th July at Upcote Farm near Cheltenham.
Where can I buy 2000trees Festival 2023 tickets?
Head to twothousandtreesfestival.co.uk/tickets to purchase tickets for this year's 2000trees Festival.