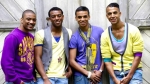 PRS for Music, the organisation which collects royalties on behalf of songwriters, have named British boyband JLS as Britain's hardest-working band of 2012.
The Independent newspaper stated the pop quartet played 34 headline shows and headlined more major concerts than any other artists.
Here at Already Heard, we are stunned that the group has been given such a distinction when countless bands play up and down the country throughout the year.
We would like to hear your thoughts on this news.