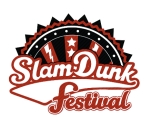 Thirteen new bands have been added to this year's Slam Dunk Festival with the likes of Kids In Glass Houses, Cancer Bats, Bury Tomorrow, Tonight Alive and Heights joining the bill.
The other additions are Heart In Hand, Heroes For Hire, House VS Hurricane, Chunk! No, Captain Chunk!, [Spunge], Blitz Kids, Gnarwolves and The American Scene.
Click read more below to view the full line-up.
May
Friday 24th Slam Dunk Scotland O2 ABC Glasgow
Saturday 25th Slam Dunk Festival North Leeds University
Sunday 26th Slam Dunk Festival South Herts Uni, Hatfield
Monday 27th Slam Dunk Festival Midlands Wolverhampton Civic
Tuesday 28th Slam Dunk Wales Cardiff University
Wednesday 29th Slam Dunk Ireland The Academy Dublin
Visit slamdunkmusic.com for full information on all Slam Dunk 2013 events.