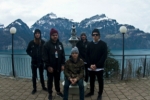 Following on from recently joining Pure Noise Records, Landscapes have revealed details of the forthcoming re-release of 'Life Gone Wrong'.
1. Cemetery
2. No Love
3. D.R.E.A.M
4. Disdain
5. Providence
6. The Coming of Age
7. Forgiveness
8. Epilogy
9. Paradox
10. Providence LIVE
11. Epilogy LIVE
The album will be released on 2nd September shortly before the band tour with The Amity Affliction and In Hearts Wake.
September
8th Southampton The Cellar 
9th Manchester Academy 3 
10th Leeds Cockpit 
11th Glasgow Cathouse 
12th Newcastle Academy2 
13th Cardiff CF10, University 
14th London Underworld 
15th Birmingham O2 Academy3