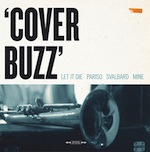 Let It Die, Pariso, MINE and Svalbard have anniunced they will be releasing a four-way split titled 'Cover Buzz' on 14th October. It will consist of covers celebrates punk, hardcore and powerviolence.
The release will be handled by Dog Knights Productions, Enjoyment Records, Tangled Talk, Cult Culture and Moshtache Records.
It will be pressed on limited jukebox vinyl for a one-time pressing of 250 copies.
A1) Let It Die – War In The Head (7 Seconds)
A2) Pariso – Straight Hypocrisy/Images (Witch Cult/Weekend Nachos)
B1) Svalbard – This Is The End (Victims)
B2) MINE – Everybody Hates Me (Tear It Up)