While some UK festivals have come and gone in recent years, 2000trees Festival is one that continues to thrive. Every year the anticipation for the Cheltenham-based get together grows and 2018 was no different. Against a backdrop of a seemingly never-ending heatwave, we returned to 2000trees for three memorable days of riffs, hooks, charming acoustic sets, and much more.
Thursday
Having the opening slot of a festival can sometimes be a thankless task. Campers still pitching their tents, audience members getting themselves familiar with the site can mean a quite attendance for the first band of a weekend. This was not the case for SHVPES (4/5) who opened The Cave stage. Their mix of djent-riffs tied with high energy stage presence and the vocal talents of Griffin Dickinson. The five-piece did a great job of setting the tone for the whole weekend. (TB)
Throughout the weekend, it was clear that the 2000trees crowd have no issue with bands returning regularly. For example, Press To MECO's (3.5/5) Axiom tent set proves to have plenty of pull. And although Black Foxxes are playing at the same time, as acknowledged by vocalist Luke Caley, their familiar tropes of three-part harmonies alongside stellar riffs and bold hooks are hard to ignore. (SR)
Over on the main stage, Black Foxxes (3/5) sounded absolutely huge, despite sound issues on the part of the front of house. With the bass tone being the dominant thing you could hear, this didn't stop the three-piece blitz through a set which heavily featured material from their new record 'Reiði'. Songs like 'Manic in Me' and 'Breathe' got big sing-a-long moments and were proof why the band deserve to be on the main stage. The fact that vocalist/guitarist Mark Holley played with a broken rib shows how much 2000trees means to bands who play it. (TB)
Vibrant Scottish rockers Vukovi (3/5) showed the benefits of what touring with The Amity Affliction and Boston Manor can have. Thoroughly energetic, the quartet collectively show it's more than "the Janine Shilstone show". Fan favourites 'And He Lost His Mind,' 'Animal,' and 'La di Da' thrive, leaving the busy crowd eating up everything they had to offer and more. (SR)
Back by popular demand, and named as "the best band of the weekend" by organiser James Scarlett in the leadup to the festival, Belgian trio Brutus (4/5) back up the hype with a powerful and intense outing. With escalating guitars, riveting bass lines and chaotic drum work, we'll admit the vocal range of drummer Steffanie Mannaerts is what truly stands out. We're just waiting on that all-important second record now. (SR)
With a new album, 'Welcome to the Neighborhood' set for release in the coming months, Boston Manor (3.5/5) followed up last month's Download main stage spot with a rapturous display at the Cave stage. While it took a few songs to hit their stride, by the time they played 'Be Nothing.' favourites 'Lead Feet' and 'Laika' along with new single, 'Halo,' the Blackpool group firmly left their mark on 2000trees, nicely warming up the crowd for what was to come next. (SR)
Baltimore hardcore heavyweights Turnstile (5/5) turned the Cave stage into a tornado as they burst into 'Real Thing' with bodies flying everywhere. There was not a moment to catch your breath before the five-piece launched into the assault of their next song and The Cave crowd could not get enough of it. Even though the band's new album 'Time & Space' has caught a lot of attention the band didn't neglect their older material such as 'Drop'. If there was an award for the most energetic set of the weekend, Turnstile would have won it and it was only day one. (TB)
The curse of the main stage sound also affected UK darlings Marmozets (3/5). Bursting on to the stage with 'Play,' the bands backing track and guitar tone just sounded a little bit off. As the set progressed things did seem to sort themselves and vocalist Becca Macintyre had the crowd eating out of her hand for the sing-a-long parts to 'Major System Error' and 'Habits'. Despite the sound, the range of Macintyre is something to behold and the rest of the Marmozets crew give an extremely polished performance every time they step out on stage. (TB)
Returning for the fourth year running, you could say the growth of Black Peaks (4.5/5) and 2000trees has been simultaneous. This time around they're headlining a tent and returning with renewed vigour. With highlights from their incredible debut, 'Statues,' being slotted alongside new cuts from their forthcoming second full-length, 'All That Divides,' the quarter produced a powerful display. With Will Gardner's roaring vocals, Joe Gosney's twisting riffs and the impactful rhythmic duo of drummer Liam Kearley and bassist Dave Larkin, Black Peaks fulfil taking top billing. (SR)
Closing out day one was El Paso, Texas juggernauts At The Drive-In (3/5). The iconic bands cult following were out in force as the band opened up proceedings with 'Arcarsenal'. For a band who made a name for themselves as a group who would go absolutely crazy live, those days do seem much behind them. Nowadays vocalist Cedric Bixler just seems to go on rather incoherent rants in between songs.
Even though there was a large crowd watching the five-piece, there was a sense this was not necessarily an At The Drive-In audience as they only seemed to come alive when anything from 'Relationship of Command' was played. With the odd experimental interlude, the artistic creation was executed exquisitely, but whether 2000trees was the right place to try it may be up for debate. If proof was needed that a crowd was waiting for one song, revellers had to wait for an hour to hear 'One Armed Scissor' which did bring about the biggest reaction of the bands set. Whether this was the plan all along to keep fans waiting or the band know that's the song everyone wants to hear, it seemed like a long time coming. (TB)
---
Friday
Kicking things off for day two on the Axiom stage were Brighton three-piece Sick Joy (2/5). The grunge rockers non-offensive tones were a good way to clear the cobwebs from the night before, yet there was a sense of it needs a bit of polish. Although there wasn't particularly wrong with the band's performance, yet with so many bands doing the type of new-wave grunge Sick Joy produce, there are others who just do it slightly better. (TB)
Somewhat tucked as openers on the Neu stage, Nervus (4/5) bring their upbeat, jangly brand of sincere indie-punk to 2000trees. With a crowd that stretches far out of the confines of the intimate tent, the Watford-based group start off the second day of 2000trees on a bright note. Blasting through highlights from this year's 'Everything Dies,' Em Foster and company clearly loved the response they've garnered so early on a Friday. The first of many 2000trees Festival appearances? We wouldn't be surprised. (SR)
Having released their debut album, 'A Pathetic Youth,' just a week ago, today is the perfect introduction for Littlehampton trio GLOO (2.5/5). Raucous numbers such as 'Hit It' and 'Holiday,' quickly show the growing crowd what they're about. Even though their impact isn't the biggest of the weekend, their brand of bratty, grunge-punk isn't to be ignored. (SR)
In a complete change of tone was Canadian trio Courage My Love (4/5). Bringing a mixture of catchy pop hooks, electronic dance and heavy riffs, there was something for everyone in the crowd. The three-piece are an example of what 2000trees is all about; bringing in diverse alternative music and introducing it to new fans. Throughout their whole set the band looked like they were just having the best time and the longer their set went on, it seemed as though they made new fans of every single person inside the tent. (TB)
Over at the Forest session stage, it's pleasing to see many turn out for the showcase of BBC Introducing talent, while a short talk with Hannah Morgan from Heads Above The Waves on mental health and how it affects musicians is admirable and thought-provoking. Shortly after an emotionally-charged celebration of Scott Hutchinson and his music brings together a large crowd to pay tribute to his memory. With people such as Fatherson's Ross Leighton and George Gadd playing songs by Hutchinson along with antidotes of what he meant to them, it was a fitting way to remember the late Scotsman. (SR)
By the time Holding Absence (3/5) set up on The Cave, the heavens had opened for the first bit of rain the country had seen for a while. But the dark clouds and stormy atmosphere seemed to be fitting for the boys from Cardiff. Songs such as 'Saint Cecilia' and 'Dream of Me' sounded absolutely huge with a tightly packed tent banging their heads along. From this evidence, it is clear to see why people make the comparison with Architects and if they continue bringing in crowds like this, who knows they could be on the main stage before long. (TB)
Although some have escaped to the tents to avoid the much-needed rain, that doesn't dampen The Dirty Nil's (4.5/5) spirit. The Canadian trio bring a thorough and raw rock n' roll set full of swagger and showmanship. Led by birthday boy Luke Bentham, they make their 2000trees return seem bigger than it probably is. Joined by drummer Kyle Fisher and bassist Ross Miller, The 'Nil are insatiably fun with stadium-sized riffs combining with harmless charisma. (SR)
In the depths of the forest, you could find a man with a beautiful moustache and an acoustic guitar. Jamie Lenman (4/5) had people scrambling for somewhere to sit to see his Forest session. Full of charm and charisma, the singer-songwriter could almost be mistaken for a stand up comic at times for the timing of his jokes. Playing a mixture of covers, old Reuben songs and songs from his latest album 'Devolver,' the fans lapped up every moment. He even ended on a little song specially written for 2000trees which got laughs and cheers. (TB)
Although they're not as big as a pull as yesterday, Press To MECO (3/5) were on hand with a rare acoustic set. Although 'More You Know,' and 'Familiar Ground' are stripped back, the satisfying three-harmonies are still intact. While a cover of Manchester Orchestra's 'The Maze' is sweetly delivered. (SR)
One of the acts which many people beforehand may have thought were out of place were Ho99o9 (5/5), but their abrasive blend of punk and hip-hop had the Cave jumping. Fronted by LA-based rappers theOGM and Eaddy they are not ones to shy away from controversial issues, with one of the pair jumping around on stage in a metropolitan police hi-vis jacket. The element of live drums really enhanced the Ho99o9 experience adding a rawness to their set which embeds them into the punk world. (TB)
When it comes to emotional hardcore, no one does it better than Touché Amoré (5/5). Over the course of 50 minutes, the LA band let their music do the talking with an explosive array of songs. From old favourites such as '~' and 'Pathfinder' to a handful of 'Stage Four' highlights, the quintet thrived on the Cage stage. Jeremy Bolm's words are screamed back to him with the same amount of passion he delivers them with, while his bandmates provide a tornado of sounds. Most notably, drummer Elliot Babin's on-point and enthralling display simply adds to Touché's intensity.
To headline The Cave it needed a cult. Creeper (4/5) was on hand with their legion of fans to make sure the tent was overflowing with people. With a special Vincent Price-esque intro for the festival, the band burst into life with 'Suzanne'. The waves of young fans at the front were singing every single word back to vocalist Will Gould who looked like he was in his element as the ringleader of this cult. (TB)
As well as playing much-loved songs such as 'Crickets' and 'Hiding with Boys,' there was a nice throwback to earlier Creeper material with the appearance of 'VCR' and 'Gloom'. However, the ending of a near perfect set went a bit array when they asked the crowd would they like 'Misery' or something weird. The weird option was chosen and they performed a cover of Meat Loaf's 'You Took The Words Right Out Of My Mouth', which the majority of fans didn't have a clue what it was. (TB)
---
Saturday
With the blazing sun shining, Haggard Cat (3/5) made their 2000trees debut to a busy crowd. The Nottingham duo showcase their brand of raw garage rock with plenty of ferocity; Tom Marsh's bombastic drums and Matt Reynolds' frenzied riffs. While they're considered more structured on record, today they're willing to be looser and more chaotic. Even though more variation away from the fuzz-laden guitars would have been welcomed, Haggard Cat's short outing was certainly impressionable. (SR)
Over on the Neu stage, Brighton emo-punk Muskets (2/5) provide a lively performance that had hints of grunge but didn't prove to be memorable. Perhaps they're still finding their feet following a line-up change late last year? Nevertheless, the promise they've shown on record so far could be lost as they look to be heading into a pool of unidentifiable bands of the scene they've come from. (SR)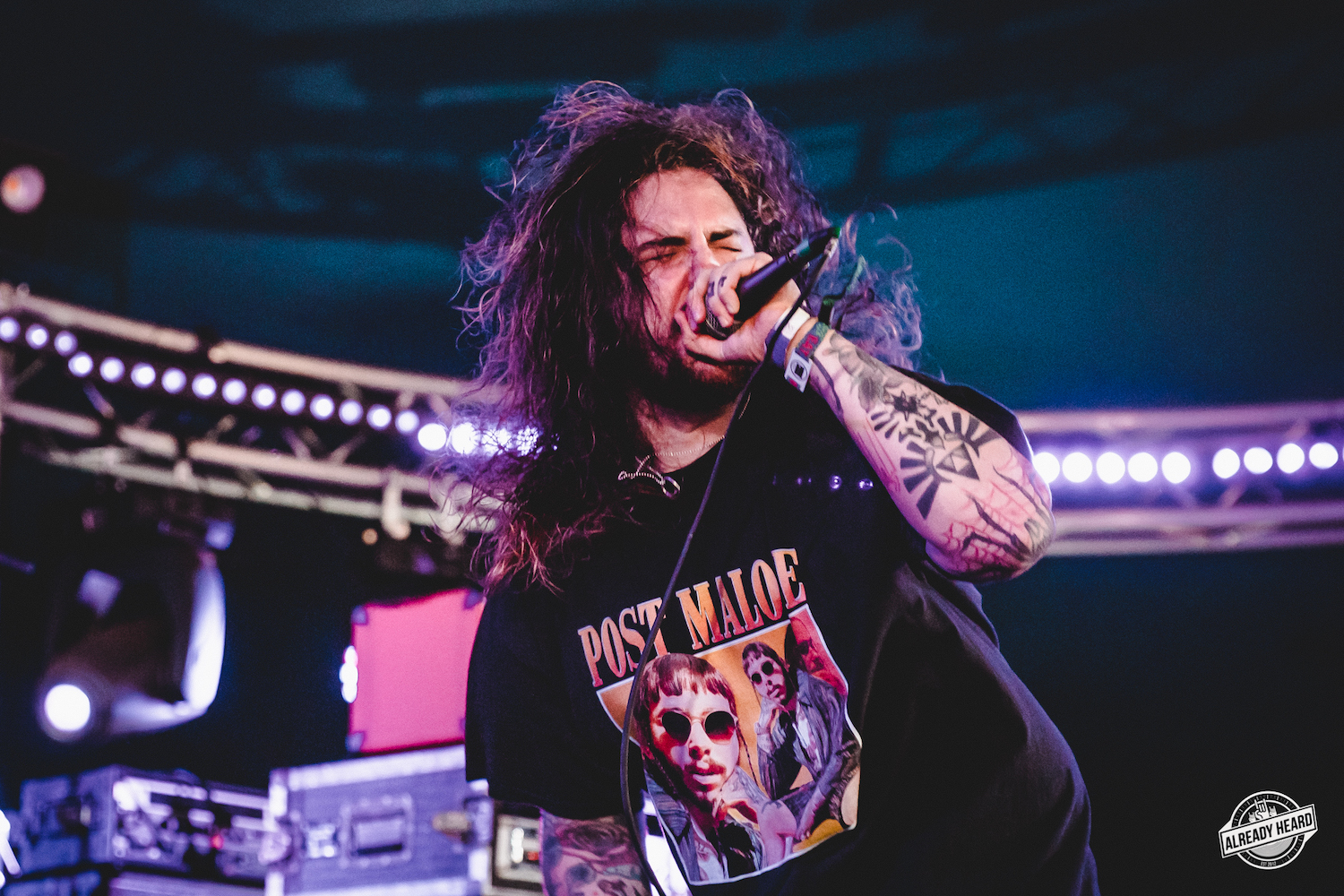 2000trees may not be renowned for its heavy bands, but Cove (3/5) were certainly one who won over this incredible community crowd. The Kent metalcore band brought the riffs and the groove. It can be difficult for some to differentiate bands in the genre, but one with Cove have going for them is powerful vocalist Ben Shorten who can whip up a crowd into a frenzy. (TB)
While their main stage spot later on was highly anticipated, The Xcerts (3.5/5) Forest session allowed them to briefly delve into their back catalogue. Old favourites 'Slackerpop,' 'Kids on Drugs,' 'There Is Only You' and a cover of Elton John's 'Tiny Dancer' satisfy the mass crowd before Murray Macleod joins them as he closes with 'Aberdeen 1987'. (SR)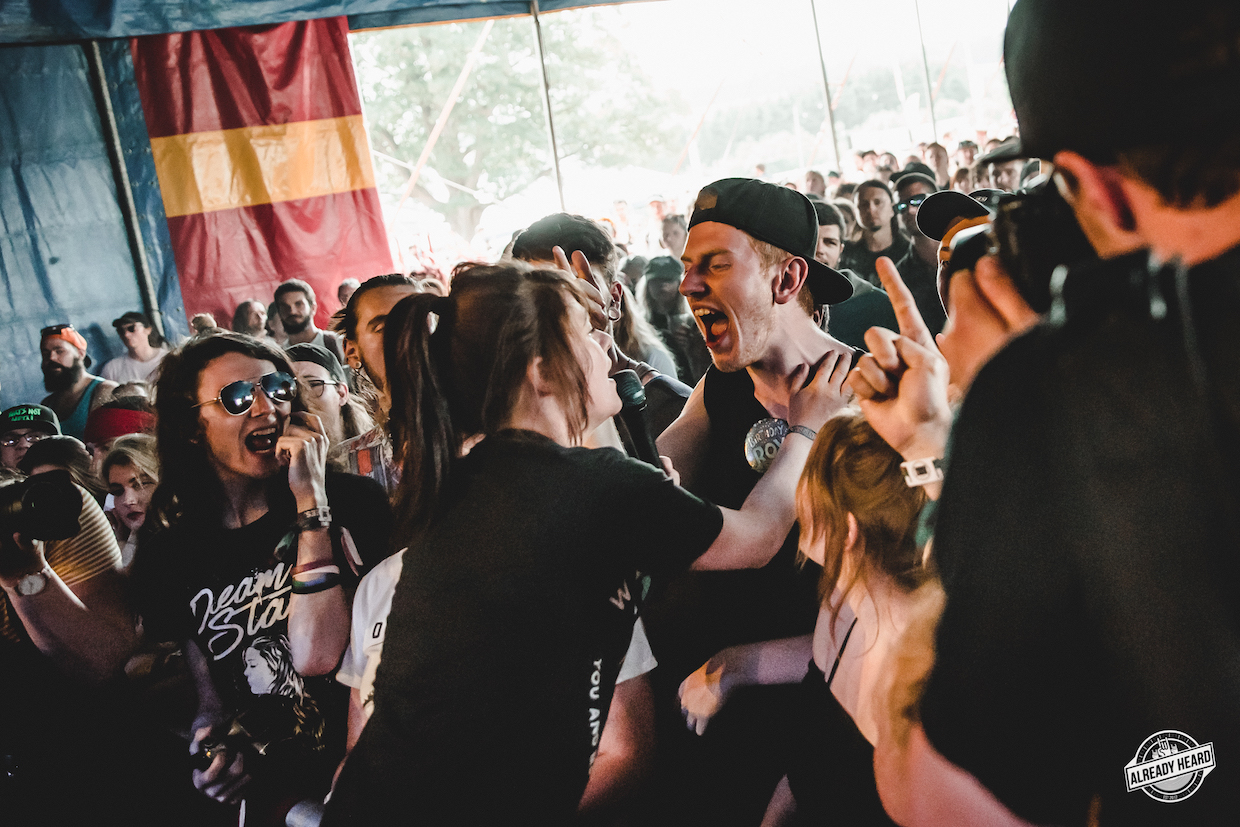 Fresh from being Kerrang! Award winners, Dream State (3/5) showed while they're on the rise. Led by CJ Gilpin, the Welsh quintet soon forget about the early technical issues to provide a powerful display. While Karina Ljone of stellar Norwegian sextet Blood Command (4.5/5) clearly show that 2000trees does give a sh*t about female representation, proving Refused's Dennis Lyxzén comments two years ago as wrong. Ljone and company produce one of the weekend's most compelling and infectious sets. Transcending genres, Blood Command's fabric consists of dance-punk, post-hardcore, synths and pulsating hooks. (SR)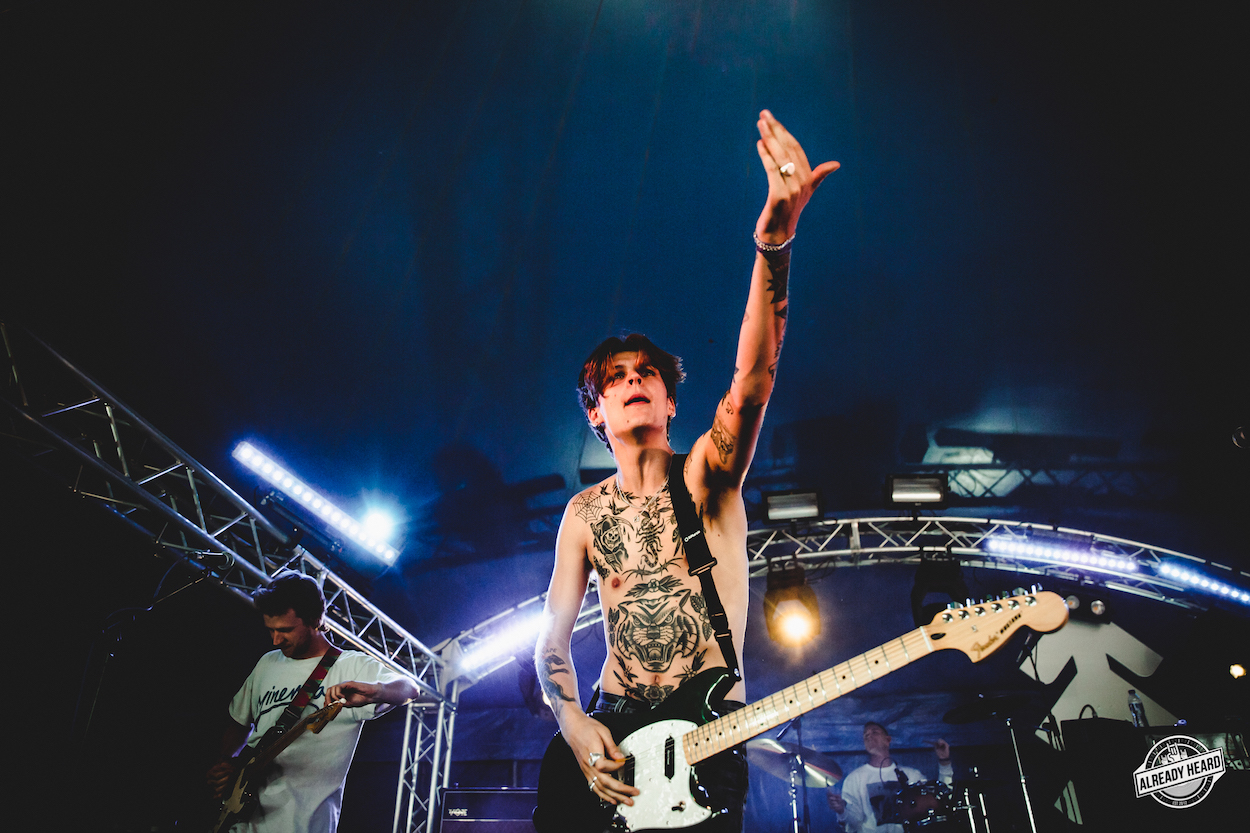 Over on the Axiom stage, Brighton quartet Bloody Knees (3/5) seemed to be one of the bands whose audience grew the longer they played. Their take on lo-fi grunge has a host of catchy hooks with 'Daydream' and 'Not Done' bringing the best reaction. The latter even creating a spontaneous mosh pit. Onstage the band were feeding off the energy of the crowd and this just increased the intensity of their performance. (TB)
As main stage headliners, its no surprise Enter Shikari very rare acoustic set in the Forest was packed out. Preceded of chants of "sit down" by those watching from the back, Rou Reynolds provided a comforting, stripped back outing yet suffered from the sheer amount of people watching. Like many busy Forest sessions throughout the weekend, if you're in the wrong spot you hear someone's life story rather than whoever is on the intimate stage. (SR)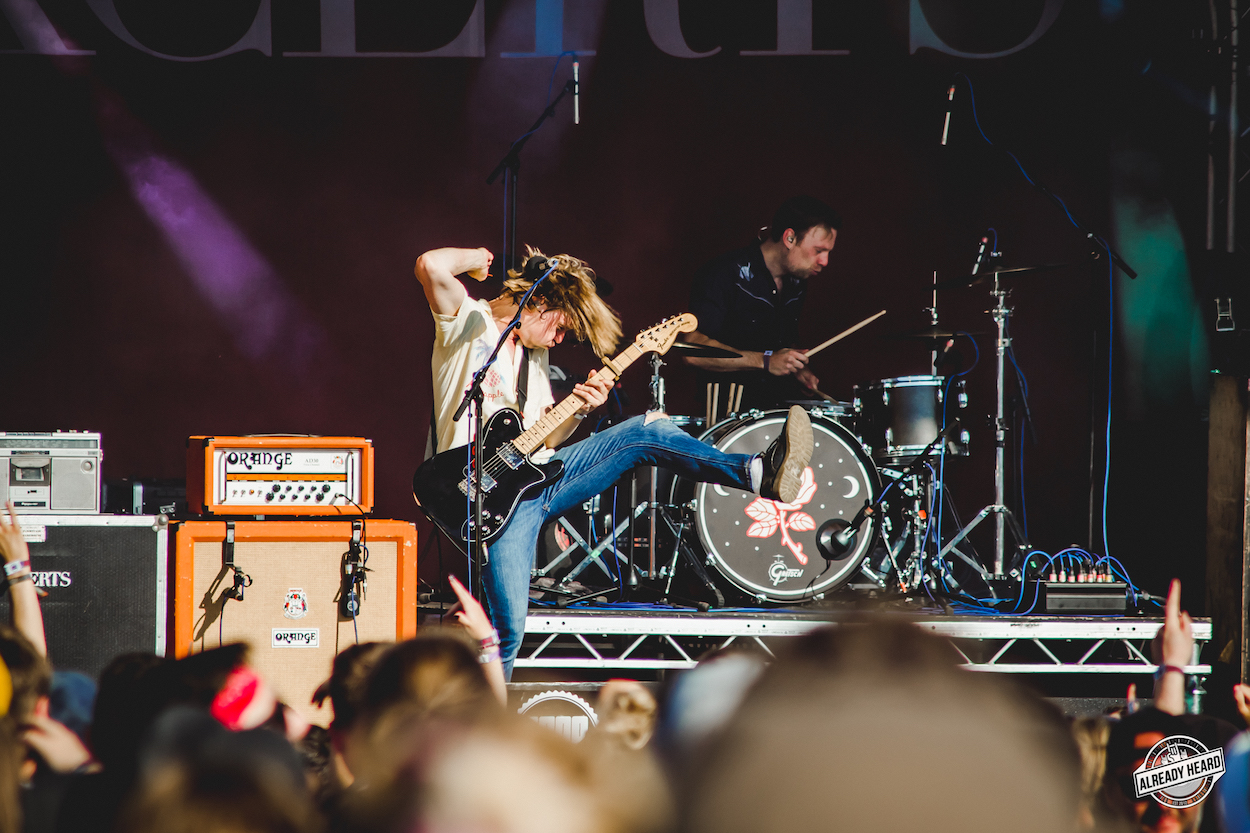 Having ventured into the Forest earlier on, it was time for The Xcerts' (3/5) main stage slot. As regular 2000trees favourites, this should have been their crowning moment but for some reason, it just didn't. Sure they had anthemic songs such as 'Hold on to Your Heart' and 'Feels Like Falling In Love,' but they didn't have the sound to match. For any band on the main stage, their songs should sound big, filling the open air. While others achieved this, The Xcerts' set suffered from being quiet and somewhat hollow. (SR)
Admittedly, Raging Speedhorn (1/5) seemed like a bit of a sore thumb on the Cave stage, and it was clear from the turnout. Even though the tent was busy, there was only a handful of people at the front who seemed interested. When there was a call for the "biggest circle pit of the weekend" the rest was arguably the smallest. The sextet brand of metal felt very dated. (TB)
Festivals are built around bands playing "their hits" to get the best-desired reaction. For Basement (5/5), they followed this formula down to a tee. From the moment they opened with 'Whole' the main stage audience was singing along every single word throughout the whole set. Playing a mixture of songs from all three of their records the band from Ipswich looked like they belong on the big stage conducting an audience with easy. (TB)
After a disappointing turnout for their Download Festival set last month, it's clear 2000trees is far more suitable for Hell Is For Heroes (3.5/5). Running through their 'The Neon Handshake' in its entirety, suit-wearing frontman Justin Schlosberg soldiers around the stage as the packed out Cave stage tent join him singing back their biggest numbers; 'I Can Climb Mountains' and 'You Drove Me To It.' (SR)
There aren't many bands who completely stand head and shoulders above the rest when it comes to innovation. But Enter Shikari (5/5) are that band. The band has honed and refined their sound, rightfully taken their place among alternative music's upper echelon.
'The Sights' perfectly sets the tone, part sing-a-long, part headbang fest and part rave. Watching the quartet isn't just about the music, it is the whole experience. The light show, the spectacle of them on stage, and maybe most impressive, the use of quadraphonic sound, where you become literally immersed in their sound.
There was a goosebumps moment when the whole of the 2000trees audience clapped along to 'Sorry You're Not A Winner' as part of the bands quick fire finale which closed with 'The Jester'. If that wasn't enough, there was also a marriage proposal during their set.
If there was any doubt if Enter Shikari are the real deal, this performance truly puts that to bed, and don't be surprised if the boys from St Albans start filling out stadiums in the near future. (TB)
---
Once again, 2000trees did not disappoint. Its array of bands alongside the late night silent disco, busking stages, family-friendly activities, and the numerous organisations such as Safe Gigs For Women and Heads Above The Waves in attendance are all part of the vibrant community spirit that is 2000trees' heartbeat.
It has a proven track record of nurturing emerging bands; highlighting the undiscovered ones and those who should be bigger than they are. This year was no different.
4.5/5
Words by Sêan Reid (SR) and Tim Birkbeck (TB). Photos by Jez Pennington.
View more of Already Heard's coverage from 2000trees Festival 2018 here.