Now in its fourth year, the Hit The Deck Festival is back for another round in Nottingham, and once again, the organisers have set the layout for the festival in a suitable manner. With the festival being spread across various venues, Already Heard had three writers taking in the festival throughout the day.
Over at The Forum, the day doesn't get off to a good start. Openers Lacey were delayed, which led them to playing a shorter than expected set. Nevertheless the local quartet still leave a strong impression with their tight-knit brand of hooky pop-rock. By showcasing tracks from last year's 'Outlaws' EP and new material from their forthcoming debut full-length, Lacey put on a good showing especially for those seeing them for the first time. 3.5/5 (SR)
Whilst sitting in the Rescue Rooms bar making plans for the day, Alex Hel's excellent and endearing set is caught somewhat by accident. Seeming to have similarly caught a notable section of his small audience by surprise, this local lad manages to capture their attention early on. He's sweet, talented, and self-deprecating. Openly singing songs about girls, talking about dinosaurs and offering a free album to the first person to get a particular reference and pester him afterwards. It was Half-Life and I certainly would have liked a CD but the end of Hel's set matches the beginning of Battle Lines in the next room. (4/5) (TK)
Battle Lines have a relatively tough job being a softer, atmospheric band playing on a stage set for some incredibly energetic sets later in the day. But they are wonderful. Although the crowd is small and stood some way back from the barrier, the four piece move sweetly through an ethereal set without a hint of going through the motions. (4/5) (TK)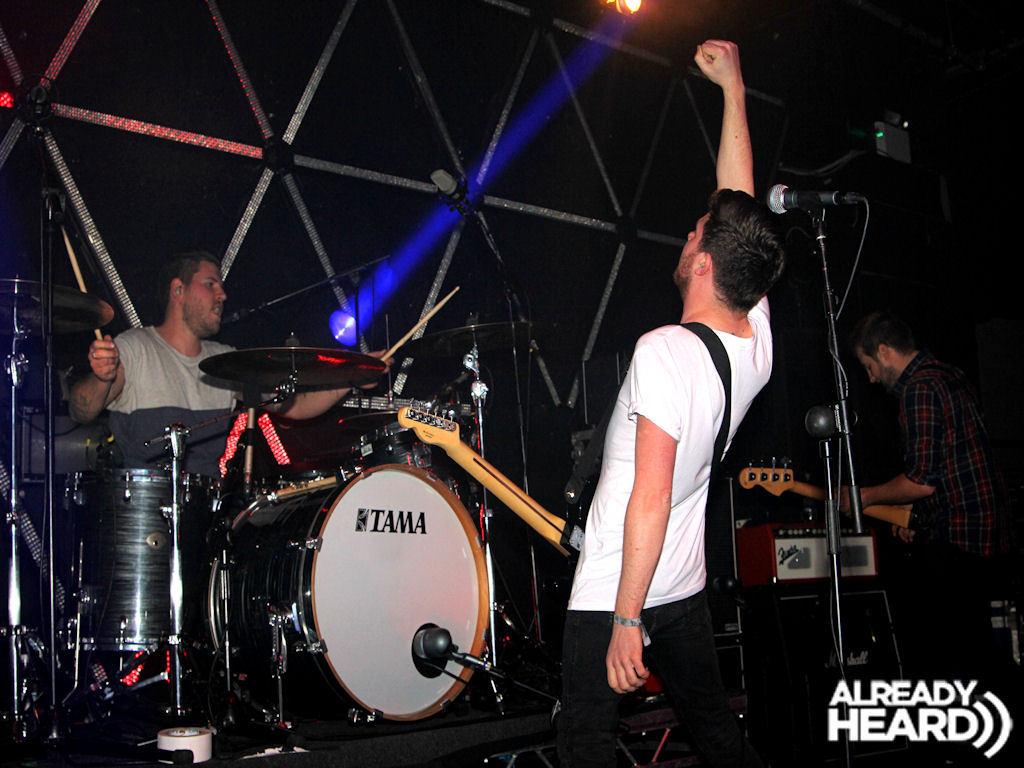 Photo by Carrie-Anne Pollard.
Brighton's Verses attracted a seriously impressive crowd into The Forum for their early afternoon set. One easily four times the size of the one that witnessed their previous Hit The Deck outing two years ago. The band put on a showing more than worthy of the increase in audience size and their own experience. Unusually, it was the Brighton four-piece's new material that went down the best. Both the title track of their forthcoming debut album 'Feel It Faster' and new single 'Live In The Sky' gave an excellent indication of what to expect from their first long player when it drops soon. Both song's showed a major increase in the scale and ambition of Verses' writing, with 'Live In The Sky' feeling especially huge live. After years of toiling as tour openers, the combination of the new songs and The Forum's blinding light display made Verses finally look like stars in their own right. (4/5) (DW)
In the main hall of Rock City, Leeds alt-rock trio Dinosaur Pile-Up draw a small crowd as they play a selection of tracks from last year's 'Nature Nurture' LP. For someone who wasn't too familiar with them beforehand, Dinosaur Pile-Up's 90's alt-rock influence instantly drew comparisons to bands such as Weezer and Silverchair with a hint of Nirvana. Despite the somewhat lack of originality, they still manage to produce a pleasing set and I'll definitely be checking out the band in future. (3.5/5) (SR)
For anyone foolish enough to not already be familiar with them, Vukovi may well have provided the surprise package of Hit The Deck 2014. Few can have left the Rock City Basement not converted to fandom of the guys and girl from Glasgow. Vukovi were one of Already Heard's tips for the festival and definitely didn't disappoint delivering an electrifying set. Frontwoman Janine provided a livewire focal point of the band's live show, owning the stage and becoming a one woman whirlwind and bellowing the word "Nottinghaaaammmm" at every available opportunity. 'Schwagger' and 'Boy George' were highly enjoyable standout moments and perfect examples of Vukovi's frenetically energetic indie edged alt-rock. (4.5/5) (DW)
Nai Harvest are up next, playing to a far bigger crowd as everyone piles in to see a band on the edge of something very special. Although the few songs from debut LP 'Whatever' receive the biggest reaction from the packed room, it's clear that this is a case of familiarity over disappointment with the newer material as the room buzzes with compliments come the end of their half hour. (4/5) (TK)
In the middle of a UK tour supported by the two previous bands, Seahaven arrive at Hit The Deck to an excited, and at this point, overflowing crowd. Only the quick thinking of a friend gets us to the unguarded Rescue Rooms balcony, whilst a great queue snakes around the bar area. Clearly feeling the energy in the room and on a high after the release of their incredible new album, Seahaven win hearts with a brilliant showing to a loving crowd. Those stuck in the queue will certainly have been disappointed as the sweaty grins of those who got inside pass them on the way out to fresh air. (4.5/5) (TK)
Another UK band follows and immediately whips the room into an absolute frenzy. Brighton's Gnarwolves are on top form, and their excitement to be playing is both beautiful to watch and utterly contagious. For a moment a new track from their hotly anticipated new album gives the room time to catch its collective breath. Not because it isn't brilliant, simply because no one knows what words to scream. With a little air back in everybody's chest the three-piece launch into 'Melody Has Big Plans' and the crowd erupts into an enormous circle pit. Off the back of this performance it's hard to see the Gnarwolves machine slowing down anytime soon, and it couldn't be more exciting. (5/5) (TK)
Given that few to none of their songs were likely to be well known by anyone watching, there was always a chance Texan's People On Vacation may struggle to win over the entirety of the crowd attracted into The Forum by the presence of Bowling For Soup's Jaret Reddick. This didn't stop Jaret or POV cohort Ryan Hamilton into putting every ounce of their relentless cheerfulness into ensuring everyone present had a good time. Initially it seemed much of the crowd, presumably expecting to hear only BFS songs, knew what to make of things. But Reddick and Hamilton's approach to super-catchy power-pop, topped off by the dynamic of the two musically, vocally and comedically riffing off of each other easily raised smiles all round. POV originals like 'Prettiest Girl In The World' and 'Lonely Fish' had heads nodding enthusiastically in time, while a crowd pleasing cover of 'The Bitch Song' garnered a loud sing-along. It's hard to imagine any other band putting in a set as fun as this one. (3.5/5) (DW)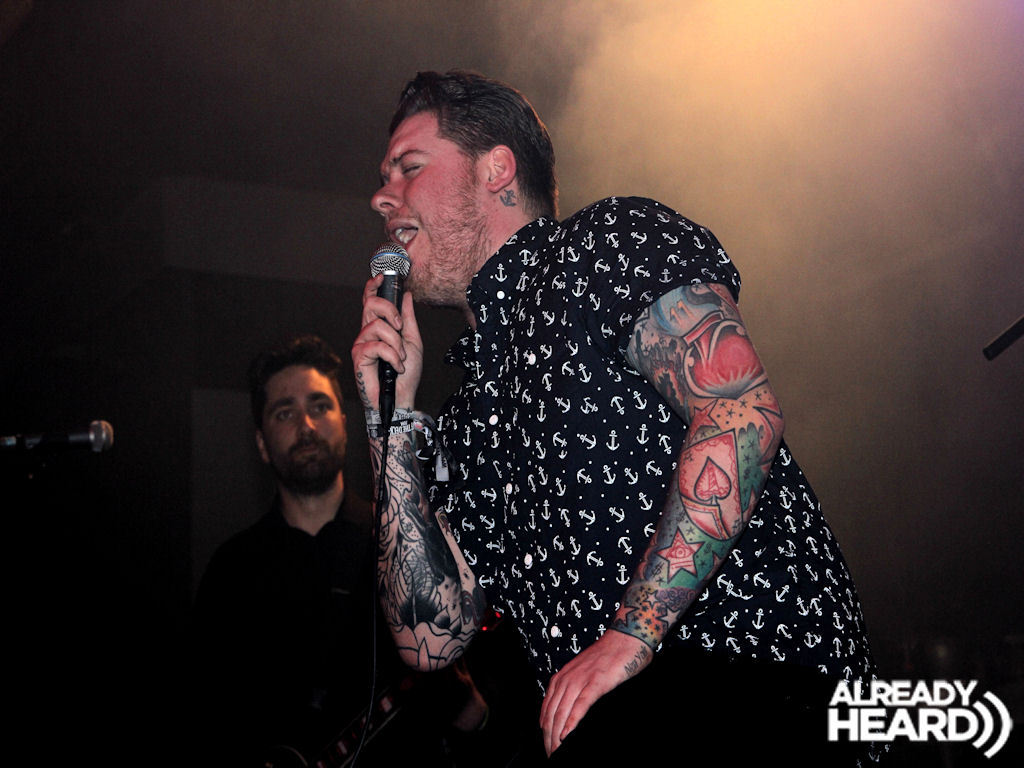 Photo by Carrie-Anne Pollard.
Having to play a set at a major festival with a stand-in singer probably wasn't the most ideal of circumstances for Rat Attack to find themselves in. Full credit to the band for pushing ahead and making the best of it, the four-piece's heavy party rock sound is ideally suited for festivals and their set went down a storm. First single 'Heartbeat' was a highlight in was pulled off with plenty of fire by the stand in front man. (3/5) (DW)
During the chaos of festivals the best of plans can go awry, and the intention of reviewing one of the fastest rising pop-punk acts around, Neck Deep, was swiftly foiled by the band having already packed out the Rescue Rooms. Instead it was off to check out South Wales' own pop-punk mob Save Your Breath. As it turned out this was probably the better choice. The band made effortless work of stirring up the crowd, who were almost as keyed up for the set as frontman Kristian, who spent much of the set on the barrier pressed against the madly pogoing kids at the front. The band turned in a typically tight set, hearts firmly on their sleeves, and big bouncy riffs and infectious camaraderie filling the Rock City Basement. (3.5/5) (DW)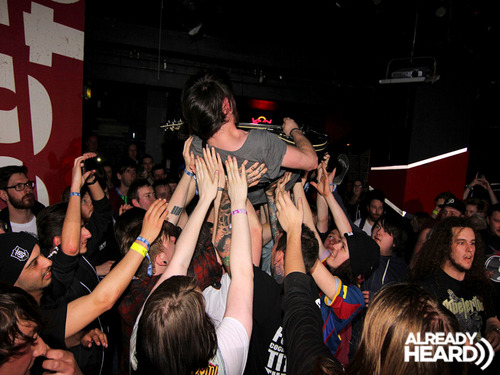 Photo by Carrie-Anne Pollard.
Local heroes Baby Godzilla make their return to Hit The Deck following a chaotic debut 2 years ago. This time round, they're higher up in the bill in the Stealth venue, and even more frantic. From the opening moments the thrash quartet throw themselves into the crowd with instruments in hand. Their set is gritty, intense yet incredible to be apart of; crowd surfing guitarist, circle pits, broken equipment and more. Baby Godzilla show just why they are one of the must-see live bands in the UK right now. (4/5) (SR)
Performing what was surely one of the sets of the day away from the Main Stage, the soon to disband Kids In Glass Houses smashed a greatest hits filled set out of the park, to the delight of a hot sweaty, and very full Forum. There was a palatable sense of nostalgia and occasion in the air as visibly emotionally Aled led his band through a reminder of just how strong their back catalogue is. Tracks from Kids' first two albums got by far the biggest reactions, receiving near word perfect sing-alongs. 'Gimme What I Want', 'Easy Tiger', 'Matters At All' and 'Sunshine' all went down particularly well. The band did their best to build similar enthusiasm for their newer, although admittedly less well known songs. In fairness many of the songs from 'Peace' measured up more than favourably to the older stuff, and with some gentle encouragement, triggered as fevered dancing as anything else. It's hard to explain just why, but this set felt like a genuinely special one for fans and band alike. KIGH showed they are as strong live as they have ever been; and the outpouring of affection towards the stage showed they will be sadly missed come the end of the year. (5/5) (DW)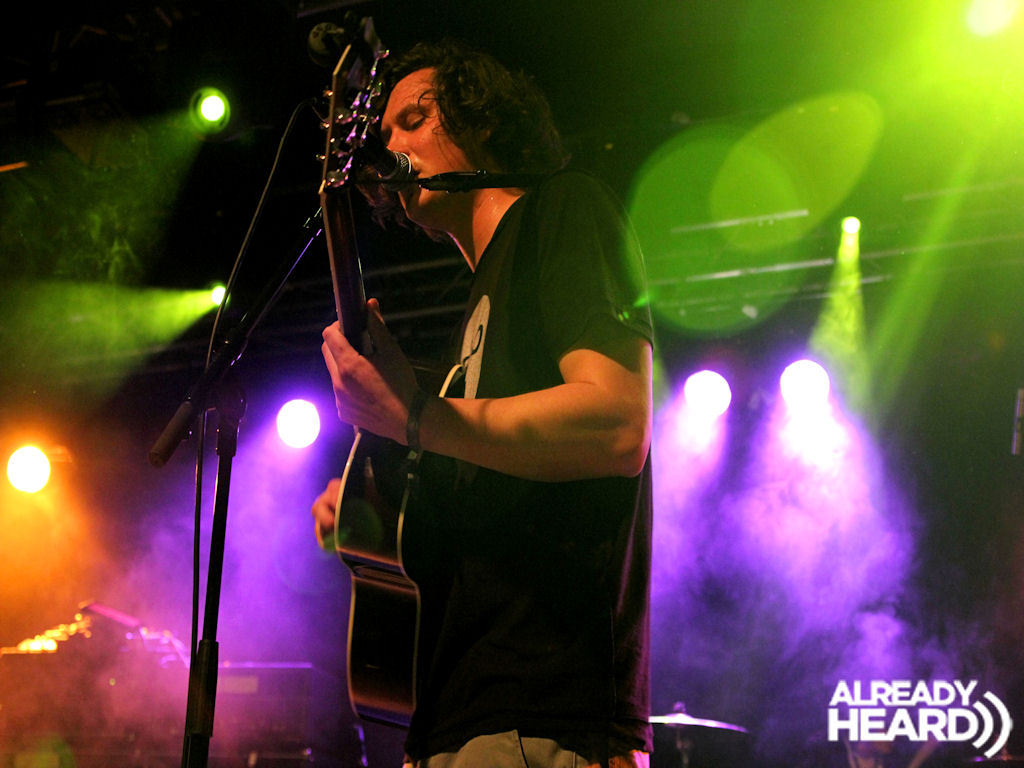 Photo by Carrie-Anne Pollard.
Back in the main room, The Front Bottoms are making sure that no one is having less than the requisite amount of fun. That being a beers in the air, smiles on all faces, singing your broken heart out kind of fun. Frontman Brian Sella seems determined to smile more than anyone else at the entire festival and, given that his band are in the process of winning yet more adoring fans, it's a big smile to beat. Their eight song set features choice tracks from their two latest albums as well as a new song that those who have seen them on tour with Brand New this week seem to know already. The Front Bottoms are a band for all occasions; sets like this could lift the mood anywhere. (5/5) (TK)
The acoustic "stage" in the Rescue Rooms bar feels somewhat neglected this year as The Ataris' Kristopher Roe pulls a small yet dedicated crowd as he delivers an abundance of nostalgia with a range of Ataris classics. Songs such as 'I Won't Spend Another Night Alone ', 'In This Diary', 'My Reply' and a rare outing their cover of Don Henley's 'The Boys of Summer' produce a concise yet warming singalong that leaves everyone in attendance with a good feeling. (4.5/5) (SR)
More Than Life arrive on stage in the irritatingly shaped Stealth to rapturous fans waiting desperately to see one of the country's greatest melodic hardcore bands do what they do best. The excitement is palpable and despite the sound in the room feeling somewhat flat the band have the crowd eating out of their hands from the get go. There's a great crowd and a strong set from a band who seem always on the brink of enormity. Sets like this at shows like these will win them legions of fans, and hopefully keep them doing what they do for a long time to come. (4/5) (TK)
Arguably the most unenviable set time of the entire day had been allocated to The Blackout. Their chance to close the Rock City Basement staged managed to overlap with both Saves The Day and Brand New upstairs, as well as several other great bands in the other venues. Despite this, Merthyr Tydfil's finest had attracted so many fans to jam themselves in the room that there was a lengthy wait to even get inside. By this time Sean Smith, Gavin Butler and co were well underway resulting in a sea of bodies going joyfully ballistic and reducing the view of the band to Smith's trademark bleached locks occasionally appearing over the chaos at the barrier. From the section of the set I was able to witness, it appeared the band had mostly opted to play newer material, not that anybody seemed too bothered by this. Anyone reading this likely already has a fair idea of what a performance by The Blackout normally involves, and there was all of the wild energy and reckless abandon we have come to expect on display here. (3.5/5) (DW)
As we said in our preview, the Hit The Deck organisers had pulled off something extra special by booking Brand New to headline this year's festival. Having seen them in the same room a little over a year ago, Brand New's return to Nottingham was far much better this time round.
Whist the wait for album number 5 goes on, Brand New show why they are so beloved by so many as their setlist took the best parts of all four of their albums. Jesse Lacey and company produce an overwhelming and pleasing set that sees them at their best and most energetic with 'The Quiet Things That No One Ever Knows' providing an early highlight.
Whilst 'You Stole' took the set into a frustrating lull, Brand New soon pick things up again by closing with 'Soco Amaretto Lime'.
As Jesse Lacey is left by himself on stage, he's joined by a packed out crowd as they sing in unison the defining line of "You're just jealous cause we're young and in love." In a poignant and fitting end to the day, Brand New show just why they're so influential. (4.5/5) (SR)
Once again Hit The Deck have provided a memorable day that offered a satisfying blend of new music and nostalgia. Whilst the Bristol date of the two city festival continues to be hindered by its wider layout, Nottingham benefits from the close-knit and well-organised layout, that gives all festival goers the opportunity to take in a bit of what this whole festival has to offer.
Now 4 years old, you know what to expect with Hit The Deck and, this year especially, you got your money's worth.
4.5/5
Hit The Deck Festival links: Website|Facebook|Twitter
More of Already Heard's Hit The Deck 2014 coverage can be viewed here.
Words by Sean Reid (SR), Dane Wright (DW), and Tom Knott (TK).