After months of build up and anticipation, the momentous Leeds Festival kicked off with bags full of potential. From major rock acts to some of the best in punk and hardcore, day one of Leeds 2014 hit all the right marks. Here's a roundup of what we saw.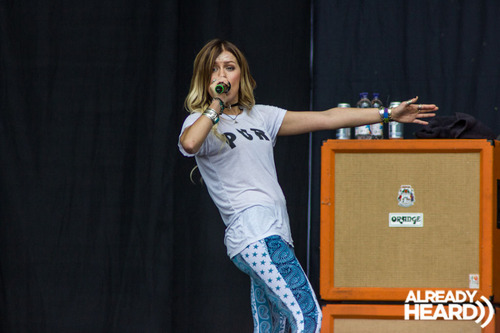 Few things could of soothed the stress and frustration of the debacle that was team Already Heard's efforts to find our way into the Leeds Fest site quite as quickly as the sight of Tonight Alive front woman Jenna MacDougall prowling the vast space of the Main Stage in predatory fashion. This weekend's Reading and Leeds appearances were by far two of the biggest of the five-piece from Sydney's careers to date, not that it showed. TA looked completely at ease and self-assured, performing a slick confident set like they had been born to play stages and festivals of this magnitude. Although clearly delightedly in awe at her surroundings, and the size and response of the crowd held firmly in her sway, MacDougall's performance never fell anything short of spellbinding or vocally on point. Much of the set was taken from last year's brilliant 'The Other Side' with 'The Ocean' and 'Don't Wish' going down particularly well with the Bramham crowd, as did 'What Are You So Scared Of' and a bittersweet set closing rendition of 'Lonely Girl'. (4/5) (DW)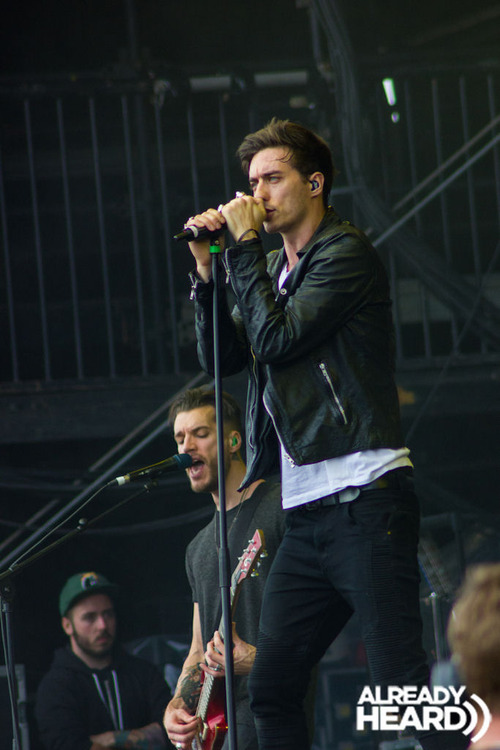 This weekend marked Young Guns' big return to performing live after a protracted period out of the spotlight working on album number three. The band have been one of the tightest, most high-octane live acts around for the last few years, and hadn't missed a step in their time away. Gus Wood effortlessly owned the stage, looking James Dean cool and, as always, every inch the prototype total package front man with a commanding poise and presence and a near faultlessly powerful vocal showing. A performance of current single 'I Want Out' and another new track both bode very well for the forthcoming new record, featuring catchy as hell synth lines added into the band's usual heavy yet expansive and accessible sound and strong 80's undertones. A strong rendition of 'Weight Of The World' flew the flag for Young Guns' earlier material, while the euphorically received 'Bones' earned a gargantuan singalong in one of the coolest moment's of the opening day. (4/5) (DW)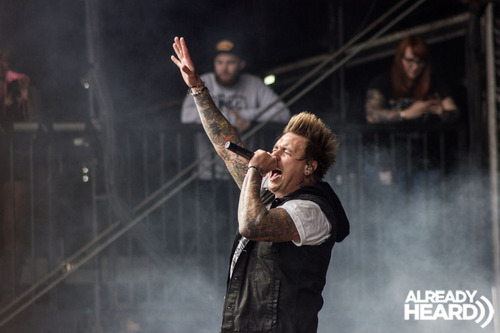 Watching Jacobby Shaddix throw himself gleefully off of the Main Stage through a table laden with cups of water probably wasn't something too many people would have been expecting to witness, but it was just one highlight of Papa Roach's wildly entertaining performance that was packed with nearly as many hits as it was expletives. 'Scars' gave the assembled masses the chance to lustily relive their angsty emo youths, before 'Getting Away With Murder' and 'Last Resort' went down an absolute storm.(4.5/5) (DW)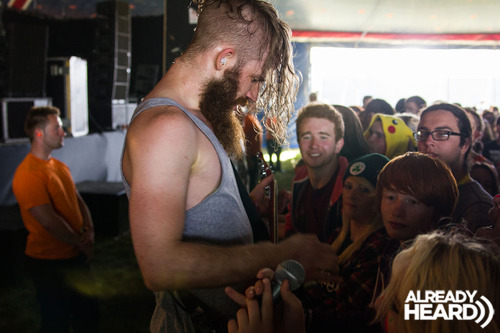 Whilst Papa Roach are tearing it up on the main stage, Baby Godzilla were doing just that and more in the Lock Up tent. Whilst they clearly have a reputation that precedes them, the Nottingham quartet knock it out of the park with a heart pounding set. Even in the confines of the well sized Lock Up tent, guitarists Matt "Butch" Reynolds and Jonny Hall are kept inside. From the opening moments, Reynolds and Hall flung themselves into the strong crowd with adulation and thriving energy. Hall is especially frantic throughout the set; from the stage to climbing the pillars to playing guitar in the centre of a frantic circle pit. Away from the band's stage presence, musically the four piece come off as more structured, where as previously they provided us with a destructive wall of noise. It's been said before, and we'll say it again – Baby Godzilla are one of the UK's most exciting live UK bands right now, and this set truly backed that fact up. (4/5) (SR)
Later on the much anticipated set from A Day To Remember lived up to expectations as the Ocala, Florida group tore their way through a set full of fan favourites; 'The Downfall of Us All', '2nd Sucks' and 'All I Want'. Having played arenas Stateside, playing a size as big as the main stage is slowly becoming second nature, and today it shows as frontman Jeremy McKinnon and company are a tight knit unit. (3.5/5) (SR)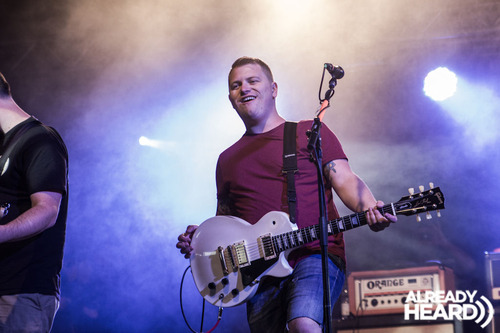 Back over at the Lock Up tent, The Wonder Years graced us with their presence and with them produced a brief set of their pop-punk greatness. Although the high level of band-to-fan energy was somewhat lost in the setting, the mass admiration fans have for the Philadelphia group is still very much in tact. By the conclusion of the set, the aforementioned energy is at a whole other level that sees TWY leave on a high. (3.5/5) (SR)
For their still relatively young ages, Surrey's You Me At Six can practically be considered R&L Main Stage veterans. Sadly, much like newest album 'Cavalier Youth', the band's set was polished, well produced but very, very predictable and just a little forced. Repeated slow motion footage of the band overly theatrically individually singing or playing their instruments add a self-indulgent under-tone, while Francheschi encouraging his predominantly very young and very female crowd to remove an item of clothing add an unneeded uncomfortable air to proceedings. That said 'Kiss and Tell' and 'Underdog' still sounded bloody fantastic live. (2.5/5) (DW)
Speaking of energy, it is something Every Time I Die do not lack. Over the course of close to 40 minutes, the Buffalo, New York band laid waste to Leeds Festival with thorough vigour and ferocity. With Keith Buckley stating from the out set that this was going to be a hardcore show, ETID did just that with 'The New Black', 'We'rewolf' and 'Ebolarama' especially sending the mass crowd into a frenzy. (4.5/5) (SR)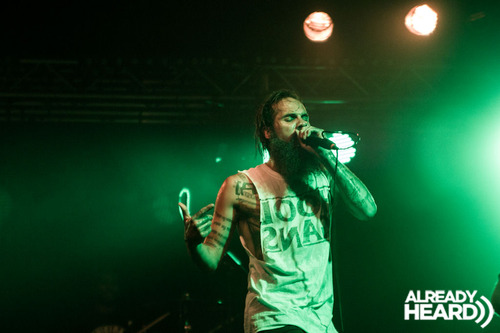 Whereas Letlive. nearly enough stole the day with a emotionally driven show, with frontman Jason Aalon Butler more or less taking the spotlight with a sincere and powerful presence. Opening with 'Pheromone Cvlt', Butler, his band mates and the mass crowd are instantly merged into one with the latter singing back word-for-word. By the time they explode into 'Banshee (Ghost Fame)', the charismatic frontman can be found climbing one of the Lock Up tent's pillars before diving off into the crowd to much admiration. Their forty minute set was carried by the bands sheer momentum and the crowds thriving energy. Closing with 'Muther', Butler led the crowd in one of the most memorable and powerful moments of the weekend as together they sang "don't you cry, mama. We'll be ok" in stunning unison (5/5) (SR)
The 1975 have been one of the single most hyped bands on the planet in the last 12 months. That said, it seemed only right to see if the band's set on the Radio One Stage would reveal what the fuss was about. Although the indie-rockers from Cheshire seemed to get a deliriously excitable reaction from a seriously packed tent, why isn't entirely clear. Sure their synth-pop meets the rockier side of indie sound is very, very polished and immaculately performed, but everything just feels that little bit too contrived and there is little to firmly grab or hold the attention of the less fanatical onlookers. (2.5/5) (DW)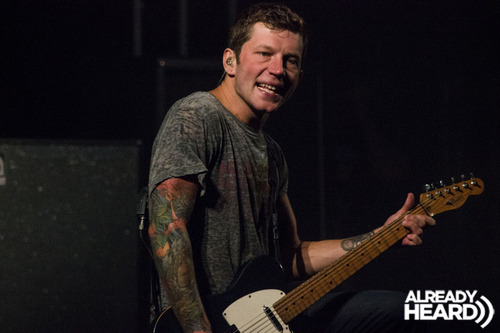 Florida natives Mayday Parade's set, second from top of the bill on the Festival Republic Stage, may have been a tad short at a little over half an hour, but what the band managed to squeeze into that time was incredibly sweet. Not helped by big name acts playing on higher profile stages at the same time, the tent was only about two thirds full at the most. But that didn't stop every person present singing their hearts out to every line of every song of a career spanning set. 'Three Cheers for Five Years', opener 'Jamie All Over' and 'Oh Well Oh Well' all provided standout moments from an impassioned performance by Derek Sanders and co. (3.5/5) (DW)
Now it was time for the main stage headliners. Making their Leeds Festival return after four years away, Blink-182 certainly have the credentials to defeat such a task as big as headlining on the big stage. However, despite kicking off with a trio of classic Blink; 'Feeling This,' 'What's My Age Again?,' and 'The Rock Show,', Mark, Tom and Travis aren't at their best tonight.
Admittedly bar Travis Barker, Blink-182 aren't the most accomplished musicians and even though they clearly have the songs to send fans home happy, Tom DeLonge's vocals are usually imperfect and the schoolboy toilet humour between him and bassist Mark Hoppus comes across as a little awkward.
Whilst their setlist consisted of singles and material from the band's last two albums, unfortunately Blink-182 don't live up to their full, festival-conquering potential. It may have sent some die hard fans home happy but for us, we're left wanting that extra special something. (2.5/5) (SR)
View more of Already Heard's Leeds Festival coverage here.
Words by Sean Reid (@SeanReid86) and Dane Wright (@MrDaneWright). Photos by Carrie-Anne Pollard.