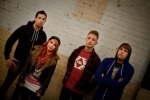 Normally with live reviews we set the scene a little. Usually it's dark and cold and yeah, it was dark and bloody cold. We'd just enjoyed some burritos so we were ready to face the live music with full bellies and Mexican grins.
First up were Manchester's very own Silver Story. The four piece rock outfit did their upmost to make themselves seen and heard. A solid and well paced set of hook driven indie rock songs made the assembling crowd take notice. (3/5)
As more piled in, Killing Nancy took over. Pop punk with female vocals like tonights touring bands, but these gents and lady are just college kids. They give it their best shot and although aren't the most original of pop punk they do put in quite a bit of effort and are clearly enjoying themselves. And that, deep down, is what music is all about! Closing the set with a cover of You Me At Six's 'Save It For The Bedroom' makes me realise that this is a whole new generation of pop punk fans. Kudos, YM@6. (3/5)
Everybody Looks Famous bring their A game with pop and rock in a mighty fine sub. It's tasty, it's big and it's clever. The guitars have hooks, the keys have hooks and of course, the vocals have hooks. It's a fisherman's dream and it's catchier than the latest epidemic. (3.5/5)
With an epic intro that should accompany Chuck Norris' every day activities, Next Stop Atlanta literally bound onto the stage. An initial feedback session suddenly plagues and loses the drama from the intro, but it's not long before vocalist Georgia leaps about to latest single 'Get In The Van'. The double time from Richard infests his way in and the other new songs played have a much faster feel to that of new legends The Story So Far and local lads Me Vs Hero. It bodes well for their upcoming debut album and closer 'I'm Not Morrissey' sounds as good as ever. Now we wait for the album and see what else Next Stop Atlanta have up their sleeve. (3.5/5)
3.5/5
Words by Mikey Brown (@MikeyMiracle).