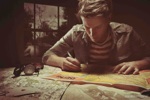 You may not have been aware, but a small but important part of British independent music died on a chilly October night in East London. Walnut Tree Records, owned and operated solely by Tom Beck, is closing its doors after 5 years and several fantastic releases. A loyal few have gathered at the Old Blue Last to give the label the send off it deserves; fans and bands alike have congregated to drink and be merry at this wake.
Tom George, formerly of WTR-released Waiting For Sirens and now performing solo under the moniker The Lion And The Wolf, kicks off proceedings. The now London-based acoustic artist tells intimate tales of his life and loves, including a paean to his place of origin, the Isle Of Wight. Tom pays tribute to another dearly departed aspect of the UK music scene, Southampton hardcore band Kerouac, with a fantastically worked cover of 'Lay Of The Landfill'. Fresh off a jaunt in Europe alongside fellow strummer Katie Malco, he entertains with tales of "The Antwerp Incident" between his sweetly-sung ditties, which put one a little in the mind of Bon Iver. (4/5)
Talking of Justin Vernon, another artist desperate to work with egomaniac Kanye West is Matt Reynolds a.k.a. Big Fin. He appeals mid-set for an en-masse tweet to the hip-hop superstar so that Mr West may produce a record for him. His nervous between-song chatter is charm personified, and the songs aren't half-bad either. This is a fairly new persona for Southampton-based Matt, formerly of ska-punk band Howard's Alias and now of WTR's Drawings, and certainly a name to look out for if fond of Shoes And Socks Off, the recently retired pseudonym of ex-Meet Me In St Louis frontman Toby Hayes. (3.5/5)
Next up is Ghost Saddles, whose frontman Greg used to front the much-missed WTR band The Maple State. His set is unfortunately lost a little amidst the scourge of acoustic shows, those that insist on talking throughout. It's a little hard to enjoy the songs over the din – a great shame, as when performing as a band Ghost Saddles are an enticing prospect. (2.5/5) (Crowd – 0/5)
One man who won't stand for such disrespect is tonight's headliner Rob Lynch, who encourages anyone who wishes to talk to "fuck off downstairs". The Peterborough-born troubadour, whose self-titled EP turned out to be WTR's swan song, delivers a typically raucous set, inciting singalongs and Cheshire Cat grins amongst the gathering. Mid-set Tom Beck delivers a memorable speech to huge applause, and Rob goes on to deliver his trump card 'My Friends And I' (which inspires an ultimately failed human pyramid), the chorus of which sums up the Walnut Tree ethos – "My friends and I, we got a lot to live for, my friends and I, we lived the good life, at least just for tonight". A fantastic send-off for a label that's created a real sense of community, the smiles and singalongs will hopefully stay in Mr Beck's mind for a while to come yet, especially as he watches his beloved Watford FC crash to another dismal defeat. (4.5/5)
Walnut Tree Records R.I.P. 2007-2012.
4/5