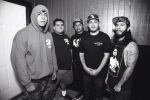 Tonight the Star and Garter is bursting at the seams due to the packed out room of hardcore kids. This audience has come here to watch two of the best straight up hardcore bands that the US has to offer.
Receiving a rare and welcoming reaction for an opening band, local straight edge hardcore mob Survival are certainly doing something right as they bound on to the stage in full force. Any chances of the crowd moving closer towards the stage are minimal as the whole floor leaves a wide open gap for crazy amounts of windmilling from the band's eager fans. With some vocal support from their peers, the band manages to cement their amazing stage presence without a sweat. The so called 'youth crew revival' that is going on at the moment is certainly being spear headed by this lot who rub shoulder to shoulder with their American compadres. (4/5)
With a punkier approach to the hardcore sound, The Flex from Leeds let loose with a brash in your face set that sees plenty of people diving all over the place like rag dolls. Although at times they seem a tad underwhelming, the band manage to pull it off in a furious not so classy style and get the usual mosh fiends riled and warmed up for the rest of the night ahead. (3.5/5)
Apparently feeling under the weather, Expire don't show any symptoms of flu judging from their curb biting performance. Kicking off with 'Just Fine', the Milwaukee metallic hardcore punks fill the room with testosterone and bring an atmosphere of positive hinged aggression that refuses to back down. A circle pit during 'Pendulum Swings' and a flurry of spin kicks later, the band take a not so grinding halt at a brick wall with 'Abyss'  which sees the biggest response to their furious display on stage. (4/5)
This evening's headliners, L.A's Rotting Out, have such passion and inspirational drive that it's impossible to not join in the ruckus or smile and nod given the real, honest vibes they give off. Opening with 'Street Prowl', the band take all their angst and lays it out to their crowd who kick it around with a sense of therapeutic unity that binds all those who feel lost. Pre-'Street Prowl' material including 'City of Shame' and 'Positive Views' creates a wonderful buzz, inducing a whiplash frenzy in front of the stage.
The band show off a couple of new numbers from their upcoming second LP 'The Wrong Way', including 'The Shoot Out', which was released for streaming just a few hours before along with pre orders for the new record. Judging from their live sound, the new material takes their thrashy hardcore punk style to new heights with an even tighter delivery from the band and the vocals of Walter Delgado. As a live unit, Rotting Out have a firm stage presence in the room which triggers circle pits one moment and mic grabs the next, something that will certainly put naysayers to rest. Concluding the night with fan favourite 'Laugh Now, Die Later', both band and audience give everything they've got through sweat and friction to finish with a solid performance. (4/5)
4/5
Words by Aaron Lohan (@ooran_loohan)