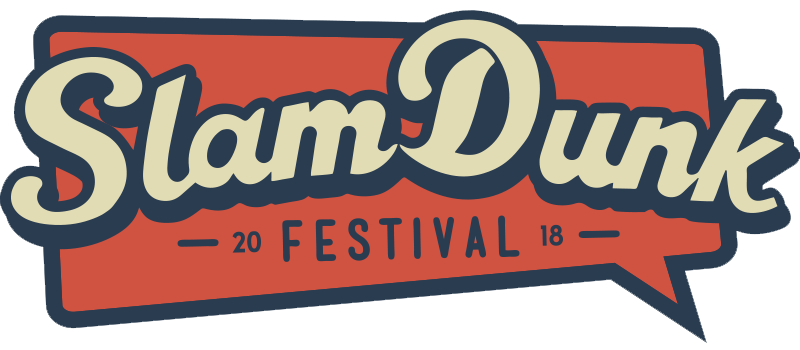 Slam Dunk North – City Centre, Leeds (26/05/2018)
After all the build-up, the Slam Dunk Festival kicked off in its original home of Leeds. While the teething issues of the city centre location, to an extent, remained, it still played host to a stellar day of music with few disappointments.
Despite being tasked with opening one of the main stages, The Dangerous Summer (3/5) eases the busy crowd into the day with a 30-minute blast through their best moments. Towering choruses and AJ Perdomo's weathered vocals serve their purpose, nicely the warming the crowd up for the rest of the day. (SR)
Knuckle Puck's (3/5) first Slam Dunk in three years saw them open in the cavernous First Direct Arena and not a tiny car park. Through a tight, assured performance, and they rattled through 30 minutes that took in raw favourites such as 'No Good' and 'Shapeshifter' highlights 'Want Me Around' and 'Double Helix', which sounded superb live. Joe Taylor noted to the early-afternoon crowd that this was the biggest room KP had ever played, but they appeared un-phased as they closed with a riotous 'Pretense'. (PS)
With the sun starting to shine, NY quintet Can't Swim (2.5/5) thrive on the Signature Brew stage. Having already developed a short but stellar set of songs, 'What's Your Big Idea?' and 'Stranger' are effective enough to leave a strong, albeit brief, impression. (SR)
They may now make appearances in the UK a little more often than they used to, but that didn't dampen the excitement for what seemed a rather early slot for Four Year Strong (3/5). A sizable crowd had gathered by the time Alan Day ripped into the opening riff of 'We All Float Down Here', and by 'Find My Way Back,' the audience were suitably energised. 'Heroes Get Remembered, Legends Never Die' remains an essential, ever well-received part of the FYS set, as does the customary sing-along of 'Wasting Time (Eternal Summer)'. (PS)
It's been six years since The Audition (3/5) called it a day but it looks like they've not missed a beat. Delivering a punch of nostalgia via songs such as 'You've Made Us Conscious' and 'Warm Me Up', they get welcomed back with open arms.
Oh, it's good to have Say Anything (3.5/5) back. With songs such as 'Belt' and 'Hate Everyone' kickstarting their set early on, the lesser known 'Six Six Six' lose the crowd momentarily. Nevertheless, it's an all too brief appearance as Max Bemis and company deliver a nostalgia-tinted reminder of Say Anything's songwriting prowess. (SR)
Some expressing doubts over the choice of the First Direct Arena as the main stage in Leeds, but in the case of Creeper (4/5), the darkness was always going to be fitting. Ripping through a mid-afternoon set mostly comprised of tracks from 'Eternity, In Your Arms', the performance wasn't spoiled by what sounded like sloppy mixing. Hannah Greenwood took centre stage for a spine-tingling 'Crickets', while a soft, alternate intro to 'Hiding With Boys' worked brilliantly. closing 'Misery', Will Gould barely needed to sing as the massive crowd led an arousing singalong. (PS)
Fresh from arriving in the UK for the first time, Chicago's Sleep On It (2.5/5) bring their brand of 2000s-influenced pop-punk to an unfortunately sparse crowd. Nevertheless, that hasn't stopped the quintet from bringing bucket loads of energy with highlights from debut LP, 'Overexposed' being showcased brightly. (SR)
Birmingham's Luke Rainsford (3.5/5) offers an early evening slice of reflection with his collection of impassioned acoustic emo. Laid back and compelling, it's clear Luke has some dedicated fans as they sing along to his playful melodies. Whereas Rainsford is gracious for the opportunity having spent several years on the other side of the barrier. (SR)
Lower Than Atlantis' (3/5) early evening outing sees Mike Duce in a playful mood, chugging beers and making sarcastic quips between the festival-ready choruses of 'Work For It', 'English Kids In America' and 'Words Don't Come So Easily'. Throughout his charisma shines as orchestrates a wall of death and joins the packed out crowd during 'Here We Go'. Overall, LTA used their festival experience to their advantage. (PS)
The inevitable tech issues means Taking Back Sunday (4/5) start 15 minutes late. Yet they soon make up for it by lining banger after banger; 'You Know How I Do,' 'Error: Operator,' 'A Decade Under the Influence' and more. Although newer songs such as 'Death Wolf' aren't quite received with the same enthusiasm, Adam Lazzara's charismatic presence remains intact. Closing with 'Cute Without the 'E' (Cut from the Team)' and 'MakeDamnSure,' TBS have the Millenium Square crowd in the palm of their hand, as they sing back in unison, word for word. (SR)
As It Is (4/5) may have expected a bigger crowd for their set, but as Patty Walters acknowledged, they were up against the titans of Jimmy Eat World and Good Charlotte. All dressed in black, with Walters and guitarist Ben Bliss sporting eyeliner, the era of 'The Great Depression' appeared in full swing, although no other new tracks were given an outing, besides recent single. 'The Wounded World.' The slick production was to be admired with backing tracks used to beef up songs. Old cuts were as sharp as ever, with 'Speak Soft' and 'Concrete' ageing well, while the young audience sang every word of 'Hey Rachel' and 'Patchwork Love.' Having opened the same stage three years earlier, on this showing their rapid ascent is well deserved. (PS)
While some festival headliners use their spot to showcase elaborate production flair and so on, Jimmy Eat World (4.5/5) doesn't need to as they have the songs to satisfy the masses. From 'Lucky Denver Mint' to 'Sure and Certain', the Arizona quartet supply a set that picks out highlights from their 25 years as a band. Although the woeful 'Pass The Baby' and recently released 'Love Never' sends the crowd into a lull, Jimmy Eat World more than make up for it. Inevitably ending with 'Sweetness' and 'The Middle', they send the crowd home happy as both are sung back with elated joy. (SR)
---
Slam Dunk South – Hatfield Park, Hatfield (27/05/2018)
2018 saw another venue change for Slam Dunk, this time relocating the South event from Hatfield University to the historic Hatfield Park. It escalated the festival from Warped Tour to Reading and Leeds, with huge tents for some stages, and monolithic structures for the two main stages.
Despite the venue change, it all went without a hitch. No capacity limits for any stage meant that everyone attending got to see all the bands they wanted. The only risk the new site holds is that the slightest bit of rain will turn the park into a disgusting bog, but thankfully, it held off this year.
Cardiff's Astroid Boys (4/5) were without one of their two energetic frontmen for the whole weekend, but the energy of Benji Kendall more than managed to compensate, not to mention the wildness of the crowd. The band's mix of hardcore and grime was one of the craziest sets of the festival. (BM)
Canadian heavy-hitters Counterparts (4.5/5) brought the Impericon Stage to its knees as they crashed and screamed their way through a set of fan favourites and deep cuts. One of the most solid performances of the weekend, Counterparts certainly made a name for themselves on their Slam Dunk debut. (BM)
Comeback Kid (3.5/5) are veterans of the hardcore scene at this point, but their energy has in no way waned over the years. Delivering a set that spanned their whole career thus far, one of Canada's finest exports left the crowd feeling very satisfied, albeit with a few bruises. (BM)
Northlane's (4.5/5) explosion in popularity has been hard to ignore. After surviving a lead singer change and a slight tweak to their sound, the band have cemented themselves as one of the best live bands on the circuit at the moment. Their appearance at Slam Dunk 2018 was a testament to this, with a flawless set that combined stunning cleans and brutal lows, as well as some impressive live instrumentation that clearly fed off of how passionate the crowd was. (BM)
Every Time I Die (5/5) delivered a spectacular close to the Impericon Stage, with an hour-long set that managed to hit every one of their albums, minus their debut. The energy expelled from Keith Buckley is enough to elevate him as one of hardcore's greatest frontmen. Bordering on dangerous, the set saw half the band crowd surfing, attempted stage invasions, and even one kid climbing the tent supports during 'Map Change'. It was a performance that will go down as one of the best the festival has ever held! (BM)
---
Slam Dunk Midlands – The NEC, Birmingham (28/05/2018)
For the third and final day, Slam Dunk returned to Birmingham. Despite being based at The NEC for the past two years, festival goers found them confused by the layout with some stages tucked well out of sight, round corners or down long dark corridors, ensuring that people were still wandering around looking a bit lost late into the day.
Nevertheless, with a jubilant and relaxed atmosphere, it was clear this was going to be an enjoyable and special last day of Slam Dunk.
Opening up the Fireball Stage in the clouded heat of a Bank Holiday Monday was Templeton Pek (3/5). The local three-piece played a decent handful of songs from their recent 'Watching The World Come Undone' record. With a few people knowing the words well, it's clear the Birmingham trio had a hometown advantage. Their short but punchy set left the appreciative audience thoroughly warmed up and ready for the rest of the day. (BS)
Stomping and scissor kicking around the stage with his shirt off like he owned the place, Brutality Will Prevail (4/5) lead singer Louis Gauthier requested crowd surfers and pits from a crowd who were only too keen to oblige. Leaping into the crowd himself at one point and being surfed around the place while his band delivered a set of tight and brutal hardcore that lives up to their name, Brutality Will Prevail ensured that everyone left the extremely hot lunchtime atmosphere of the Impericon Stage sweaty and exhausted. (BS)
The pitch darkness of the Genting Arena was the perfect place to play host to the black hearts of Creeper (3/5) and their eager "Creeper Cult" who happily avoided the sunshine outside to watch the band put on their usual mesmerising and theatrical performance. Opening up with 'Black Rain' and ending with 'Misery', their set was well thought out and utilised the natural peaks and troughs in their back catalogue to build up tension and eventual release. (BS)
Playing in the open air sunshine of the Signature Brew stage, Trash Boat (3/5) whipped up a bouncy, party atmosphere which inspired some rowdy mosh pits by a hardcore few at the front. The band leapt around the stage enthusiastically, and treated the crowd to their catchy, feel-good anthems such as 'Tring Quarry' and 'Strangers', as well as the more hardcore sounds of 'Pangaea'. They also found the time to good-naturedly make fun of pals As It Is by referring to them as My Chemical Romance, which got a lot of laughs and cheers. (BS)
A highlight of the festival, Frank Carter & The Rattlesnakes (5/5) just seems to get better and better; his command of the stage and interactions with the crowd improving with each performance. From walking on the outreached hands of his fans to organising a gigantic circle pit around the mixing desk, followed by lots of miniature circle pits, and the usual 'girls only' crowd surf during 'Wild Flowers', Carter and company's performance is slick and relentless. Their energetic set comes to an end with the anthemic 'I Hate You.' With everyone screaming along, a triumphant Frank Carter re-donned his leopard print pimp coat and sauntered off like the rock legend he is. (BS)
Slightly hampered by John Nolan's guitar problems and an oversized arena that basically made every band sound echoey, empty and imbalanced until you got close enough, this wasn't Taking Back Sunday's (3/5) best set, but the band seemed relaxed and professionally pushed through. By the time it got to 'What's It Feel Like To Be A Ghost?' things had picked up a little, with Adam Lazarra casually prancing around the stage and swinging his mic around his head. Sticking with a set full of classics, it was 'Cute Without The E' and 'MakeDamnSure' that really brought the house down, with everyone from front to back singing along. (BS)
Giving everyone a throwback to 2000s, Good Charlotte (5/5) hit the main stage to headline a set full of their greatest hits. Opening with 'The Anthem' and ending on 'Lifestyles Of The Rich And Famous', they mostly stuck to the singalong classics, with new single 'Actual Pain' thrown in for good measure. On this showing, it's hard to believe this was the band's first ever festival headline slot in the UK. Nevertheless, with a hit-filled set, explosive pyrotechnics, inspirational speeches and plenty of audience participation, it won't be the last time they take top billing. (BS)
---
View more of Already Heard's Slam Dunk Festival 2018 coverage here.
Words by Sêan Reid (SR), Peter Stewart (PS), Ben Mills (BM) and Bec Simpson (BS). Photos by Carrie-Anne Pollard and taken at Slam Dunk Festival, Leeds – 26/05/2018.
---
If you have enjoyed reading this article and would like to help us produce more content and promote more great new music, please consider donating to our Patreon page.