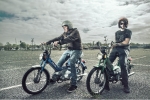 The Brudenell is literally just a social club but it's a surprisingly good venue. Seats are based around the stage and so it's also a test to see how good bands are at enticing the audience off their bum cheeks and up to the stage. No barrier either, of course. I mean, it's literally a social club.
First up are local lads, previous "Recommends" and upcoming Already Heard compilation band (phew!) Calls Landing. A summer in various countries means this is the band's first show in about 4 months. Luckily they don't seem too rusty and rocket through their set, but not until they've enlisted local fans/friends to get up and support them at the front. The band's set is built up of American pop punk influenced songs from their 2 current EPs and split with fellow Leeds band Make Your Mark. A faster song (I forget the name, apologies!) picks up the pace in the room which was a smart move, even though the band themselves said that they didn't "feel it would fit in with this show". Three part harmonies towards the end showcase some brilliant potential that should definitely be utilised more often, even if it's just in live situations for previously recorded songs. The band will get back into the swing of things soon enough, but for now they're not quite at the same level as our two touring acts. (3/5)
Her first trip to the UK sees Allison Weiss on her own without her band, so we're treated to songs from her latest 5/5 rated album 'Say What You Mean' as beautiful, stripped down acoustic numbers. As you can tell from said review, I'm a huge fan and being treated to songs solely from this album is an absolute delight. They're wonderful live even as a one man army as Allison has got the playing skills and, most impressively, the vocal chords to hit each note perfectly. This is brilliant and captivating stuff for one girl and her guitar, and a full band experience (hopefully hitting these shores as soon as possible) will only conquer many more hearts. (4/5)
Each act so far has gained more and more devotees to the front, but The Front Bottoms of course steal the show with not many actually sitting down from what I could see. I could've easily turned around and had a proper look, but I didn't really want to miss the madness stirring in front of me. I've seen The Front Bottoms at their first ever UK show and hadn't realised how popular they've become since then, with their second album 'Talon Of The Hawk' being released earlier this year. Absolute bangers from 'TOTH' and the band's self titled debut are played to the rowdy Leeds crowd who can't help but dance to these acoustic, disco-vibe treats. Things really kick off though when 'Au Revoir (Adios)' starts playing and we end up with a stage dive from someone in the crowd (there's no barrier; it's literally a social club) and from then on in, it just doesn't die down.
The band themselves deliver some antics in the form of Assassins Creed references, a beautiful woman who happens to be frontman Brian Sella's reflection in a mirror and the crowd playing along with the encore, where Brian explains that they won't actually go off but everyone will have to pretend they've finished, knowing full well that there are still 2 songs left. I didn't personally know every song but I still can't remember the last time I had this much fun at a show. Emphasis on the fun there, please. It's great music that anyone can enjoy and it's an even greater atmosphere. Kudos. (4.5/5)
4.5/5
Words by Mikey Brown (@MikeyMiracle)